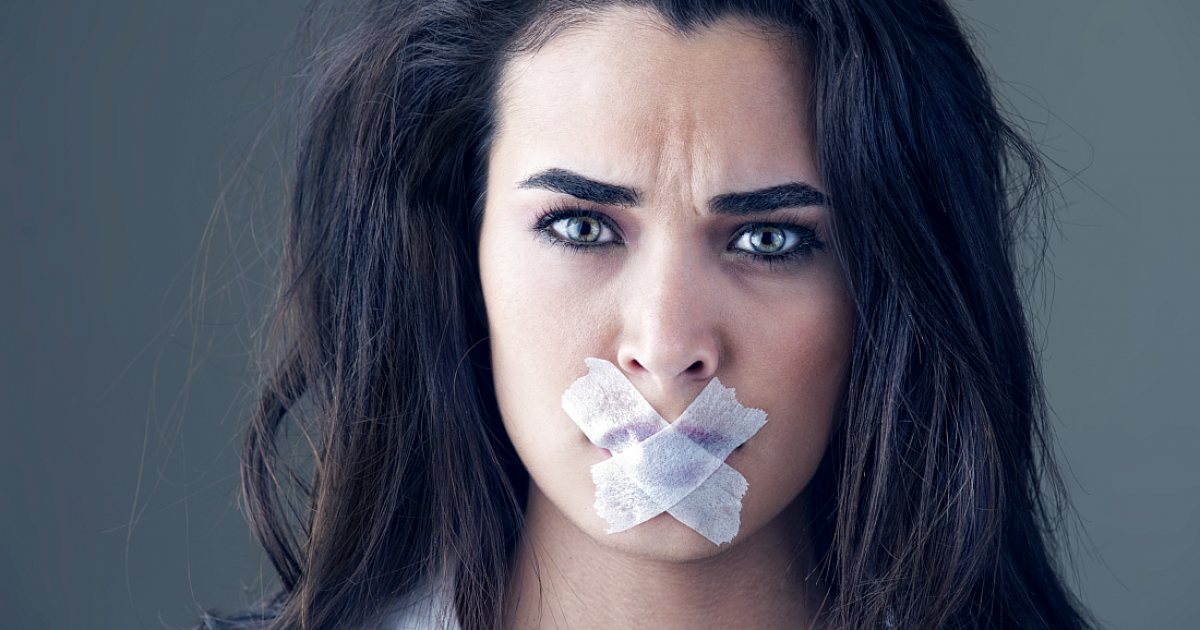 Facebook lumped this websites Facebook page (Great American Republic) into spam sites report and wiped it off the map along with its conservative creator Tanya Grimsley.
Allen West Republic.Great American Republic https://www.facebook.com/AllenWestRepublic/
Tanya Grimsley – Creator of Allen West Republic – Great American Republichttps://www.facebook.com/patriotTDG
Trending: Trump won? How did this analyst come to that conclusion?
Below is the current state of her Facebook page with nearly 1 million likes.
take our poll - story continues below
Who would you vote for if the elections were held today?
Completing this poll grants you access to Great American Republic updates free of charge. You may opt out at anytime. You also agree to this site's Privacy Policy and Terms of Use.
One of her fellow conservatives said:
I thought they weren't considering content when deciding who to obliterate? So how would they know what the "debate" was about, let alone whether or not it was "legitimate political debate"?

From their linked page:
"it's so important we look at these actors' behavior – such as whether they're using fake accounts or repeatedly posting spam – rather than their content when deciding which of these accounts, Pages or Groups to remove."
Speaking with forked tongue…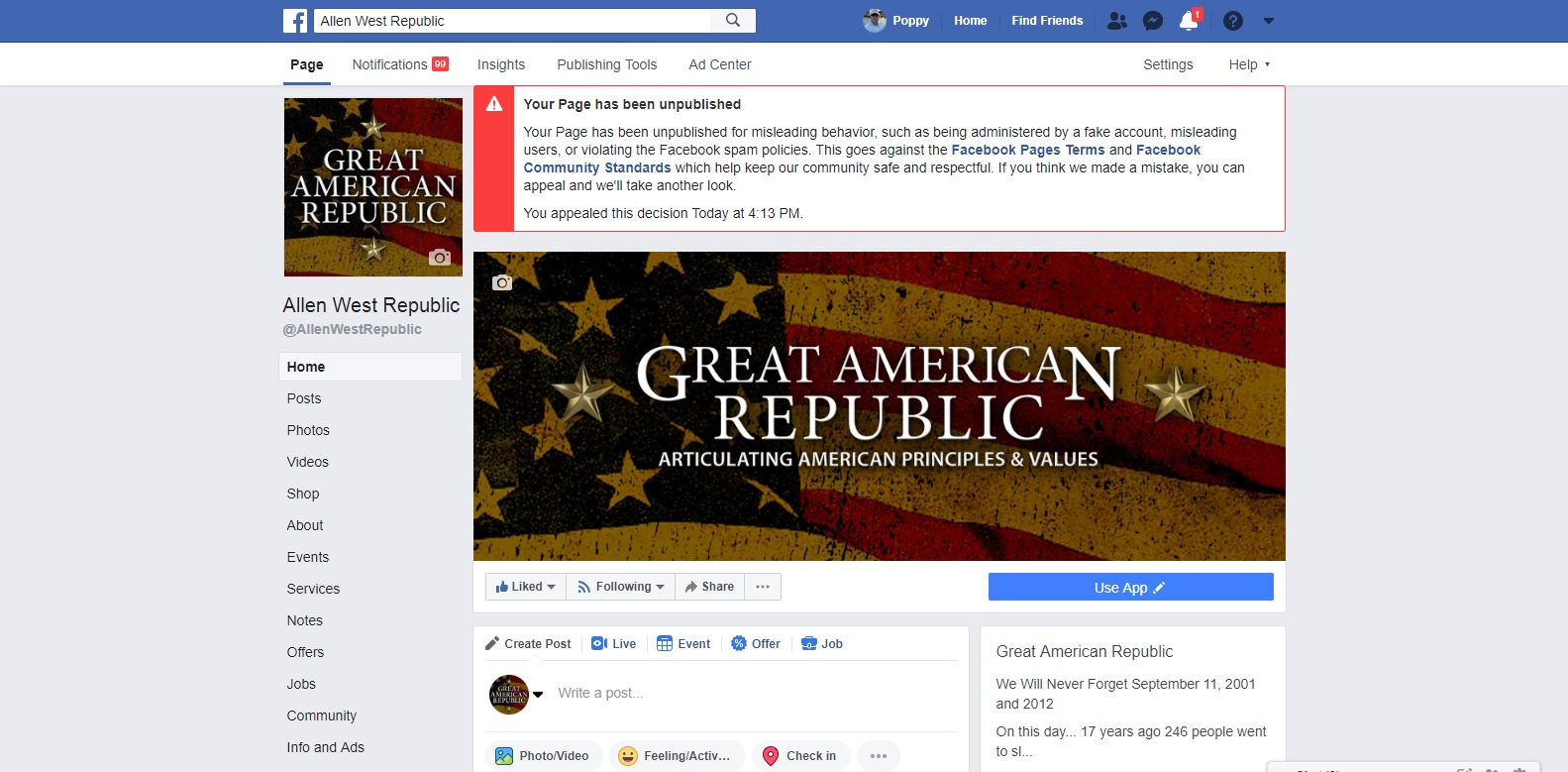 Grimsley reached out to her Facebook contact and was told it was because what is written below. This of course is blatantly false and Grimsley uses only main news sources and provides quality content with proper link back to every single article on her website and Facebook page.
Here is more information on why Facebook has made the decision to remove your account and pages from the platform, along with 559 Pages and 251 accounts that have violated our Spam and Coordinated Inauthentic Behavior (CIB) policies.

The pages are being removed for inauthentic and spamming behavior on the platform. Our team has detected the use of fake accounts or multiple accounts with the same names or by accounts not under your name. These posts then link to websites that are entirely separate from Facebook and seem legitimate, but where most of the content is ads. These accounts have also posted the same clickbait posts in dozens of Facebook Groups, often hundreds of times in a short period, to drum up traffic.

The artificial engagement generated by inauthentic behavior, whether through the use of multiple accounts, fake accounts, and/or ad farms cannot be used to inflate and mislead people about your page's popularity.

Second, we proactively took down a network of financially motivated, political accounts and Pages, for violating our spam and CIB policies. You can learn more about the decision here:https://newsroom.fb.com/news/2018/10/removing-inauthentic-activity/

Today's decision was based on violations of Facebook's existing spam and coordinated inauthentic behavior policies, the type of content posted by all accounts impacted was not a factor.
This is an all out war. Conservatives are being shutdown intentionally before the coming elections in November and also in 2020. The Washington Post article mentioned one liberal page, I wonder if there was more than one.
And like the politically motivated activity we've seen, the "news" stories or opinions these accounts and Pages share are often indistinguishable from legitimate political debate."

You have to be kidding! "The "news" stories or opinions these accounts and Pages share are often indistinguishable from legitimate political debate."

That's because they ARE "legitimate political debate!" If it walks like a duck and quacks like a duck….
Read the full story from Conservative writer and website owner Joe Newby below.
As Written and Reported By Joe Newby for Conservative Firing Line:
On Thursday, the Washington Post reported that Facebook, the social media giant once called the "world's most dangerous censor," unpublished over 800 accounts and pages, accusing those pages and accounts of flooding users with politically-oriented content the company says violates its policies on spam.
According to the Post:
The accounts and pages, with names such as Reasonable People Unite and Reverb Press, were probably domestic actors using clickbait headlines and other spammy tactics to drive users to websites where they could target them with ads, the company said. Some had hundreds of thousands of followers and expressed a range of political viewpoints, including a page that billed itself as "the first publication to endorse President Donald J. Trump." They did not appear to have ties to Russia, company officials said.

Facebook said it was not removing the publishers and accounts because of the type of content they posted but because of the behaviors they engaged in, including spamming Facebook groups with identical pieces of content, unauthorized ……
THE STORY CONTINUES HERE:
Outrageous: Facebook targets, deletes numerous political pages and accounts, cites rules regarding spam ⋆ Conservative Firing Line