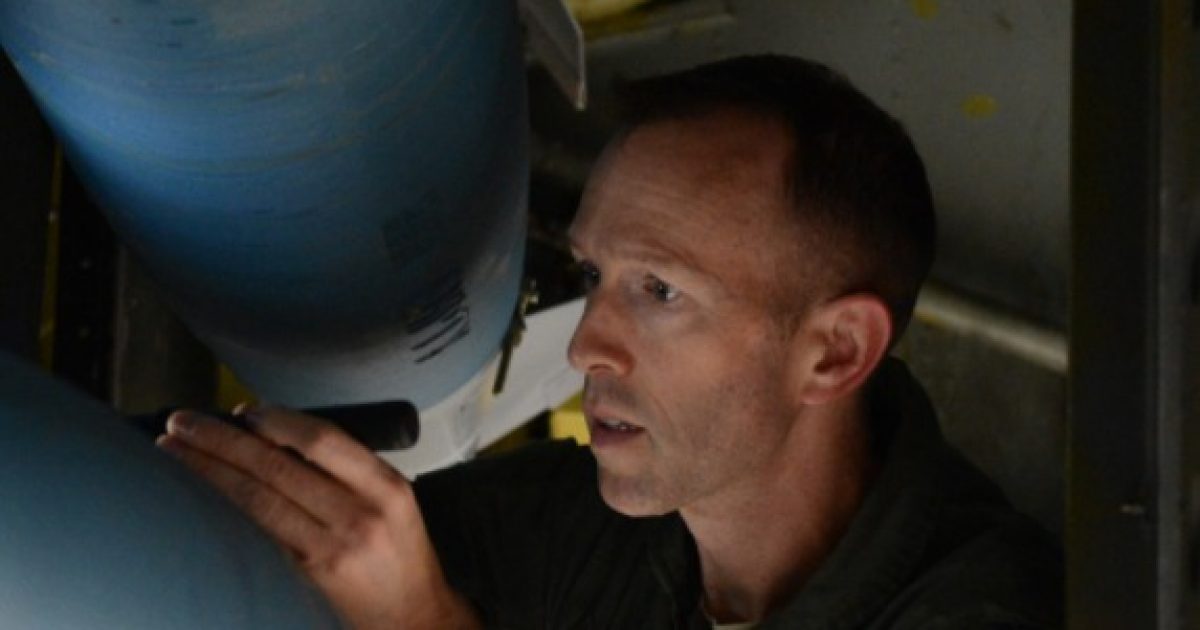 The Air Force has shot down one of its own hero pilots in a case of not-so-friendly fire. The main weapon used was political correctness run amok in leadership dating back to the Obama era. The actual issue was same-sex marriage. The actual victims here are an authentic American hero pilot and religious freedom. It is not the retiring Master Sargent and his same-sex spouse. Where is Donald Trump's Secretary of the Air Force? Where is the Commander-in-Chief? 
As Written By Allen B. West:
The effects of the eight years of the Obama administration are still being felt in our military — and may be felt for some time longer.
Trending: Former Federal Prosecutor Says 'Rosenstein Deeply Involved in Effort to Try to Remove Trump From Office' (Video)
It's not just that we have poor training certifications, as evidenced by the horrific, recent naval vessel accidents. We've also witnessed the release of a convicted felon and traitor, Bradley Manning, just because he suffers from the mental condition known as gender dysphoria. And we've told you about U.S. Army second lieutenant Spenser Rapone, an avowed communist, who graduated from the U.S. Military Academy at West Point.
take our poll - story continues below
Completing this poll grants you access to Great American Republic updates free of charge. You may opt out at anytime. You also agree to this site's Privacy Policy and Terms of Use.
Now comes another story about how political correctness has overtaken our military … and we thought this would end with the election of President Donald Trump!
As reported at Townhall.com by Todd Starnes,
The Air Force has punished a highly-decorated and respected colonel after he refused to publicly affirm the same-sex spouse of a retiring subordinate. Col. Leland Bohannon, who was on the verge of being promoted to a one-star general, was suspended from command and orders were handed down recommending he not be promoted.
"His career is likely over and he will likely have to retire as a colonel instead of as a general," First Liberty Institute attorney Michael Berry told the Todd Starnes Show. "This sends a clear message — if you do not have the politically correct viewpoint, you are not welcome in the military," Berry said. "The military is no longer a place of diversity and inclusion if you are a person who holds to a traditional belief on marriage."
Col. Bohannon has flown combat missions in Iraq and Afghanistan and he is the recipient of the Bronze Star, the Defense Meritorious Service Medal and the Air Medal. Last May the colonel declined to sign a certificate of spouse appreciation for a retiring master sergeant's same-sex spouse. He was unable to do so because it would have caused him to affirm a definition of marriage contrary to his sincerely held religious beliefs.
Col. Bohannon sought the advice of his Command Chaplain as well as the Staff Judge Advocate. He was advised to request a religious accommodation. However, that request was returned six weeks later "without action."
"He went out of his way to make sure his Airman was accommodated," Berry told the Todd Starnes Show. But when the master sergeant learned Col. Bohannon did not personally sign the spouse certificate, the Airman filed an Equal Opportunity complaint. The Airman alleged the devout Christian colonel had "unlawfully discriminated against him on the basis of his sexual orientation.
Okay, let me get this right: This Master Sergeant brought an EO complaint against a commanding officer, a decorated Air Force combat pilot, just because he did not sign a certificate for his his same-sex partner? What the heck is happening in our military?
This Master Sergeant should have been told, thanks for your service, now go enjoy your retirement. Instead, we're going to ruin the career of an officer who probably has a stellar record? I mean, YGTBSM! This officer has been suspended from command and orders were handed down recommending that he not be promoted?
Yes, indeed, diversity means subservience to the gods of leftist political correctness and progressive social egalitarianism. The doggone certificate was signed, and guess what folks? Chances are it will be tossed into a foot locker or something, not to be displayed.
We have a military that has taken so much care to ensure that the social-engineering policies of the Obama administration prevail over simple doggone common sense. And what gets me steamed is that here this Colonel is punished for not affirming same-sex marriage, but we can't get our nation to affirm the Second Amendment.
Where is Secretary of the Air Force Heather Wilson on this? Where is Secretary of Defense Mattis on this? Does anyone realize what this means for the good order and discipline in our military?
It means that there's a new normal, a perplexing standard in our military in that commanders and other leaders can be punished for not accepting the sexual behavior of soldiers, sailors, airmen, Marines, and Coast Guardsmen.
Therefore, what other individual behaviors shall commanders and leaders be punished for not accepting? This is the slippery slope, that Nancy Pelosi and her ilk like to see.
What's the basis for an equal opportunity complaint? This was a certificate for a civilian, it appears — not a military service member. Nothing about this passes the common sense smell test, and if this is allowed to pass, then expect more of ……
THERE'S MORE KEEP READING HERE:
Allen West: What the Air Force is doing to one of its top pilots is MIND-BLOWING – Allen B. West – AllenBWest.com