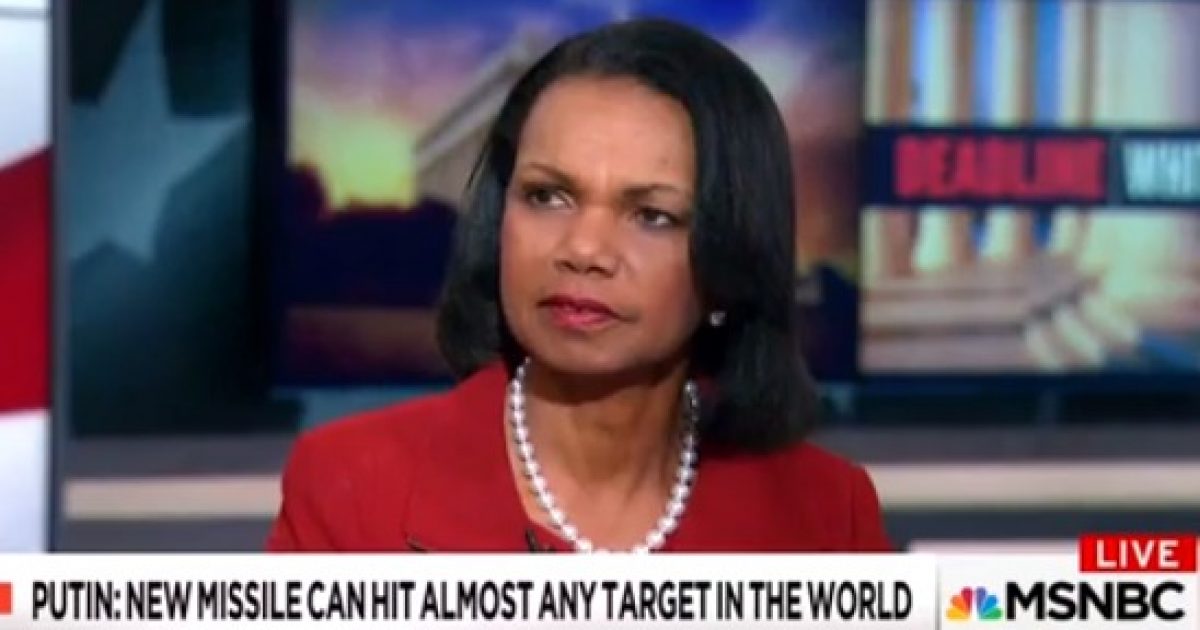 [VIDEO] In this video you will see and hear Condi Rice weigh in on the narrative of the Russians meddling in our election process. In her appearance on MSNBC, she talks about Russian Premier Vladimir Putin. If you listen closely, you will hear her get right down to the motive that Putin may have had to come in against the Hillary Clinton candidacy. This is a very good line of reasoning and Condoleezza Rice is always well thought out and well spoken. 

As Written and Reported By Benny Johnson for the Daily Caller:
Former Secretary of State Condoleezza Rice put some of the blame for Russian election on Hillary Clinton in a wide-ranging MSNBC interview on Thursady
Rice, who has considerable experience with Vladimir Putin, did not hold back on her assessment of the motivations behind Russian election meddling.
She said that then-Secretary of State Clinton criticizing Putin for Russia's 2012 elections encouraged the foreign leader to seek revenge. Rice said that Putin is an "eye for an eye" kind of person and that he was out to hurt Clinton in order to prove that America could also have flawed elections.
With Vladimir Putin, this was an eye for an eye. He's an eye for an eye kind of person, and Hillary Clinton criticized his election. Now he wants to show that he can sow chaos in ours.
Rice went on to say that election security needs to be tightened in America and social media platforms need to be cautious of their ability to sway an…
THERE IS WAY MORE HERE KEEP READING:
Trending: It Has Been A Bad 24 Hours For Journalism
Rice Blames Hillary For Russian Election Medd | The Daily Caller
take our poll - story continues below
Should Congress Remove Biden from Office?
Completing this poll grants you access to Great American Republic updates free of charge. You may opt out at anytime. You also agree to this site's Privacy Policy and Terms of Use.