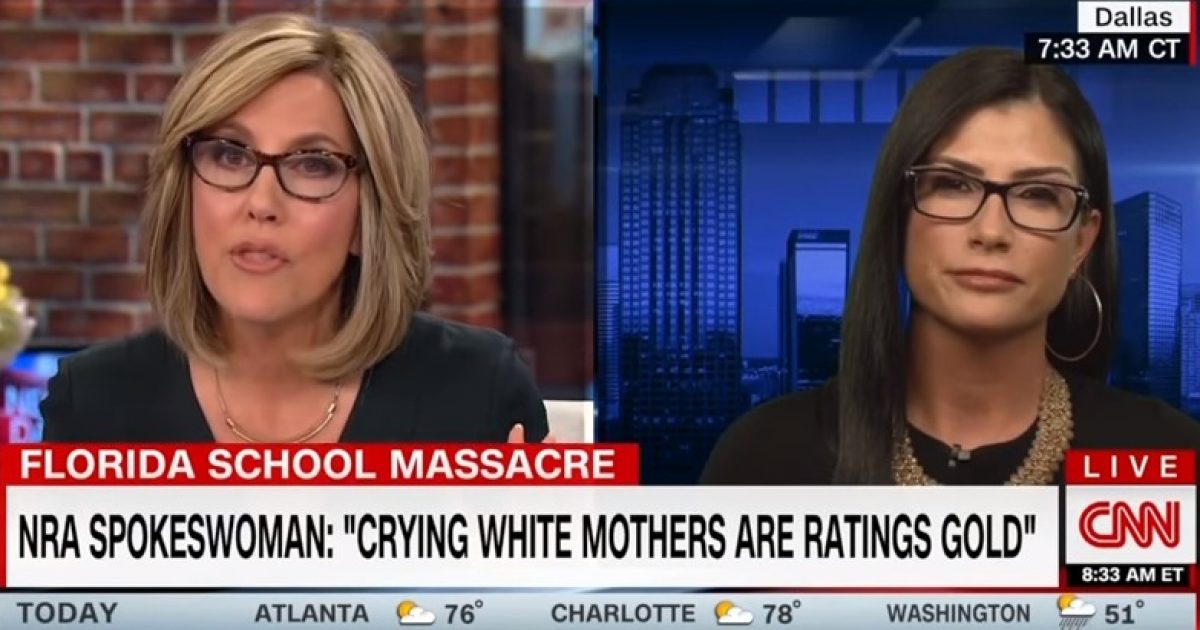 [VIDEO] (Warning: May want to slap your television) CNN talking head Alisyn Camerota gets called out on her own program for allowing the National Rifle Association to be called child murderers. You can watch her come unhinged as Dana Loesch goes head-to-head with here and Alisn's denial. Be sure to watch to the very end as the final proof is delivered with Ms. Camerota right there on the split screen. Worth watching just to see her caught out in her denial.

As Written and Reported By Ryan Saavedra for the Daily Wire:
On Friday, CNN host Alisyn Camerota falsely claimed that she never allowed the NRA to be called "child murderers" on her program as she was nasty and dismissive of National Rifle Association spokeswoman Dana Loesch.
Trending: Nunes Tells Dems to Get Off The TV Circuit And Go Do The Memo Redaction
Camerota interviewed Loesch on CNN's "New Day" after Loesch said at CPAC that "many in legacy media love mass shootings" because of the ratings they bring in, the Free Beaconreported.
take our poll - story continues below
Should Congress Remove Biden from Office?
Completing this poll grants you access to Great American Republic updates free of charge. You may opt out at anytime. You also agree to this site's Privacy Policy and Terms of Use.
Reacting with fury, Camerota said Loesch's comments were "just malicious," despite the fact that studies have indicated that the way the media covers mass shootings actually inspires more mass shootings.
"I do need to interject though, Alisyn," Loesch said. "You're saying that it's malicious, but yet on your network, you've allowed accusations against me and millions of law-abiding Americans to be indicted as child murderers. I've watched you, Alisyn, on your program at this very time slot, and you've allowed that to stand uncorrected on your network."
Camerota replied, "It's not true. We've never called you a child murderer. We have to be fact-based."
"No, you've allowed the accusations to stand, Alisyn. Please follow what I'm saying," Loesch responded. "You've done nothing to correct that."…..
KEEP READING THERE IS EVEN MORE HERE:
CNN Host Claims She Never Allowed NRA To Be Called 'Child Murderers.' Here's The Proof She Did. | Daily Wire