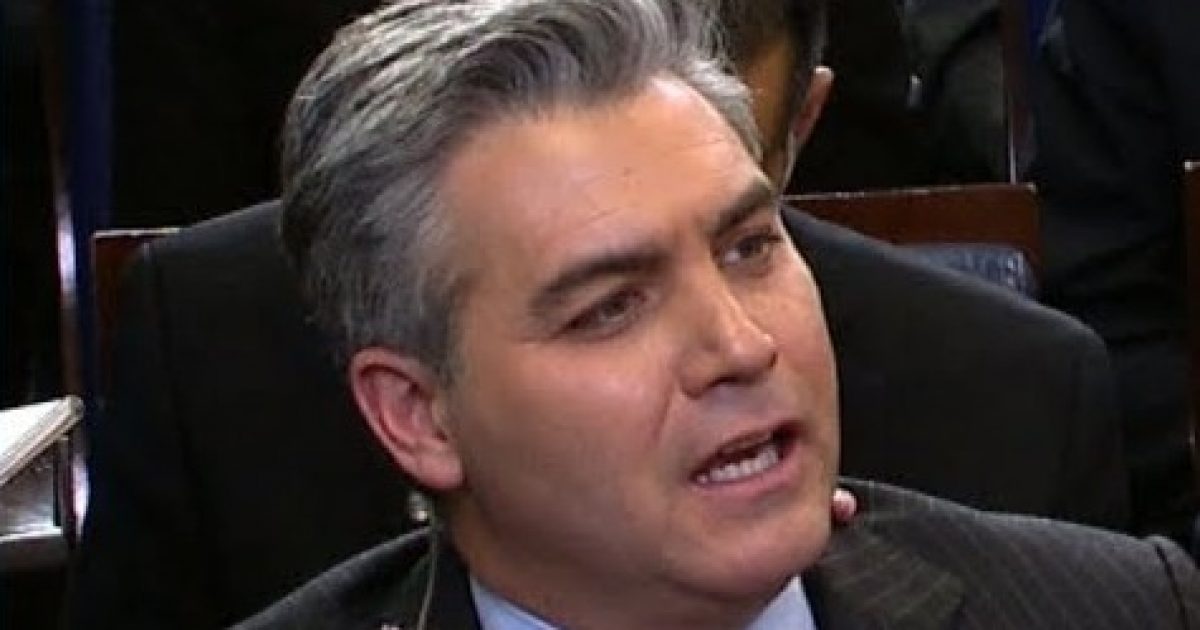 CNN's White House Correspondent Jim Acosta has seemingly lost all sense of propriety when it comes to dealing with the Trump administration. The President of the United States is sitting with a bunch of innocent children and Acosta starts yelling DACA questions at the President. So much for a family style event and photo-op. Mr. Acosta is under heavy criticism. Some want him suspended. He later defended his actions on Twitter, saying he was "just doing my job." We call bovine excrement on Mr. Acosta.
As Written and Reported By Caitlin Yilek for the Washington Examiner:
President Trump's campaign manager for the 2020 campaign suggested CNN's White House correspondent Jim Acosta should lose his credentials after he yelled a question at Trump during the White House Easter Egg Roll on Monday.
Acosta asked Trump a question about the Deferred Action for Childhood Arrivals program as Trump was coloring with children attending the event.
In a tweet, Brad Parscale called on Acosta to be suspended for "breaking protocol."
"Maybe it is time for Jim Acosta to get a suspension for breaking protocol," he wrote. "He continues to embarrass himself and @CNN. Pull his credentials for each incident."
Maybe it is time for Jim Acosta to get a suspension for breaking protocol. He continues to embarrass himself and @CNN. Pull his credentials for each incident. https://t.co/WHC9nlIo75

Trending: Nunes: 'There's Only One 'Obvious Felony' To Emerge From The Whole Trump-Russia Investigation

— Brad Parscale (@parscale) April 2, 2018
take our poll - story continues below
Completing this poll grants you access to Great American Republic updates free of charge. You may opt out at anytime. You also agree to this site's Privacy Policy and Terms of Use.
Actually for once, CNN's Acosta is correct. He CAN exercise his 1st amendment rights. And in doing so, proves that yelling questions @POTUS during children's event is what we expect from the south end of a north-bound mule. https://t.co/WAcKa1Lfie

— Gov. Mike Huckabee (@GovMikeHuckabee) April 2, 2018
Co-sign. @Acosta should have had his credentials pulled a long time ago. He has the professional acumen of a 3 year old at Toys R Us.

There is no shortage of toddlers that @CNN can replace him with. https://t.co/9kKgCU6B6V

— Candace Owens (@RealCandaceO) April 2, 2018
Jim Acosta yelling at Trump, like the child he is. pic.twitter.com/eQQGNWFLCC

— Mike (@Fuctupmind) April 2, 2018
KEEP READING THERE IS WAY MORE HERE:
Trump campaign manager calls for CNN's Jim Acosta to be suspended