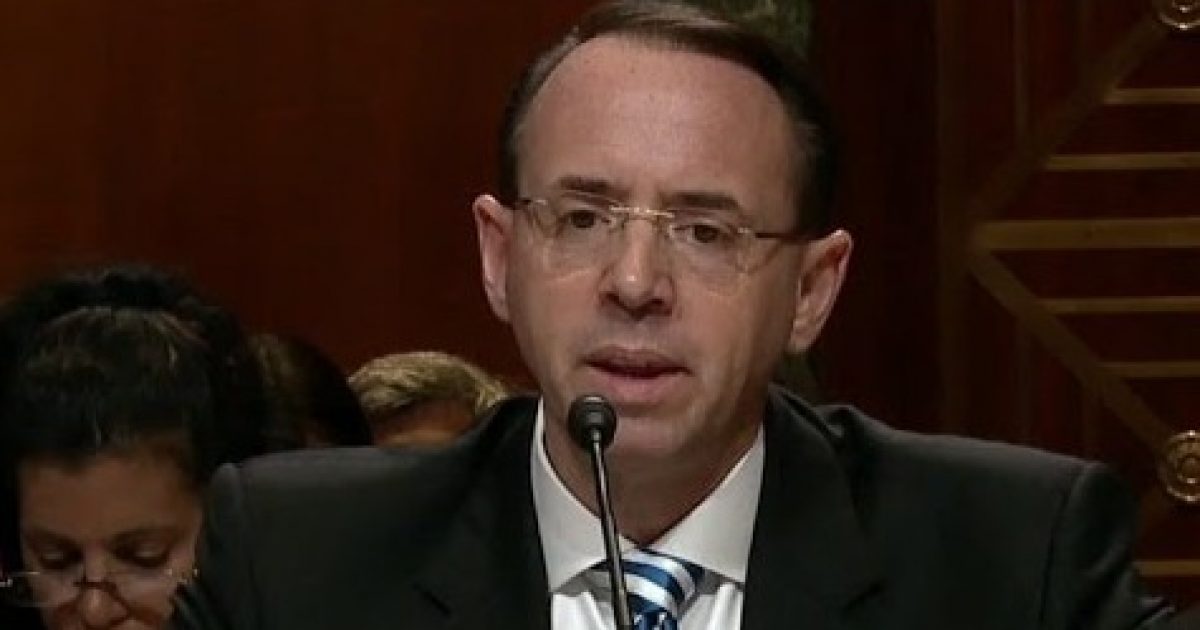 Deputy Attorney General Rod Rosenstein may be the tip of the spear for the deep state coup that has plagued the Trump administration. Revelations from the House FISA surveillance memo make the Deputy AG look more and more like a man with an agenda. The agenda would be to bolster and protect Hilary Rodham Clinton and at the same time subvert Donald J. Trump.  
As Written and Reported By Daniel John Sobieski for the American Thinker:
The confirmation of Rod Rosenstein to be Deputy Attorney General by a lopsided 94-6 vote should have set off warning bells. It is odd that a Trump nominee would get much Democratic support, if any. But his role in appointing his buddy Robert Mueller to lead a bogus Russian collusion probe and his history of looking the other way when Hillary Clinton is involved shows the Democrats had high hopes for Rosenstein, hopes realized by actions documented in the four-page House Intelligence Committee memo:
Trending: Even MORE Despicable Behavior Unearthed in Broward Sheriff's Office

A secret, highly contentious Republican memo reveals that Deputy Attorney General Rod J. Rosenstein approved an application to extend surveillance of a former Trump campaign associate shortly after taking office last spring, according to three people familiar with it.

take our poll - story continues below

Is Biden's Vaccine Mandate Unconstitutional?

Completing this poll grants you access to Great American Republic updates free of charge. You may opt out at anytime. You also agree to this site's Privacy Policy and Terms of Use.

The renewal shows that the Justice Department under President Trump saw reason to believe that the associate, Carter Page, was acting as a Russian agent…

The memo's primary contention is that F.B.I. and Justice Department officials failed to adequately explain to an intelligence court judge in initially seeking a warrant for surveillance of Mr. Page that they were relying in part on research by an investigator, Christopher Steele, that had been financed by the Democratic National Committee and Hillary Clinton's presidential campaign
Steele's discredited "research," which relied heavily on input from Russian sources, was paid for by the DNC and the Hillary Clinton campaign, which puts Rosenstein in the position of aiding the efforts of one political party to overturn the results of an election won by the other political party by okaying domestic…..
KEEP READING THERE IS WAY MORE HERE: