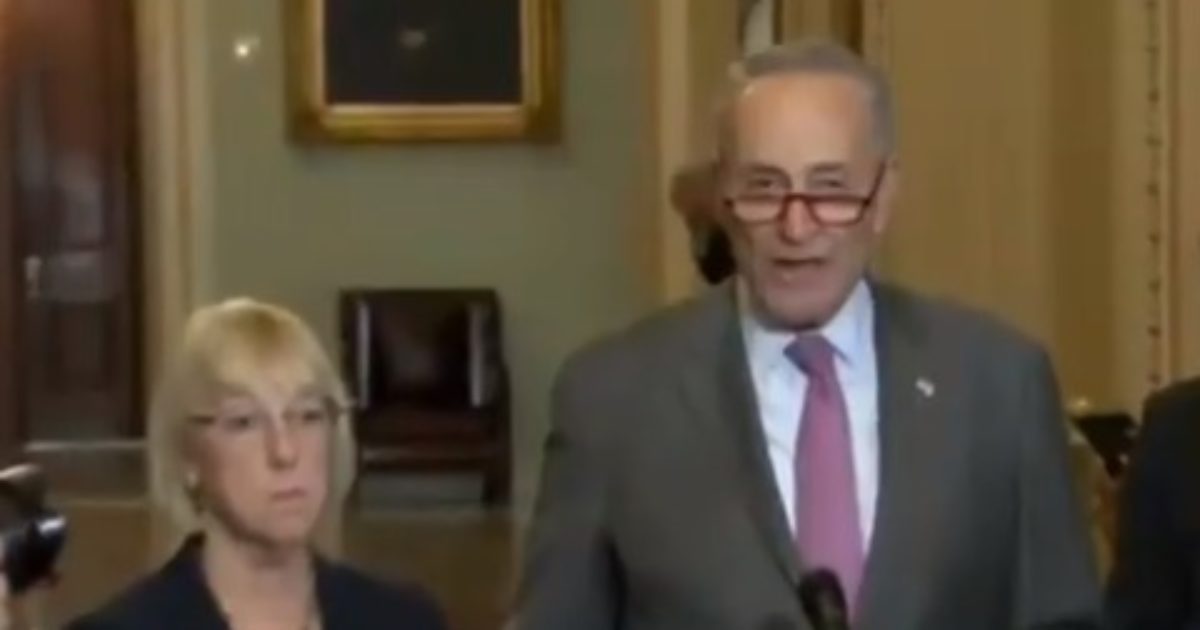 Before you read any further, note the following rundown of Democrat Senator Chuck Schumer's education:
He attended public schools in Brooklyn, scoring a perfect 1600 on the SAT, and graduated as class valedictorian from James Madison High School, in 1967. Schumer competed for Madison High on the It's Academic television quiz show.[13] He attended Harvard College, where he became interested in politics and campaigned for Eugene McCarthy, in 1968.[14] After completing his undergraduate degree, he continued to Harvard Law School, earning his Juris Doctor with honors, in 1974. Schumer passed the New York state bar in early 1975. However, he never practiced law, choosing instead a career in politics.[15]
Putting all of the highly educated and very intelligent thoughts above into perspective you must watch the video below. Then ask yourself what has happened to the Democrat party.
Trending: You Thought What The Left Did to Kavanaugh Was Bad … You Ain't Seen Nothing Yet
Senate Minority leader Chuck Schumer was not exactly parsing words when he talked about the hearings for Supreme Court nominee Judge Brett Kavanaugh. He actually said that there was no presumption of innocence, but fails to recognize that the proceedings are a trial by media and Senators are saying that they believe the accuser and not the judge. That sounds like Judge Kavanaugh has been found guilty of sexual misconduct without the first believable piece of evidence being presented. He has been tried in the media already. Don't let Schumer deflect you from the real story. Read it here.
Chuck Schumer, in his own words, Brett Kabvanaugh has "No presumption of innocence."

take our poll - story continues below

Completing this poll grants you access to Great American Republic updates free of charge. You may opt out at anytime. You also agree to this site's Privacy Policy and Terms of Use.

This explains much of the Democrats approach to these accusations. pic.twitter.com/nTUzJ2J4t2

— Benny (@bennyjohnson) September 25, 2018
As Written and Reported By Lauretta Brown for Townhall:
Senate Minority Leader Chuck Schumer (D-NY) told reporters on Capitol Hill Tuesday that in the case of the sexual misconduct allegations against Supreme Court nominee Judge Brett Kavanaugh there's "no presumption of innocence or guilt."

"No, it's not a legal proceeding. It's a fact-finding proceeding," Schumer said in response to Senate Majority Leader Mitch McConnell (R-KY) saying Kavanaugh should get a "presumption of innocence."

"This is not a criminal trial," Schumer emphasized. "This is to find the facts."

"What I believe is we ought to get to the bottom and find the facts in the way that the FBI has always done," he argued. "There's no presumption of innocence or guilt when you have a nominee before you. There is, rather – find the facts … and then let the Senate and let the American people make their judgment, not whether they're guilty or innocent, but whether the person deserves to have the office for which he or she is chosen. Plain and simple….
KEEP READING THERE IS WAY MORE ON THIS STORY AT THE LINK:
Schumer: 'No Presumption of Innocence or Guilt' When It Comes to Kavanaugh