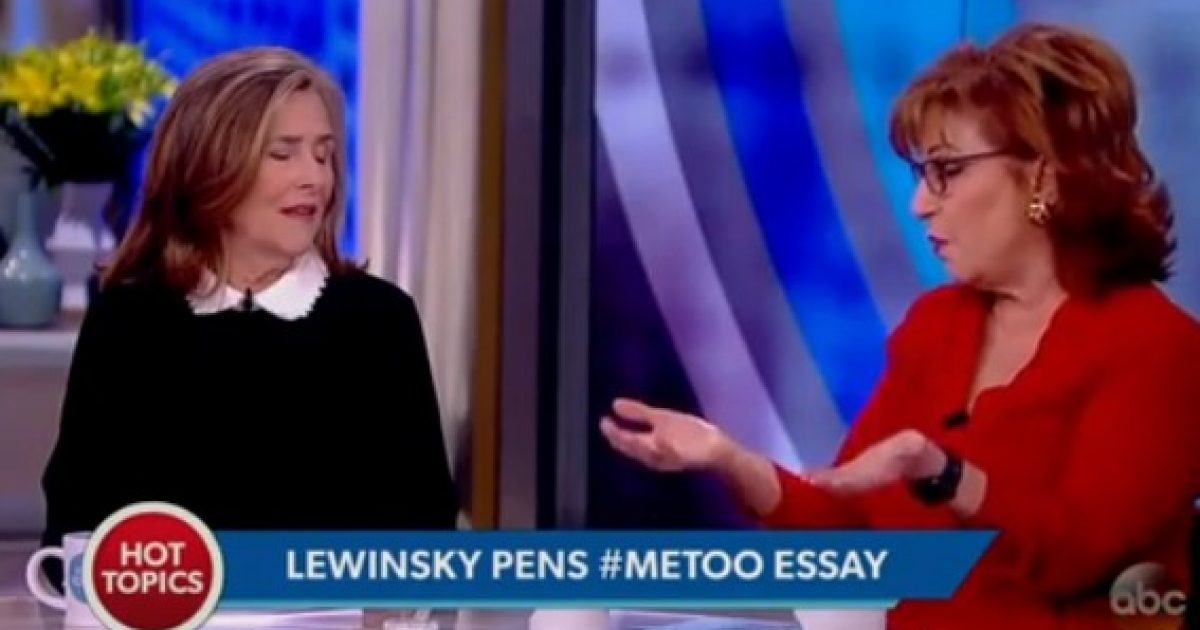 [VIDEO] The women of The View decided today that Bill and Hillary Clinton are not the pillars of society after all. In one icy moment, Hell froze over and looked up at the TV in shock. After all of the grandstanding for Hillary Clinton, the feminist on the program took big swipes at Old Bill and his wife Hillary. You have to see it to believe it. Close your mouth.
As Written and Reported By Benny Johnson for the Daily Caller:
The women of "The View" did not go easy on Bill or Hillary Clinton during Monday's broadcast.
Trending: New Info On DOJ Offical and Fusion GPS That Could Blow The Lid Off Russia Investigation [Video]
The co-hosts were responding to a new profile on Monica Lewinsky, where the former White House intern described Bill Clinton's sexual abuse of her when he was president. The View ladies took turns savaging the Clintons and their "gross abuse of power."
take our poll - story continues below
Is Biden's Vaccine Mandate Unconstitutional?
Completing this poll grants you access to Great American Republic updates free of charge. You may opt out at anytime. You also agree to this site's Privacy Policy and Terms of Use.
Speaking about the affair, which eventually led to Clinton's impeachment, Joy Behar said it was "an abuse of power. He was the president and she was an intern. She was 23 or 24?" Behar continued. "If you're talking about powers, inequality in power, that's the big biggie. An intern and a president." Guest co-host Meredith Vieira said Lewinsky was unfairly vilified after the affair but Clinton was allowed to go on to lead a successful life.
Behar made the point that Clinton no longer has a voice in the Me Too movement.
"It haunts him to this day," she said of Clinton. "Have you seen him lately talking with this Me Too thing? He can't stump for Democrats easily." Whoopi Goldberg commented on the moment in the 2016 elections when three of BillClinton's former accusers were brought to a presidential debate, saying it will "haunt" Clinton forever.
Vieira said that Lewinsky did not give consent to Clinton for his sexual advances and that it's "Not just the age. The power difference, too."
Meghan McCain bluntly said that the Clinton affair taught her about …..

THERE IS MORE HERE KEEP READING:
The View Savages Bill And Hillary Clinton | The Daily Caller