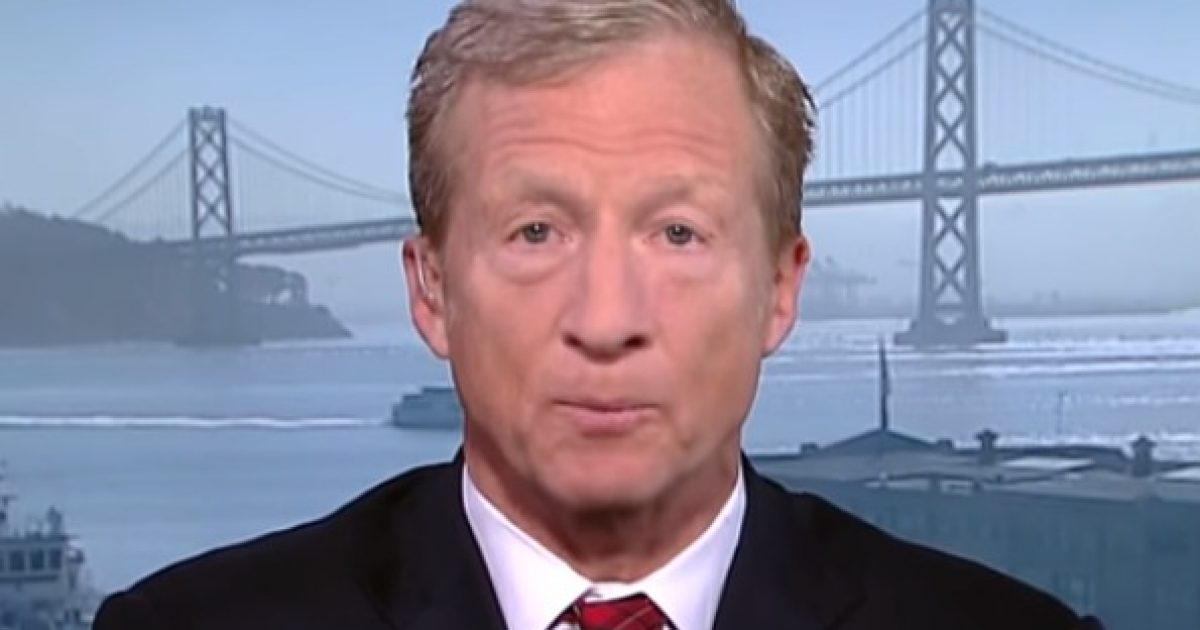 Liberal, progressive, Alt-Left Billionaire Tom Styer just blew the wheels off the Democrat Wagon in an interview with the Rolling Stone magazine. Mr. Styer, in a thoughtless comment, pulled out his own nuclear option. We are not talking about a filibuster vote here. It may have been a Freudian comment in that it shows that Mr. Styer would sacrifice the nation just to get President Donald trump out of office. He tried to walk back the comment but the damage has been done. This is the mindset of the radical Left exposed to the light of day.
As Written and Reported By David Rutz for the Free Beacon:
Left-wing billionaire Tom Steyer said perhaps there could be a "nuclear war" that would provide a "real course correction" to Donald Trump's presidency during an interviewpublished by Rolling Stone.
Steyer, who launched a national impeachment campaign against President Donald Trump last year, spoke with the liberal magazine about his efforts, which have been opposed by leading Democrats like House Minority Leader Nancy Pelosi (D., Calif.).
Interviewer Tim Dickinson pointed out Pelosi's strategy of opposing impeachment of President George W. Bush, to take the issue off the table in 2006. Democrats took back both chambers of Congress in an electoral rout that year.
"She pointed to how she dealt with George W. Bush – whom many wanted to impeach," Dickinson said. "She believes the decision to take impeachment off the table helped Democrats take the House in 2006, and paved a path to Obama and a deeper correction."
"I remember 2006," Steyer said. "What happened is that George W. Bush, he put us in two disastrous wars and we were headed toward the biggest financial disaster since the Great Depression. So if the …..
KEEP READING THERE IS MORE AT THE LINK BELOW:
Trending: Damning New Evidence "Appears"
Steyer: Maybe We Can Have a 'Nuclear War' to Provide a 'Real Course Correction' to Trump
take our poll - story continues below
Should Congress Remove Biden from Office?
Completing this poll grants you access to Great American Republic updates free of charge. You may opt out at anytime. You also agree to this site's Privacy Policy and Terms of Use.