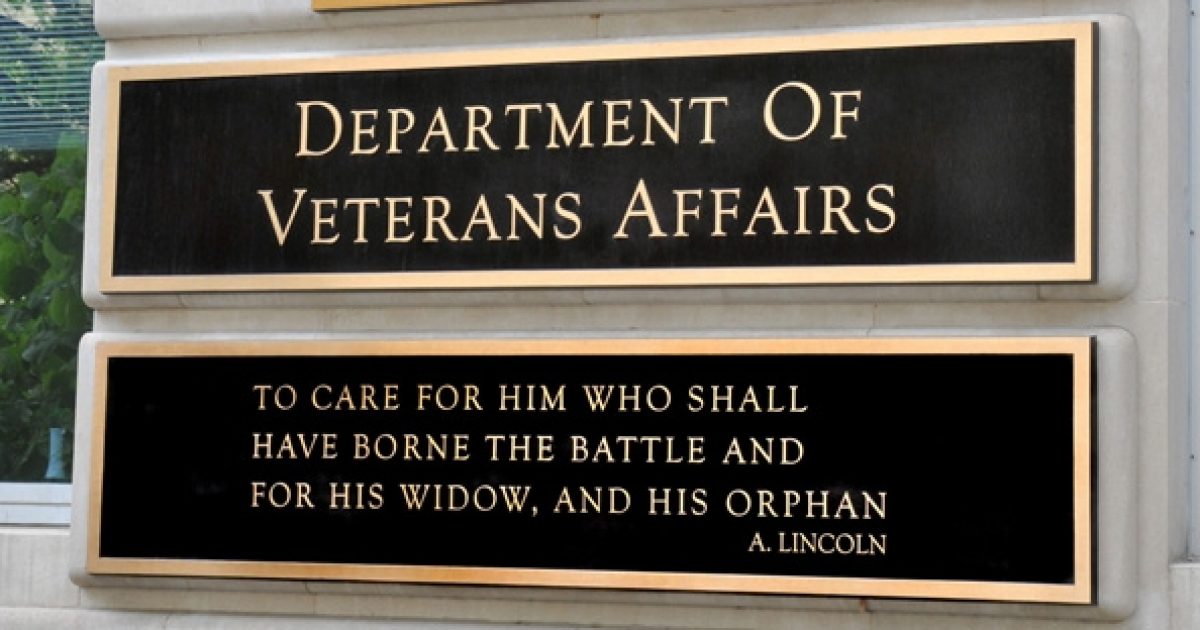 Each war that country has faced has brought a different sort of an issue for that war's veterans to face. In the Civil War, there were diseases to rake through the ranks. In WWI it was the survivors of chemical warfare. WWII exposed the issues of combat fatigue. Agent Orange was the culprit in Vietnam. Now our veterans of the Gulf Wars and the ongoing conflicts are facing this monster of a disease. It is all explained here.
As Written By Allen B. West:
I had a great visit earlier this week in Chattanooga, Tennessee. It's always great to go back home, whether that's Georgia or Rocky Top. While there, several folks quietly asked me, "How are we doing with the VA reform?"
Trending: There is a "bureaucratic coup" being uncovered against the President of the United States
Well, the good news is that now it's easier to discipline and fire individuals, and we don't hear the horror stories we did before.
take our poll - story continues below
Completing this poll grants you access to Great American Republic updates free of charge. You may opt out at anytime. You also agree to this site's Privacy Policy and Terms of Use.
Or perhaps the horror stories are just being squashed and kept hidden a little better?
It appears that each generation has a serious combat illness that has to be confronted. I remember when we laid to rest a dear friend and fellow motorcycle rider, the president of the Leathernecks MC in Palm Beach County, who was a Vietnam-era recon Marine, call sign "Blue."
He was an exceptional man, a former recon Marine sniper, and just a wonderful Christian, a true American patriot. Sadly, over time, we watched the horrific effects of Agent Orange diminish his body and his quality of life, until it took his life.
During Operation Desert Storm, there was a major concern over the demolition of countless stocks of chemical weapons, and their residual effects on those of us who served. Due to my service in Iraq and Afghanistan, just like many others, I'm blacklisted from donating blood.
Many of us were exposed to tuberculosis in those combat zones. Now it seems that there's another health threat to those of us who served in the Iraq and Afghanistan combat theaters of operation.
As reported by The American Conservative,
One look at Brian Alvarado and you wonder how he can still be alive. Especially when you get a glimpse at his pre-deployment photograph—a Marine in his service uniform, full-faced and ready for whatever war would dish out—and think, "is this really the same person?"
Unfortunately, yes, Alvarado served two tours 10 years ago, and for a time he patrolled "hell," which is what the guys called the open air burn pits on major U.S. military installations like Air Base Balad in Iraq.
When he got home, according to his wife, he was diagnosed with Squamous Cell Carcinoma (throat cancer) and began chemo and radiation in 2008. Today he can hardly speak and eats and drinks through a G-tube. His features are skeletal, his neck the size of man's wrist. He is 5-foot-9 and weighs about 70 pounds.
He is one of thousands of U.S. military service members and contractors who say their proximity to the pits in Iraq and Afghanistan, which burned — unregulated, in the open air — hundreds of tons of solid waste a day, have left them with progressive health conditions, including respiratory failure, debilitating nerve damage, and rare forms of cancer.
"They gave us a gas mask, but it wasn't for that. It was more for nuclear, biological chemicals. It was never mandatory for us to wear that."
The veterans' journey — from healthy soldiers to barely surviving, like Alvarado — has been captured in a new independent documentary, Delay, Deny, Hope You Die: How America Poisoned its Soldiers (the first part of that is a black slogan among vets, referring to the protracted dance with the VA over health claims), by director and producer Greg Lovett.
I can attest that, early in our deployment to Iraq in 2003, we used the burn pits to eliminate solid waste. I know that our battalion command sergeant major would have the troops detailed to burn pit duty, and we rotated.
What we used was diesel fuel to burn off the waste. We had no other means of disposal, as this was early, before any upgraded facilities were put in place. No, there were no environmental checklists other than to try and conduct the burn downwind from troop areas — but nothing could be certain.
In reading the entire article by Kelley Vlahos, we must be concerned that there could be a new Agent Orange generational illness that must not be dismissed by our Veterans Administration. This is why we need to make sure our veterans have the full ability to seek out medical treatment at ANY medical facility in the United States.
It's unconscionable to think that this is potentially another combat zone-created illness that's not being given the attention it requires. This is what we should see from a true reform of the Veterans Administration hospital system — a total focus on those illnesses, sickness or medical issues that are directly related to combat duty.
There's no reason why veterans need to go to a VA facility for general medical attention. We must honor the promise made to our veterans. What has happened to Brian Alvarado is a continuing blight on our nation. When young …….
THERE IS MORE HERE. KEEP READING:
We need to get to the bottom of what's happening with our injured vets – Allen B. West – AllenBWest.com