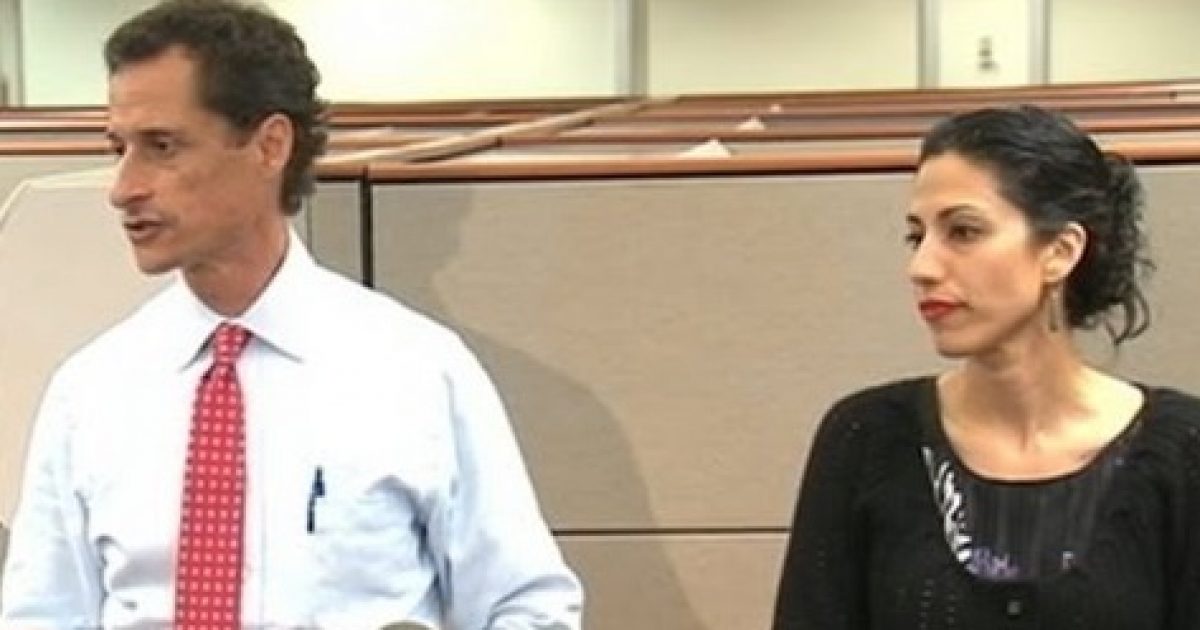 If you recall, there were a few skirmishes over the control of the Anthony Weiner laptop. Weiner is the criminally convicted and soon to be divorced pervert husband of Huma Abedin. Abedin was Hillary Clinton's deputy chief of staff during the Secretary of State days. 
Thanks to the efforts of Judicial Watch, the FBI is being forced to cough up 2,800 government documents that were found on the laptop. It appears that Huma herself put them there. It is highly likely that some of these documents and emails could turn out to be classified.
If the FBI has known of these documents, why has the Justice Department not opened a case about them? Is there a cover-up still going on and led by a shadow government? When are the facts coming out? This information is unbelievable.
Trending: You Thought What The Left Did to Kavanaugh Was Bad … You Ain't Seen Nothing Yet
As Written and reported by Fox News:
The FBI reportedly found 2,800 government documents on disgraced former U.S. Rep. Anthony Weiner's personal laptop computer that were related to his estranged wife's work as Hillary Clinton's deputy chief of staff during her tenure as secretary of state.
The conservative group Judicial Watch reported Tuesday that the State Department received the documents from the FBI after Judicial Watch sued the department when it failed to respond to a Freedom of Information Act (FOIA) request.
take our poll - story continues below
Do you think the 2nd Amendment will be destroyed by the Biden Administration?
Completing this poll grants you access to Great American Republic updates free of charge. You may opt out at anytime. You also agree to this site's Privacy Policy and Terms of Use.
The documents were sent to Weiner's computer by Huma Abedin, a revelation that came to light in the closing days of last year's presidential campaign.
"This is a disturbing development. Our experience with Abedin's emails suggest these Weiner laptop documents will include classified and other sensitive materials," Judicial Watch President Tom Fitton said in a statement. "When will the Justice Department do a serious investigation of Hillary Clinton's and Huma Abedin's obvious violations of….
Keep reading here….
Anthony Weiner laptop had 2,800 gov't documents from Huma Abedin: Report | Fox News