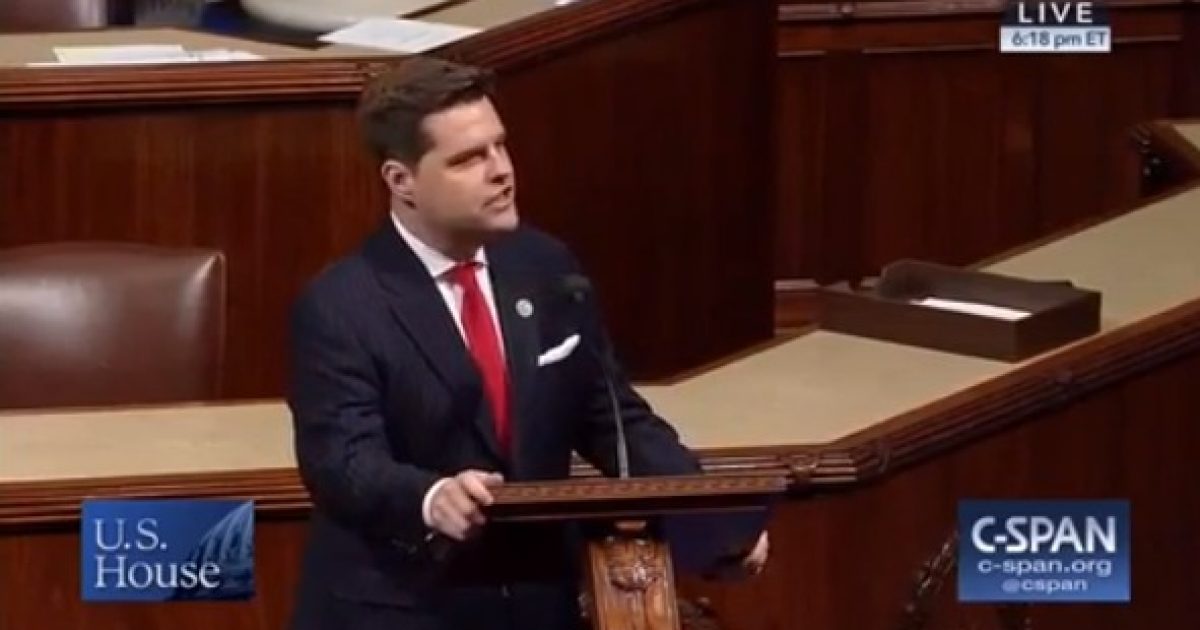 Florida Republican House Representative Matt Gaetz is talking about taking his complaints about Twitter  to the Federal Communications Commission. The social network recently changed some algorithms that seem to affect the conservative members more adversely than it does its liberal members. In this day of social networking, that puts all conservative politicians at a disadvantage. Twitter will maintain that there were some hidden factors in account behaviors that caused this "error" to occur. They also maintain that there is nothing personal or political in the search results or the performance of the Gaetz account. A 71% drop in growth begs to differ.
As Written and Reported By Peter Hasson and Joe Simonson for the Daily Caller:
Twitter's recent algorithm change suppressed, or "shadow-banned," prominent conservatives, including Republican Florida Rep. Matt Gaetz, a new report found.
Gaetz is considering filing a Federal Election Commission (FEC) complaint against Twitter, he told The Daily Caller News Foundation.
Gaetz said his Twitter account's growth slowed immediately after Twitter's recent algorithm change.
Twitter acknowledged the "inaccurate" search results but said it was unrelated to politics.
Rep. Matt Gaetz is considering filing a complaint with the Federal Election Commission (FEC) over Twitter's alleged suppression of his account, the Florida Republican told The Daily Caller News Foundation on Wednesday.
Trending: World Wide Web Founder Worried About the Growing Power Wielded by Google and Facebook
Gaetz was one of several prominent conservatives, including members of Congress and the chair of the Republican National Committee, whose accounts Twitter suppressed by making it harder to find in the site's search function, a Vice News investigation published Wednesday found.
take our poll - story continues below
Should Congress Remove Biden from Office?
Completing this poll grants you access to Great American Republic updates free of charge. You may opt out at anytime. You also agree to this site's Privacy Policy and Terms of Use.
"Democrats are not being 'shadow banned' in the same way," the report concluded, noting: "Not a single member of the 78-person Progressive Caucus faces the same situation in Twitter's search………
KEEP READING THERE IS EVEN MORE AT THE LINK BELOW:
EXCLUSIVE: GOP Rep. Gaetz Threatens Twitter With FEC Complaint Over Twitter Suppression, Claims Twitter May Be Giving Opponent Illegal Advantage | The Daily Caller