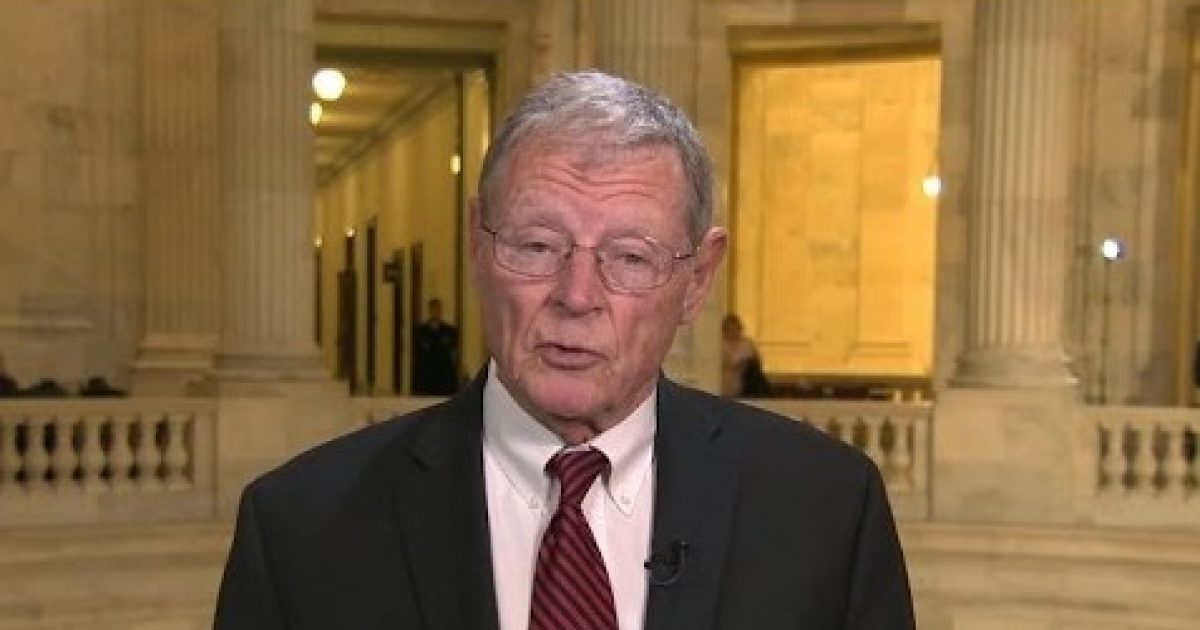 Oklahoma Republican Senator Jim Inhofe has his own plan in how to fund border wall and solve the problem for President Donald Trump. The 1,954-mile border with Mexico traverses a variety of terrains, including urban areas and deserts, not all of which may require a wall. Senator Inhofe's "Wall Act" would provide a way to close up some of the loopholes that allow our border processes to be abused.
As Written and Reported By Frank Camp for the Daily Wire:
On Thursday, Senator Jim Inhofe (R-OK) announced legislation that would fund President Trump's long-promised southern border wall.

Trending: Former Federal Prosecutor Says 'Rosenstein Deeply Involved in Effort to Try to Remove Trump From Office' (Video)

The aptly-named "WALL Act" would allegedly offset the estimated $25 billion cost of the southern border wall by reducing government assistance to illegal immigrants.

take our poll - story continues below

Who would you vote for if the elections were held today?

Completing this poll grants you access to Great American Republic updates free of charge. You may opt out at anytime. You also agree to this site's Privacy Policy and Terms of Use.

First, the legislation would require a "work-authorized Social Security Number (SSN) to claim refundable tax credits, like the Earned Income Tax Credit (EITC) or the Child Tax Credit."

According to a press release accompanying Inhofe's announcement, with the way the system currently works, "only the child needs a SSN, not the parent benefiting from the refundable child tax credit." His proposed legislation would require any adult seeking an EITC or Child Tax Credit to provide their own "work-eligible Social Security Number" (SSN).
This act will "will fully fund the President's $25 billion border wall while providing specific ways to pay for it." Read on and decide what you think of these measures. The Democrats will hate them, guaranteed.
Second, any individuals applying for various welfare programs would not only have to provide a "work-authorized" Social Security Number, but would be checked against the E-Verify database.

Third, the legislation would ramp up "minimum fines on illegal border….

THERE IS EVEN MORE. KEEP READING AT THE LINK BELOW:

Sen Inhofe Introduces 'WALL Act' To Fund Border Wall By 'Closing Loopholes That Allow Unauthorized Immigrants To Receive Federal Benefits' | Daily Wire