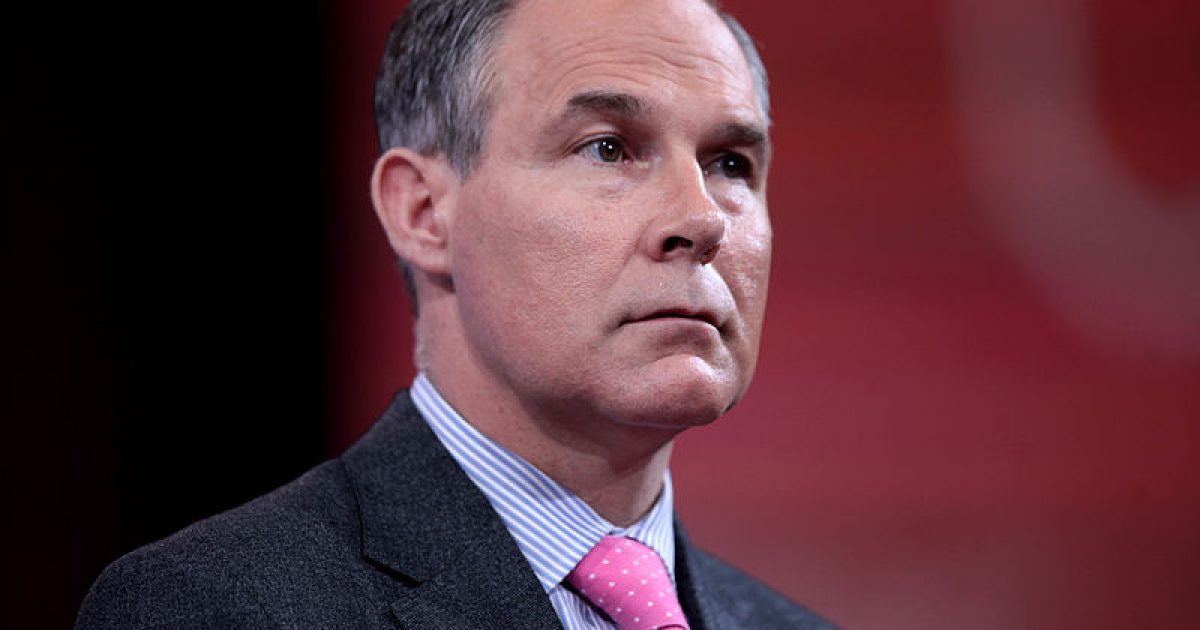 When President Donald Trump appointed Scott Pruitt to head the Environmental Protection Agency, he definitely appointed a champion to carry out his agenda. Mr. Pruitt has been, by far, the most dynamic and successful department head that the President has appointed. What makes him so successful? Look at what he has accomplished and what is in store for the EPA next.
As Written and Reported By Michael Bastach for the Daily Caller:
Calls from Democratic lawmakers and environmental activists for Scott Pruitt's removal have not stopped the Environmental Protection Agency administrator from planning his next moves to implement President Donald Trump's agenda.
At a Republican National Lawyers Association meeting on Friday, Pruitt laid out what he hoped to accomplish at EPA in 2019. First, Pruitt mentioned finalizing the repeal of major Obama-era regulations.
"I anticipate the proposed redefining of 'waters of the United States' will come out here very soon, and we will finalize that by the end of the year," Pruitt said at the event where he accepted an award.
Replacement for the Clean Power Plan will be finalized in 2018 as well, Pruitt said. In the upcoming year, Pruitt would also focus on less high-profile reforms to EPA's permitting and reporting processes, he also told Republican lawyers.
"Just to give you one example, when I came in I asked the question of our team, 'how long does it take us to go through the permitting process,'" Pruitt said. "And it wasn't even measured. We didn't even know."
EPA has been developing a process "where the agency is going to be able to make a decision, up or down, on a permit within six months by the end of the year," Pruitt added.
"That's something that states do routinely; it's just we've never set that objective. And I can tell you we're not doing it in six months right…..
THERE IS WAY MORE HERE KEEP READING:
Trending: Damning New Evidence "Appears"
Scott Pruitt Sticks With Trump's Agenda | The Daily Caller
take our poll - story continues below
Should Congress Remove Biden from Office?
Completing this poll grants you access to Great American Republic updates free of charge. You may opt out at anytime. You also agree to this site's Privacy Policy and Terms of Use.