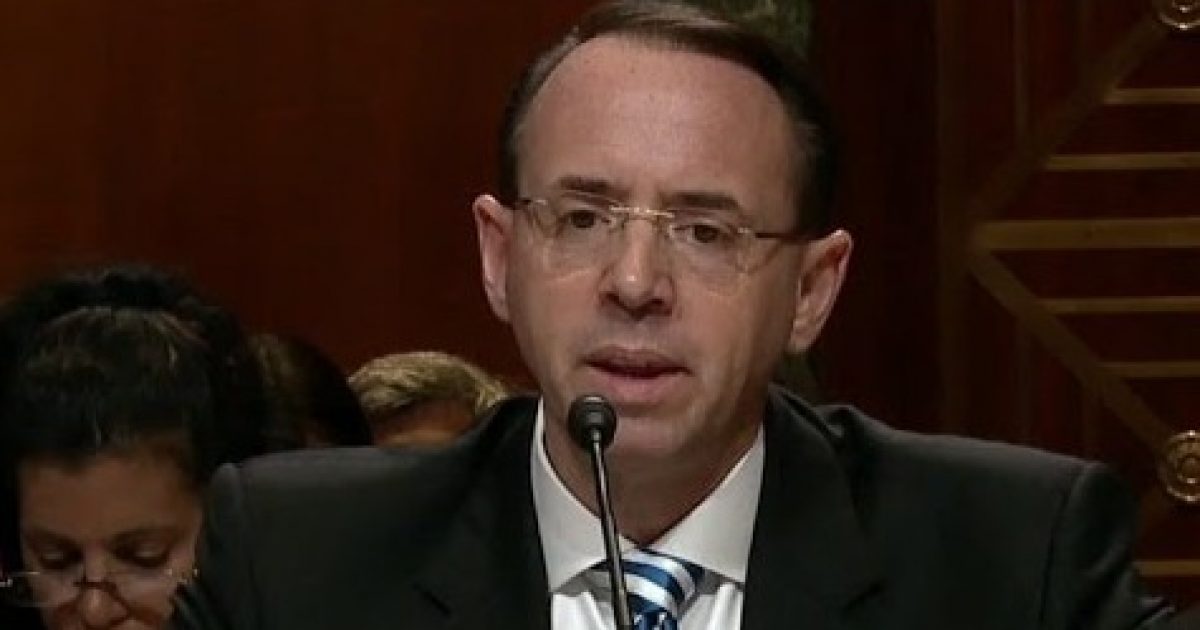 Deputy Attorney General Rod Rosenstein is now the official target of Freedom Caucus Chairman Rep. Mark Meadows (R-NC) and Rep. Jim Jordan (R-OH). They have filed charges against the Deputy AG for his stonewalling and slow walking Congressional inquires that constitute their oversight responsibilities. They also cite his evidence provided or not provide to the FISA Court. Is this the proper path? You read. You decide.
As Written and Reported By Sara Carter:
For more than nine months, House Republicans have been battling the Department of Justice and FBI for a cache of documents they say are necessary to conduct oversight investigations into the FBI's handling of alleged collusion between Donald Trump's presidential campaign and Russia. The backroom battles between lawmakers and Deputy Attorney General Rod Rosenstein culminated in impeachment articles filed Wednesday against the deputy attorney general.
Trending: General Mattis Blasts The Press! [Video]
The lawmakers did so despite objections by Republican House Speaker Paul Ryan (R-WI) who said to reporters Thursday, "Do I support impeachment of Rod Rosenstein? No, I do not."
"I don't think we should be cavalier with this process or with this term," he said.
take our poll - story continues below

Should Congress Remove Biden from Office?

Completing this poll grants you access to Great American Republic updates free of charge. You may opt out at anytime. You also agree to this site's Privacy Policy and Terms of Use.

Mr. Rosenstein oversaw the potentially improper authorization of FISA searches and electronic surveillance of members of the Trump campaign
Nonetheless, Freedom Caucus Chairman Rep. Mark Meadows (R-NC) and Rep. Jim Jordan (R-OH) went forward with the articles of impeachment. The lawmakers charged Rosenstein with "high crimes and misdemeanor" and noted that Rosenstein signed off on a search warrant that deliberately withheld vital information from the Foreign Intelligence Surveillance Court (FISC). The DOJ under Rosensten was "withholding embarrassing documents and information, knowingly hiding investigative information from Congress," committing various abuses of the FISA process and refusing to comply with subpoenas, according to the lawmakers. The articles were filed just before the House goes on its five-week August recess and are not expected to come up for a vote until the members return to Washington……
WAIT! THERE IS WAY MORE. KEEP READING AT THE LINK BELOW!
Why Rosenstein is Being Charged with "High Crimes and Misdemeanors" | Sara A. Carter