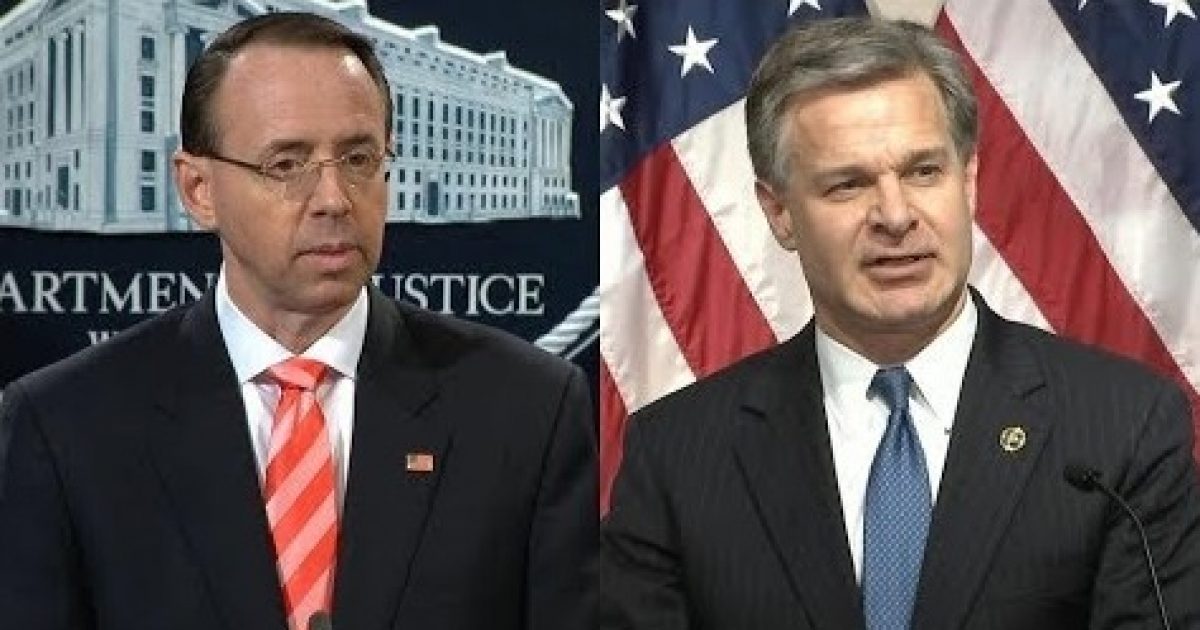 There were very few easy questions for Rosenstein and Wray in front of the House Intelligence Committee. Deputy Attorney General Rod Rosenstein and FBI Director Christopher Wray went to the Hill and got their hides nailed to the wall. This was not the line of questioning that made either of them comfortable. As it is pointed out in this article, these two are operating in a sort of state of denial. Even questions about conflict of interests do not gt a viable answer. Read it all here.
As Written and Reported By Emerald Robinson for American Greatness:
Rod Rosenstein and Christopher Wray went up to Capitol Hill on Thursday to tell the House Intelligence Committee that neither one of them had noticed anything wrong with Robert Mueller's special probe or with the anti-Trump bias of its staff.
Trending: Did Hillary Clinton just joke that all Blacks look alike? (Video)
No matter what Congress and the public had read in the massive inspector general's report recently, they wanted everyone to know that the deputy attorney general and the FBI director had the Bureau under control now, and that Rosenstein had Wray and Mueller under control, too. Everything is fine. Nothing to see here. Couldn't Congress just leave them alone? Here were two men metaphorically standing outside their houses now burnt to the ground, and asking the firemen inside for coffee. Should we pity them or lock them up as madmen?
take our poll - story continues below
Should Congress Remove Biden from Office?
Completing this poll grants you access to Great American Republic updates free of charge. You may opt out at anytime. You also agree to this site's Privacy Policy and Terms of Use.
Rep. Ron DeSantis (R-Fla.) pointed out that Rosenstein had conflicts everywhere you turned. How could he oversee the Mueller probe when he had written the memo to President Trump recommending former FBI Director James Comey be fired in the first place? If reports were true that Mueller was investigating the president for "obstruction" related to firing Comey, then hadn't Rosenstein set up a loop to investigate himself? Wasn't he the origin point of the whole……
KEEP READING BY CLICKING THE LINK BELOW:
Rosenstein and Wray Squirm on the Hill – American Greatness