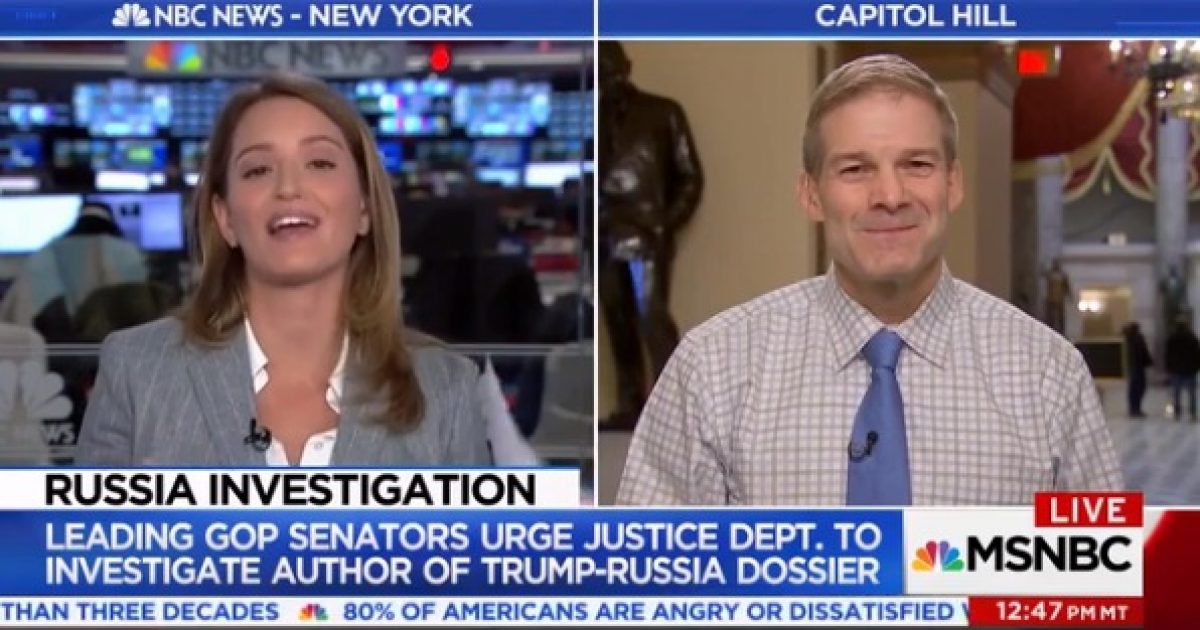 [VIDEP] Representative Jim Jordon was doing battle with Katy Tur on MSNBC and Katy apparently had had enough of 'discussing' things with the Honorable Representative. In the interview video, she tries to cap Mr. Jordon for seeming to never to answer her questions. What she meant by that is another story. Jim Jordon then mentions that he had coincidentally seen her book in Barnes and Noble. He even admitted to having looked inside and was interested in buying it. Then he delivered the Grand Slam Walk-Off Comment that ended the interview. It is short and sweet. Sit back and enjoy the video.
As Written and Reported By Nick Givas for the Daily Caller:
After a tense interview between GOP Rep. Jim Jordan and "MSNBC Live" host Katy Tur, Jordan brought up Tur's book "Unbelievable," and said he saw it for 30 percent off at Barnes & Noble.
Trending: Nigel Farage Warns of Globalist Plot
Tur and Jordan were arguing the merits of the infamous Trump dossier and began talking over one another, before things came to a stalemate and Tur became frustrated with Jordan's answers.
take our poll - story continues below
Completing this poll grants you access to Great American Republic updates free of charge. You may opt out at anytime. You also agree to this site's Privacy Policy and Terms of Use.
"I love having you on, I just wish we could have a conversation where I start out by asking a question, and you answer the question," Tur said.
Jordan smiled and said he had recently read part of Tur's book in a bookstore, and called her chapter on the 2016 presidential election, "interesting."
When Tur asked if he enjoyed reading it, Jordan said, "I'm going to get the whole thing. It was like 30% off at Barnes & Noble. I need to buy it and read the whole thing……

THERE IS WAY MORE HERE KEEP READING: