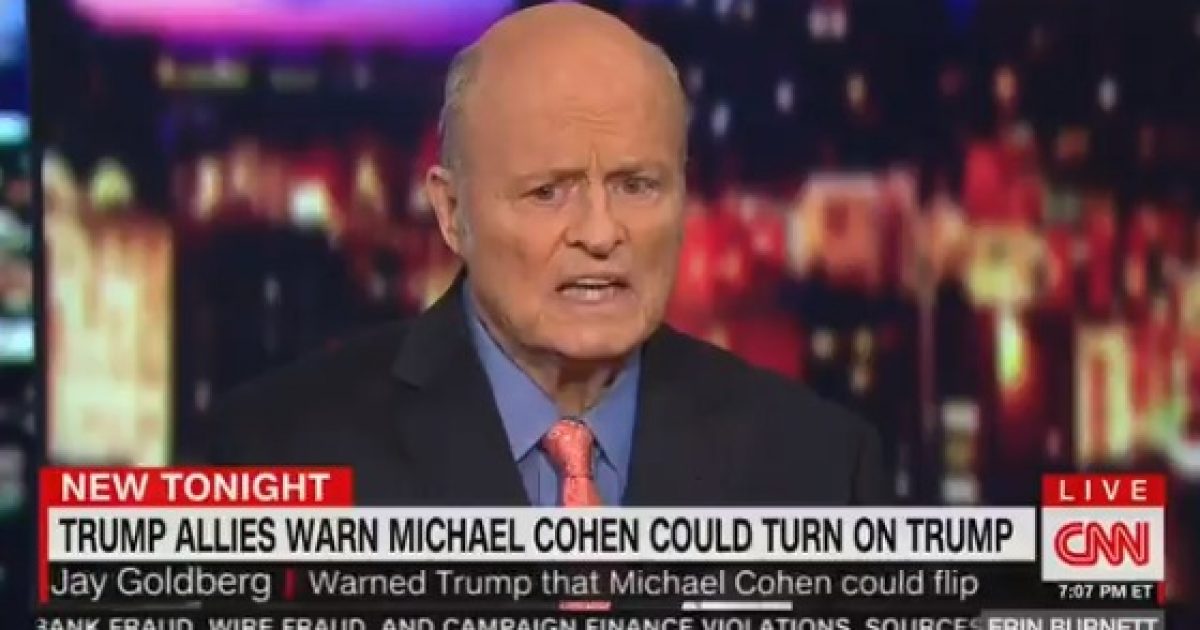 President Trump's lawyer, Jay Goldberg, had a grim joke about Trump's personal attorney, Michael Cohen. It was raw prison humor, but it had a message for the President. After Special Counsel Robert Mueller gave up Cohen for criminal investigation and charges have been brought, there is a real fear that Mr. Cohen would or could say anything and torpedo the President. Here is how things could go very bad.
As Written and Reported By Allahpundit for Hot Air:
Well.
A grim soundbite for more than one reason but I can't help but laugh at his logic. Is the idea that Cohen might be okay with being a jailhouse "wife" if he could be sent to an all-white prison?
Maybe POTUS could lean on the U.S. Attorney to make that happen for him, for old times' sake.
By the way, this is the same attorney who told the media yesterday that he thinks Cohen is destined to roll over on Trump — although he clarified in this interview with Erin Burnett that he doesn't mean to suggest that Trump has done anything criminal. What he's worried about, he claims, is Cohen giving the feds false information about POTUS to try to swing a lighter sentence. (Alan Dershowitz says he's worried about that too.) Which is to say, he sure seems to believe that Cohen might be guilty of something. Just not Trump.
Goldberg says he's thinks Cohen will talk to prosecutors because he's worried about getting raped in prison.

"He's not suited to stand up to the rigors of jail life… Michael doesn't see himself walking down Broadway while people are clamoring, 'you're going to be my wife.'" pic.twitter.com/5IciTrNzp5

— Aaron Rupar (@atrupar) April 19, 2018
A different lawyer who's been in the news lately also thinks Cohen will be negotiating a plea soon:
Avenatti is now alleging that he has evidence of bank fraud involving Michael Cohen, which he has almost certainly shared with the F.B.I. And the F.B.I. may soon respond in kind: "We expect to have access to …..
THERE IS WAY MORE HERE KEEP READING:
Trending: Why the New Strzok-Page Texts Should Scare You
Trump lawyer: Michael Cohen's not going to go be someone's wife in prison given the "racial overtone"
take our poll - story continues below
Should Congress Remove Biden from Office?
Completing this poll grants you access to Great American Republic updates free of charge. You may opt out at anytime. You also agree to this site's Privacy Policy and Terms of Use.