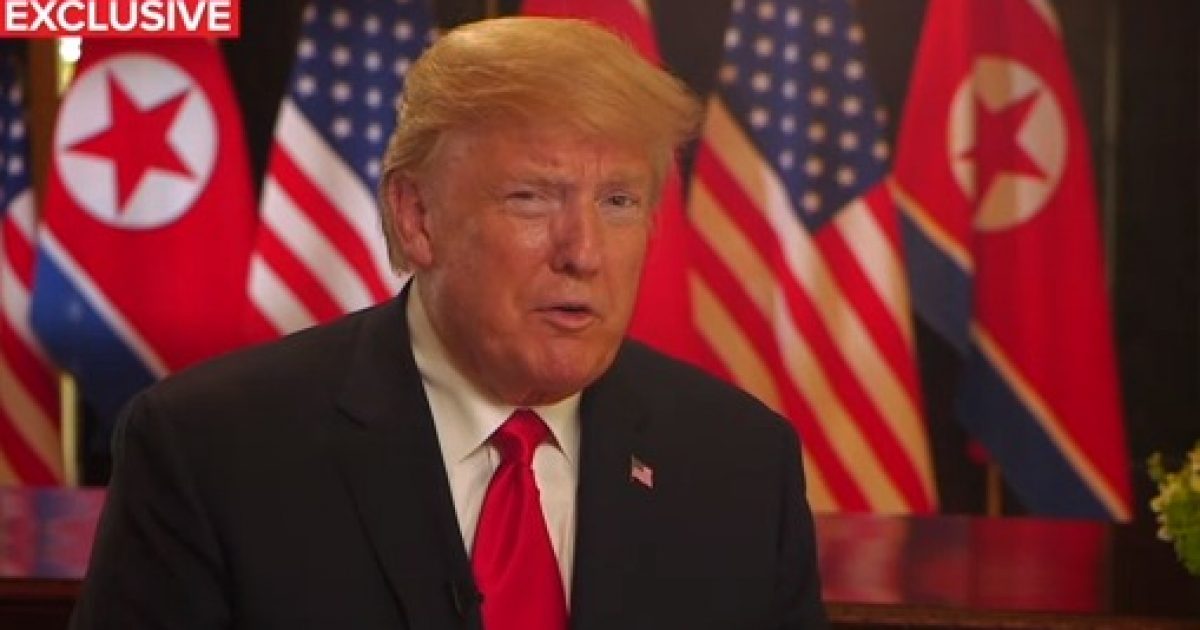 [VIDEO] ABC News' George Stephanopoulos managed to snag an interview with President Donald Trump right after the North Korean Summit. You have to feel sorry for Old George in this interview. He tries to set up the President by using President Obama's Iranian nuclear deal to overshadow what President Trump just accomplished with the meeting with Kim Jong Un. President Trump must have been expecting that from ABC News because his response was a classic. Do you know what was the main difference between the two deals? The difference was $150 Billion dollars. After he was slapped up beside the head with that statement, Stephanopolis spent some time trying to recover the advantage. Watch the whole thing.

As Written and Reported By Emily Zanotti for the Daily Wire:
In an interview with ABC News' George Stephanopoulos, President Donald Trump took a swipe at former President Barack Obama, suggesting that he was able to secure a deal with a rogue nuclear nation without dropping pallets full of cash on Tehran tarmacs.
Many of the same media figures who've scoffed at Trump's attempt to ink a nuclear deal with North Korea are the same media figures who trumpeted President Obama's nuclear deal with the Mullahs of Iran, and Trump isn't willing to let the media forget about it. Both deals had their risks, clearly, and Trump seems to want fair treatment in that regard.
Stephanopoulos asks Trump whether, now that he's had experience negotiating for disarmament with a nuclear power, if he still believes that Obama's deal with Iran was misguided.
Oh, he does.
G: You've set the bar for nuclear agreements by criticizing the Iran nuclear deal, said it's the worst deal ever made.

T: Terrible deal.

G: Does that mean that any deal with ……..
KEEP READING THERE IS EVEN MORE AT THIS LINK BELOW!
Trending: Did Hillary Clinton just joke that all Blacks look alike? (Video)
Trump Trolls Obama: It Didn't Take $150 Billion To Do North Korean Deal | Daily Wire
take our poll - story continues below
Should Congress Remove Biden from Office?
Completing this poll grants you access to Great American Republic updates free of charge. You may opt out at anytime. You also agree to this site's Privacy Policy and Terms of Use.