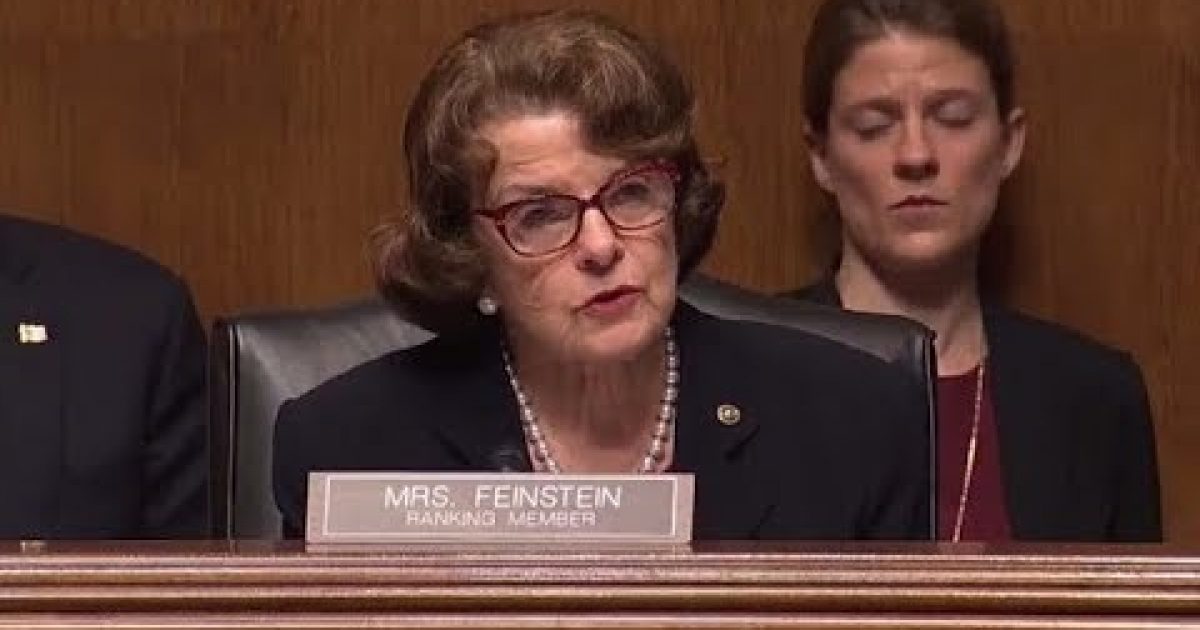 Senator Dianne Feinstein may go down in history for her rapid;y becoming infamous Kavanaugh Letter. The veteran Senator comes to the press with an anonymous letter for an anonymous source about alleged sexual misconduct by Judge Brett Kavanaugh. Gasp! It turns out that it may be about a prank that he may have committed as a teenager in high school! Can you say Jump The Shark?!
As Written and Reported By Virginia Kruta for the Daily Caller:
California Democratic Sen. Dianne Feinstein issued a statement on Thursday alluding to a letter she received that raised concerns about Supreme Court nominee Brett Kavanaugh — but the Wall Street Journal's Kimberley Strassel suggested that the whole scenario didn't exactly add up.
Trending: Even MORE Despicable Behavior Unearthed in Broward Sheriff's Office
The letter, to which Feinstein referred in a vague statement, is believed to contain an allegation of some instance of misconduct involving Kavanaugh and a woman when they were both in high school.
Feinstein releases statement on secret Kavanaugh letter that's roiled Capitol Hill — says she received information from an individual about Kavanaugh's nomination, the individual declined to come forward, and she's referred the matter to investigative authorities pic.twitter.com/lI4o6RJ1hP

take our poll - story continues below

Is Biden's Vaccine Mandate Unconstitutional?

Completing this poll grants you access to Great American Republic updates free of charge. You may opt out at anytime. You also agree to this site's Privacy Policy and Terms of Use.

— Casey Tolan (@caseytolan) September 13, 2018
FIRST PROBLEM: THE ACCUSATION.
Strassel began by pointing out reports from the New York Times that suggested Feinstein had at least been aware of the letter's existence since summer — and argued that if the accusation was truly damning enough to warrant an FBI investigation, it would have been reason enough for Feinstein to present it to authorities immediately.
1) On Feinstein's referral of a letter with an accusation against Kavanaugh to the FBI:
–This is impt enough to be sent to FBI, but not impt enough to have been raised before now? Can't be both. NYT reports she got the letter this summer.

— Kimberley Strassel (@KimStrassel) September 13, 2018
SECOND PROBLEM……..
WAIT! DON'T STOP READING. THERE IS MORE ON THIS STORY AT THE LINK BELOW:
Kimberley Strassel Picks Apart Feinstein's Kavanaugh Letter: 'Timing Here Cannot Be Ignored' | The Daily Caller