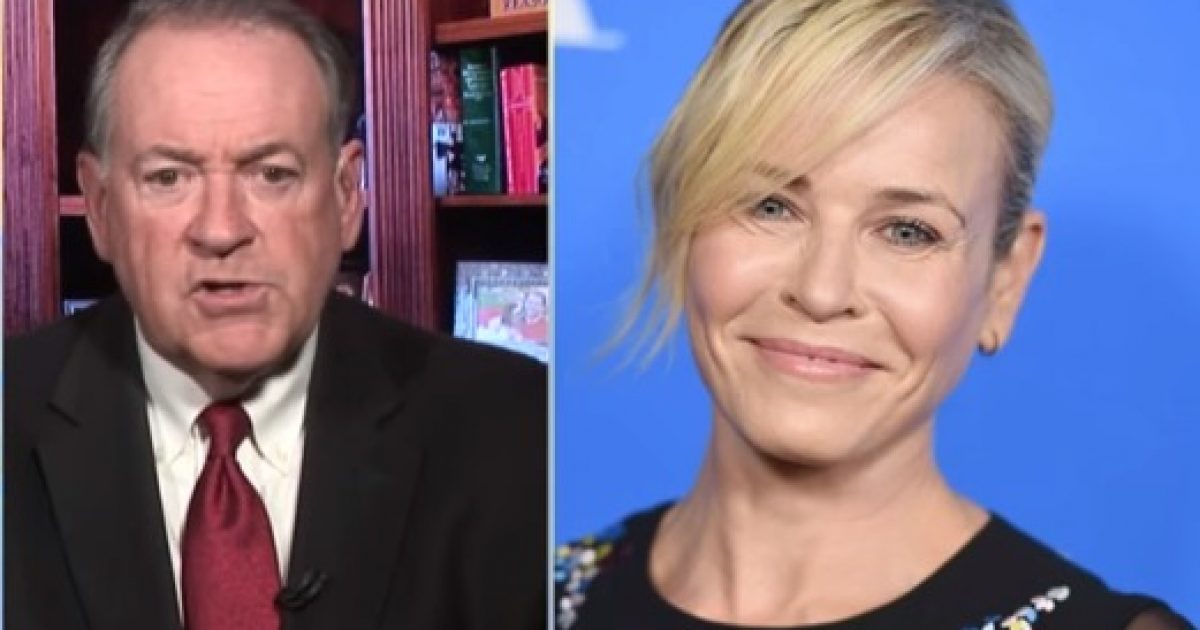 [VIDEO] Chelsea Handler has a potty mouth and Sarah Sander's Dad, Mike Huckabee, will not put up with insulting his daughter. Mr. Huckabee takes note of the anger in Ms. Handler and seems to attribute some of it to the Trump Derangement Syndrom. He is not forgiving, however, and will put up with none of it towards his daughter. I can only say Attaboy, Dad!
As Written By AMANDA PRESTIGIACOMO for the Daily Wire:
On Friday, alleged comedian and "feminist" Chelsea Handler — clearly still suffering from election PTSD — ranted about White House Press Secretary Sarah Huckabee Sanders on her now-cancelled Netflix show.
Trending: GA Democrat Candidate for Governor Refuses to Concede
Handler called Sanders a "harlot" and viciously mocked her appearance. "That harlot that they're dressing up and trolloping out every day?" she said. "I mean, one day she has no makeup on at all, the next she got, like, six-foot-long eyelashes, and she's got cleavage and summer whore lipstick all over her face. Can you believe what they turned her into? A proper trollop."
take our poll - story continues below
Completing this poll grants you access to Great American Republic updates free of charge. You may opt out at anytime. You also agree to this site's Privacy Policy and Terms of Use.
Papa Huckabee was not having it.
Appearing on Fox News on Wednesday morning, former Arkansas Governor Mike Huckabee went off on "bitter" and "lonely" Handler for being "jealous" of his daughter, and therefore lashing out.
"The things that Chelsea Handler said were vile and vulgar," said Huckabee. "I'm surprised that there were not women on the left who at least had the decency to call her out for this."
"I feel sad for Chelsea Handler," he continued. "She seems like a very angry and bitter person."
"She seems to be just in a rage," he said. "And the sad thing about it, she boasts about the two abortions she had at 16, I think in many ways she's jealous of my daughter. My daughter has a ………
KEEP READING THERE IS WAY MORE HERE:
WATCH: Mike Huckabee SLAMS 'Lonely' Chelsea Handler For Calling Daughter Sarah Sanders A 'Harlot' | Daily Wire