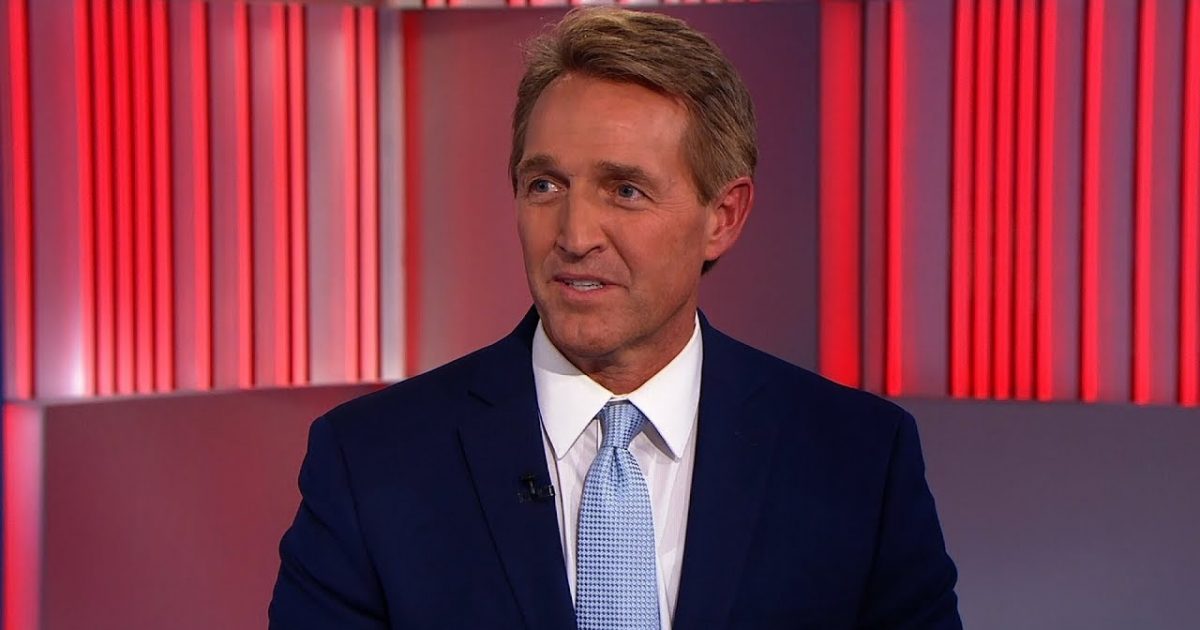 Senator Jeff Flake has seemingly had it in for Donald Trump from the very beginning. You can readily see that there has been no love lost between the two. That being said, now that Mr. Flake has announced he is retiring, he is looking for a way to capitalize on their dispute. It is not a truthful position for the Senator to take. Here is the real reason that he is going down.
As Written By Ben Shapiro for the Daily Wire:
On Tuesday, Senator Jeff Flake (R-AZ), a longtime critic of President Trump, announced he would not run for re-election in Arizona. That was no surprise, considering that his in-state approval numbers were down to 18%.
Trending: President Trump Reimposes Sanctions Against Iran
But Flake then delivered a fiery sermon decrying Trump personally as well as the direction of the Republican Party more generally, citing as the rationale for his retirement "regret, because of the state of our disunion, regret because of the disrepair and destructiveness of our politics, regret because of the indecency of our discourse, regret because of the coarseness of our leadership, regret for the compromise of our moral authority, and by our — all of our — complicit in this alarming and dangerous state of affairs." Flake called Trump's behavior "dangerous to a democracy," and lamented "a segment of my party [that] believes that anything short of complete and unquestioning loyalty to a president who belongs to my party is unacceptable and suspect."
take our poll - story continues below
Completing this poll grants you access to Great American Republic updates free of charge. You may opt out at anytime. You also agree to this site's Privacy Policy and Terms of Use.
Flake's retirement has allowed three groups of people to run with a pre-crafted narrative: the narrative of a Trump takeover of the Republican Party, and the forced exile of all dissidents at the hands of the Trumpian conquerors. Group #1: the Trumpian wing of the party, led by Breitbart, claiming credit for ousting Flake for his supposed heresies against Trump. Group #2: the media, eager to play up conflict within the party and castigate all Republicans as Trump sycophants and the future of the party as a nationalist populist demagogue-driven disaster. Group #3: Flake and his supporters, who wish to recast their unpopularity as a result of high-minded principle rather than bad politicking.
Here is the reality: Jeff Flake was one of the most unpopular senators in the country nearly from the point of his election in 2012. In April 2013, The Atlantic ran a piece titled, "How Jeff Flake Became the Most Unpopular Senator in America." At that point, Trump wasn't a gleam in Steve ……
THERE'S MORE HERE KEEP READING:
No, Trump Didn't Destroy Flake. Flake Destroyed Flake, And Now He's Cynically Pandering. | Daily Wire