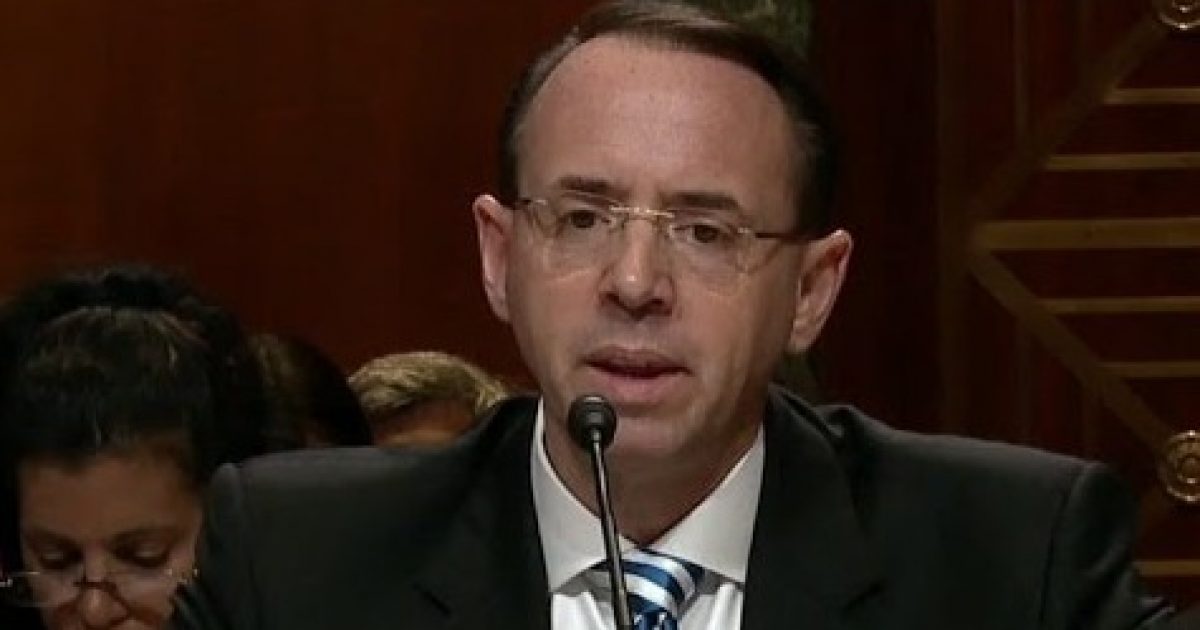 Deputy Attorney General Rod Rosenstein may be guilty of deceiving the FISA Court in representations made to the court regarding the Steele dossier. As you will read in this article, Rosenstein approved the warrant application and certified that it met all regulations and requirements of the FISA Act. You will see here where Mr. Rosenstein missed the mark and by how far.
As Written and Reported By Allan J. Favish for the American Thinker:
A newly revealed memorandum sets forth a compelling case that the deputy attorney general was dishonest in carrying on his witch hunt.
Trending: New Facts Obama admin officials and career FBI/DOJ employees misled the FISA court more than previously thought
Journalist Paul Sperry tweeted on August 5, 2018 that we should look this month for President Donald Trump to "declassify 20 redacted pages of the June 2017 FISA renewal."  Sperry is referring to a Portable Document Format file released on July 21, 2018 by the Federal Bureau of Investigation, which contains heavily redacted versions of four Foreign Intelligence Surveillance Act warrant applications to conduct surveillance of Carter Page, who had been a foreign policy adviser to presidential candidate Donald Trump.  Even with the redactions, the June 2017 warrant application is damning for deputy United States attorney general Rod Rosenstein.
take our poll - story continues below
Completing this poll grants you access to Great American Republic updates free of charge. You may opt out at anytime. You also agree to this site's Privacy Policy and Terms of Use.
The June 2017 warrant application begins on PDF page 292, with the title "VERIFIED APPLICATION."  On PDF page 379, it states: "The FBI has reviewed this verified application for accuracy in accordance with its April 5, 2001 procedures[.]"  On PDF pages 390-391, it states the following under the heading "APPROVAL":
I find that this application regarding Carter W. Page satisfies the criteria and requirements for such applications set forth in the Foreign Intelligence Surveillance Act of 1978, as amended, and hereby approve its filing with this Court. [redacted] Accordingly, I approve the filing of this application regarding Carter W. Page with the Court [redacted][.]
This APPROVAL is signed on PDF page 391 by Rosenstein.
The unredacted portions of the June 2017 warrant application reveal two…….
WAIT! THERE IS MORE. KEEP READING AT THE LINK BELOW:
Declassified: Did Rosenstein Make False Statements to the FISA Judge?