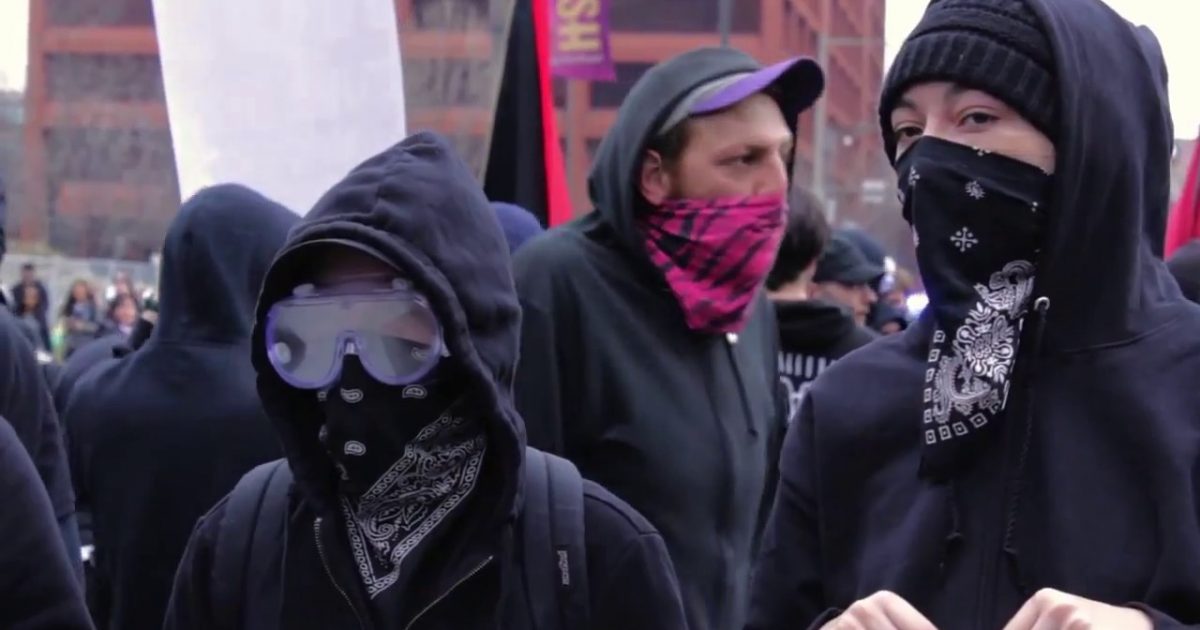 Antifa Terrorists are the direct target of a new proposed law. The Unmasking Antifa Act of 2018 will require stiff penalties for crimes that are committed while wearing a mask or disguise. To say that they are upset would be an understatement, but the punishment needs to fit the crime. There are already similar laws on the books in some Southern States that were used to combat another terrorist group, the KKK. Already, there are media minions that support the violence of Antifa that are coming out in opposition to the law. Will it be OK with the New York Times for the KKK to go around in masks again?
Antifa organization, are in tizzy.

There is a house bill, that will make it MANDATORY that Antifa unmask while protesting!

Which mean they can no longer hide behind anonymity. I went toe to toe with Antifa. I never needed a mask while whooping their ass! I want them to see me

Trending: Why the New Strzok-Page Texts Should Scare You

— Peggy A Hubbard ???????? (@pahubb43) July 11, 2018
take our poll - story continues below
Should Congress Remove Biden from Office?
Completing this poll grants you access to Great American Republic updates free of charge. You may opt out at anytime. You also agree to this site's Privacy Policy and Terms of Use.
Members of a terrorist group associated w/ Democrats hide behind masks when they destroy property & assault innocent people. No, it's not the KKK. It's Antifa. @RepGosar will discuss his bill to unmask them. Call @BreitbartNews Tonight on @SiriusXMPatriot ch 125 at 866-95-PATRIOT

— Rebecca Mansour (@RAMansour) July 11, 2018
To those predicting a doomsday totalitarian state from my Unmasking Antifa Act: please read the bill. It simply adds a penalty for wearing a mask while infringing on the Constitutional rights of others to assemble and speak freely.

— Dan Donovan (@RepDanDonovan) July 11, 2018
As Written and Reported By John Nolte for Breitbart: 
The left-wing terrorist organization that calls itself Antifa is "freaking out" over a proposed law that would enhance penalties for anyone who "injures, oppresses, threatens, or intimidates any person" while wearing a disguise or mask.
Throughout our country, and for a number of years now — and primarily because the establishment media fantasizes about,  promotes, enflames and  approves of the violence committed against the right (naturally, HuffPo opposes the unmasking law) — Antifa has been allowed to run rampant, committing countless acts of violence against everyday, peaceful supporters of President Donald Trump.
Antifa has also been responsible for untold amounts of vandalism and property damage, and targets the alt-right.
The  Unmasking Antifa Act of 2018 can mean additional fines and prison terms of up to 15 years. The Hill reports the "bill was introduced by Republican Rep. Dan Donovan (N.Y.) and is co-sponsored by GOP Reps. Pete King (R-NY), Paul Gosar (R-AZ) and Ted Budd (R-NC)."
Ironically, this proposed law is similar to laws passed decades ago in states like Georgia and Alabama to stop another terrorist group formed by……
THERE IS WAY MORE ON THIS STORY AT THE LINK BELOW:
Left-Wing Antifa Terrorists 'Freaking Out' over Proposed 'Unmasking' Law | Breitbart