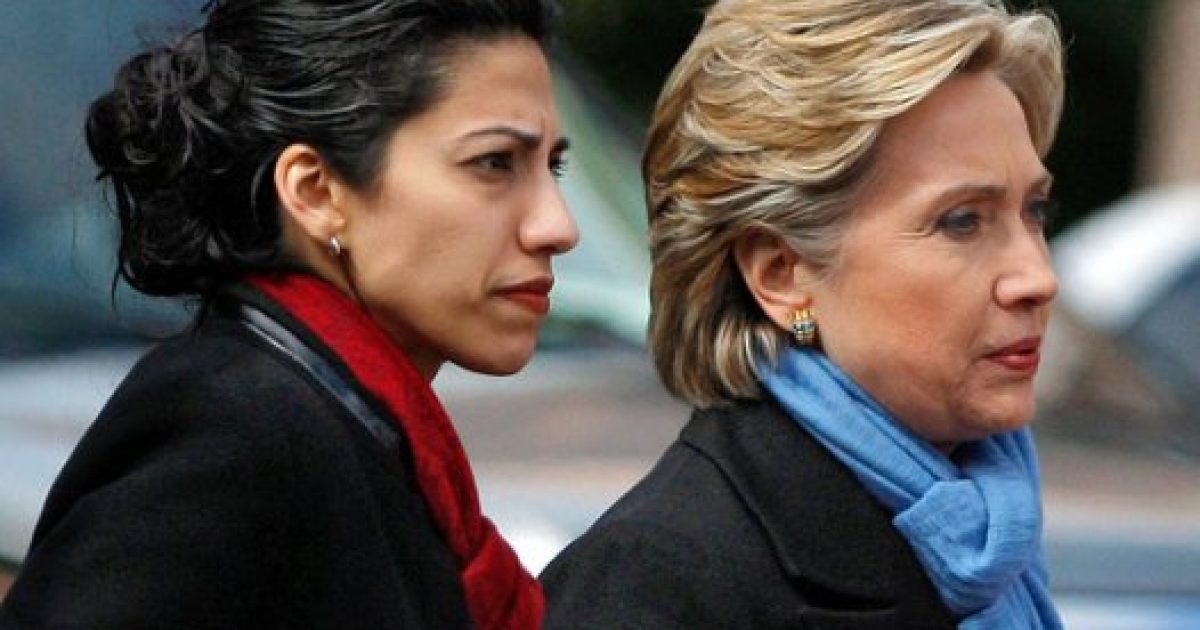 Judicial Watch has just uncovered evidence of just what lengths the State Dept went to help Hillary Clinton and Huma Abedin cover their trails. In an astounding revelation, you will see what Hillary and Huma were able to cart off and keep from prying eyes. The 30,000 missing emails now will seem like a trifle after this is revealed.
As Written and Reprorted and Seen First on Judicial Watch:
Judicial Watch today released new U.S. Department of State documents showing former Secretary Hillary Clinton and her then-Deputy Chief of Staff Huma Abedin were permitted to remove electronic and physical records under a claim they were "personal" materials and "unclassified, non-record materials," including files of Clinton's calls and schedules, which were not to be made public. The documents show the Obama State Department records would not be "released to the general public under FOIA."
Trending: You Thought What The Left Did to Kavanaugh Was Bad … You Ain't Seen Nothing Yet
The new records also show that Huma Abedin was allowed to take five boxes of "physical files" out of the State Department that include records described as "Muslim Engagement Documents."
take our poll - story continues below
Do you think the 2nd Amendment will be destroyed by the Biden Administration?
Completing this poll grants you access to Great American Republic updates free of charge. You may opt out at anytime. You also agree to this site's Privacy Policy and Terms of Use.
Judicial Watch obtained the reports about the records from a Freedom of Information Act (FOIA) request for:
Any and all DS-1904 (Authorization for the Removal of Personal Papers and Non-Record Materials) forms completed by, or on behalf of, any of the following individuals:
Former Secretary Hillary Clinton
Former Chief of Staff Cheryl Mills
Former Deputy Chief of Staff Huma Abedin
Former Deputy Chief of Staff Jacob Sullivan
The documents include a list of official and personal calls and schedules that Clinton removed, which carry a special notation that the documents were not to be made public records. The notation is on an addendum to a DS-1904 signed by Clarence N. Finney Jr., then-director of the Office of Correspondence and Records, who was the reviewing officer. (Judicial Watch has a pending request for the deposition of Finney in separate litigation concerning Clinton emails and the Benghazi terrorist attack.):
NOTE: The Secretary's call log, grid and schedules are not classified, however, they would not be released to the general public under FOIA. They are being released to the Secretary with this understanding. [Emphasis in original]…….
KEEP READING THERE IS MORE HERE:
Judicial Watch: State Department Made Deal with Hillary Clinton to Keep Call Log, Schedules Secret – Judicial Watch