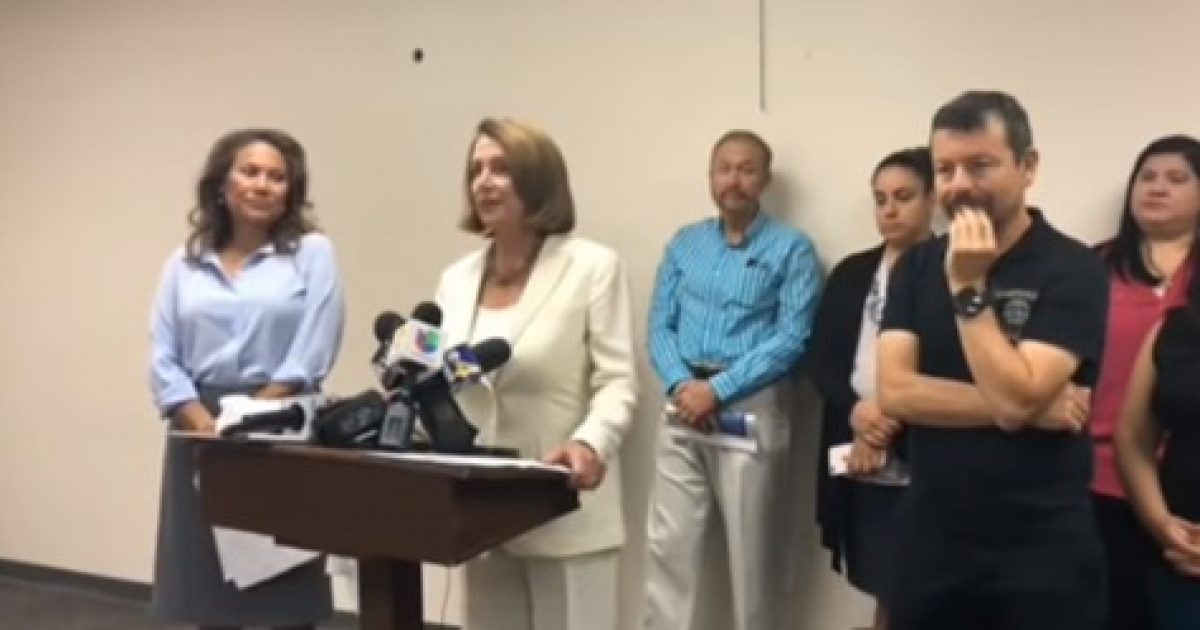 [VIDEO] In her latest and greatest soundbite, House Minority Leader Nancy Pelosi explains the Democratic Party move to give 'leverage' to illegal immigrants. It is obvious that the Democratic party will become the Illegal Socialist Democratic Party if she has her way. This is just another part of the identity politics that the Dems will employ for the 2018 mid-term elections. After you watch and listen, you will have a clear understanding.

As Written and Reported By Robert Kraychick for Breitbart: 
House Minority Leader Nancy Pelosi (D-CA) described voting for Democrats as giving "leverage" to illegal aliens during a Wednesday press conference in El Paso, TX.
Trending: You Thought What The Left Did to Kavanaugh Was Bad … You Ain't Seen Nothing Yet
Pelosi is set to become Speaker of the House if Democrats win next year, after losing the position when Republicans won the House in 2010. 
take our poll - story continues below
Do you think the 2nd Amendment will be destroyed by the Biden Administration?
Completing this poll grants you access to Great American Republic updates free of charge. You may opt out at anytime. You also agree to this site's Privacy Policy and Terms of Use.
In her remarks, Pelosi opted against distinguishing between lawful and unlawful immigrants describing amnesty for illegal aliens as "inevitable for America."
Partial transcript below:
PELOSI: I don't want to be political here. I would say that to the extent that people hear the stories, it's interesting because there was a recent survey that said if you ask people about their attitudes toward immigration and newcomers to the country, they might have one view. They haven't thought about it a whole lot except they're hearing the president, and this and that. But if they know one family, if they know one immigrant family, if they go to school with any immigrant children, or if their children go to school with any immigrant children, if they go to church with immigrants, they have a completely positive view. It changes everything. That's why I keep talking about public sentiment. And so because this is the right thing to do, I have confidence that we will get where we need to go. But everything is about time, and we want to shorten the distance as your question indicated between what we think is inevitable for America. They think it is inconceivable, but we believe that we can get this done. We are not going to be able to get it done under the……..
KEEP READING THERE IS WAY MORE HERE:
Nancy Pelosi: Voting for Democrats Gives 'Leverage' to Illegal Immigrants