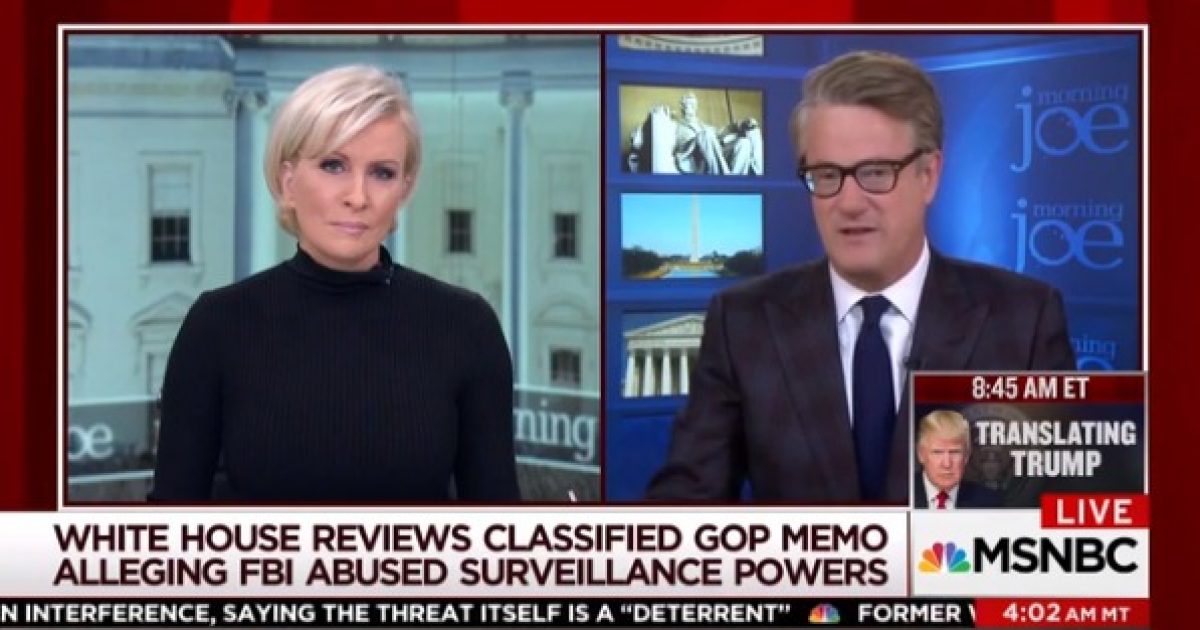 [VIDEO] On MSNBC you would have seen 'Morning Joe' hosts Joe Scarborough and Mika Brzezinski groaning and whining about the political purge of the FBI. They see the ouster of Deputy Director Andrew McCabe as a political purge. They go into a live on-screen meltdown over the actions of the President and the GOP. You can watch their screed in this video.
what is not apparent is that politics has actually been the problem at the FBI. We are now getting insight into the abuses of the FBI. If anything, this purge will REMOVE politics from the agency. There will be more removals before this is all over. I say go for it.
As Written and Reported By Hannity Staff:
Trending: Former Federal Prosecutor Says 'Rosenstein Deeply Involved in Effort to Try to Remove Trump From Office' (Video)
The full-fledged media meltdown over the mysterious FISA memo continued Tuesday morning, with 'Morning Joe' hosts Joe Scarborough and Mika Brzezinski breathlessly accusing President Trump of orchestrating a "sleazy political purge" at the Department of Justice and the FBI.
take our poll - story continues below
Who would you vote for if the elections were held today?
Completing this poll grants you access to Great American Republic updates free of charge. You may opt out at anytime. You also agree to this site's Privacy Policy and Terms of Use.
Scarborough blasted the President and Speaker Paul Ryan for their "reckless" attacks on the bureau, saying the leaders were "smearing the entire intelligence agency" in order to force out high-level officials.
"So, Ryan and Nunes want to release a half-truth that turns out to be a whole lie. A twisted and distorted lie. Since Ryan thinks the public will never learn the full facts, he and Nunes can skate by on their lie," said 'Morning Joe.'
"They can smear distinguished FISA judges and they can smear the entire intelligence community by extension. All to take part in a sleazy political purge that we've been seeing unfolding before our eyes, to feed the paranoid and maniacal desires of Donald Trump," he added.
Watch the 'Morning Joe' Meltdown below….
THERE IS EVEN MORE HERE KEEP READING:
MSNBC MELTDOWN: 'Morning Joe' Accuses Trump of 'Sleazy POLITICAL PURGE' at FBI | Sean Hannity