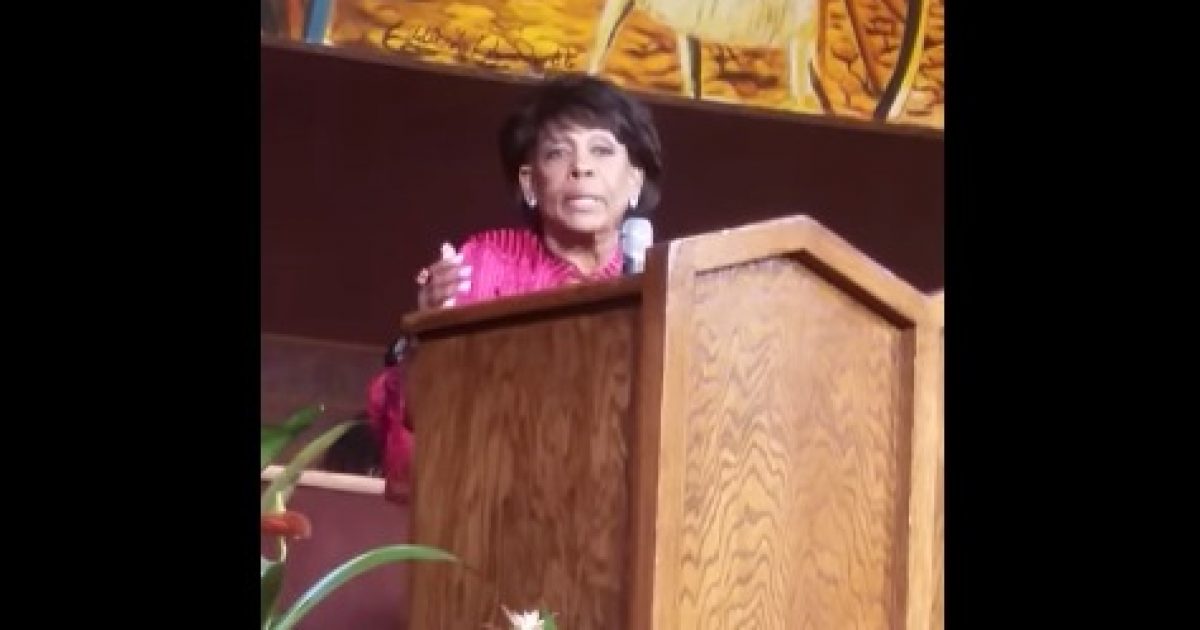 [VIDEO] California Democratic Representative Maxine Waters, aka Mad Maxine, announced to a Church congregation that she has been sent from God. The 79 year old received her mission from the pastor at the First AME Church in Los Angeles. Her mission, and she has chosen to accept it, is of course to oppose President Donald Trump at every turn. You can probably add impeachment as part of her mission because that has been her mantra since Donald Trump became President. Do you think she has a calling?
As Written and Reported By Joshua Caplan for Breitbart: 
Rep. Maxine Waters (D-CA) on Sunday told congregants of the First AME Church in Los Angeles that God has sent her to take on President Donald Trump.
Trending: Did Hillary Clinton just joke that all Blacks look alike? (Video)
Waters began her tirade by accusing the president of being intent on "taking America down," rather than living up to his 2016 presidential slogan of "Make America Great Again."
take our poll - story continues below
Should Congress Remove Biden from Office?
Completing this poll grants you access to Great American Republic updates free of charge. You may opt out at anytime. You also agree to this site's Privacy Policy and Terms of Use.
"I am in this fight," Waters declared before claiming her political opponents are waging an effort to "intimidate," and "frighten," her. During a June 30 speech in Los Angeles to demonstrators protesting President Trump "zero-tolerance," immigration policies, the California lawmaker warned her enemies "better shoot straight," if they are going to confront her. "No, we have members of Congress trying to intimidate me," Waters said. "I have no fear. I'm in this fight. I know that there are those who are talking about censuring me, talking about kicking me out of Congress, talking about shooting me, talking about hanging me. All I have to say is this, if you shoot me, you better shoot straight. There's nothing like a wounded animal."
 Waters told congregants she is not backing down from resisting the Trump administration's policies despite calls from …..

WAIT! THERE IS EVEN MORE AT THE LINK DIRECTLY BELOW:
Maxine Waters Claims God Sent Her to Get Donald Trump