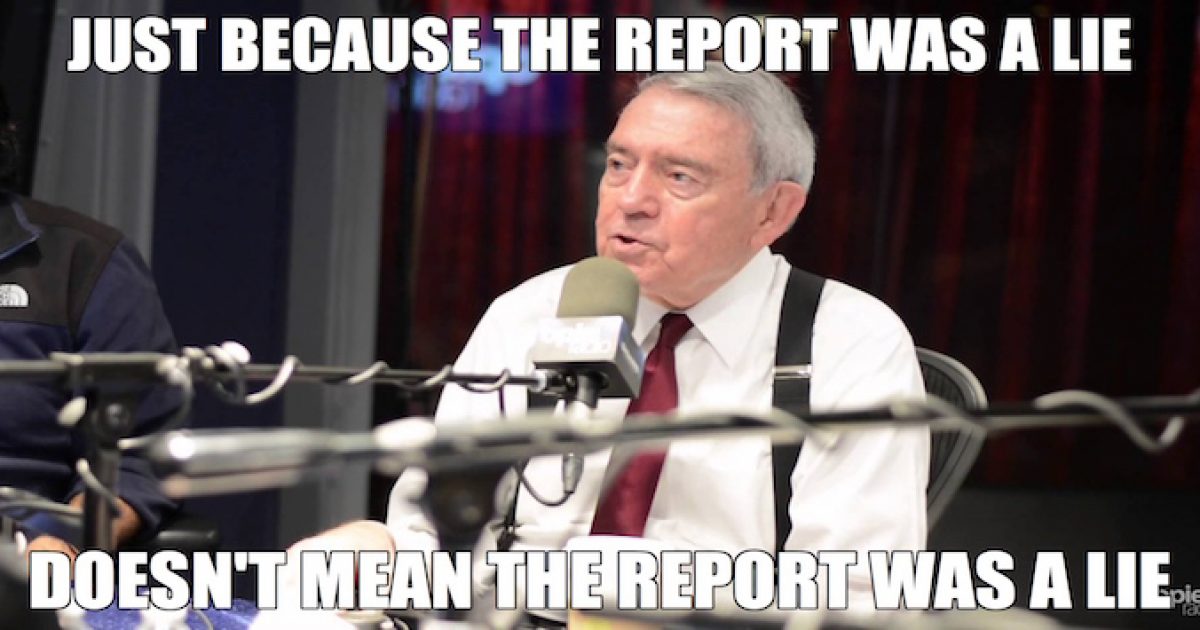 I guess the Left has forgotten that Dan Rather was fired for pushing false narratives during the 2004 election cycle. Does it come as any surprise that he's now hosting segments on the hard-hard Left Youtube show called "The Young Turks" featuring Cenk Uygur? I guess it takes a purveyor if Fake News to able to teach what Fake News really is. Is he teaching how to avoid it or how to create it? Just Saying. Read on.
Cenk Uygur is most famous, at least among right-leaning audiences, for having his butt handed to him during a debate with Ben Shapiro Politicon 2017… if you haven't watched the video I highly recommend you check it out some time.
Anyway, yeah so Dan Rather is working for them and it's just par for the course!
Trending: CNN Panel Bashes Hillary Clinton?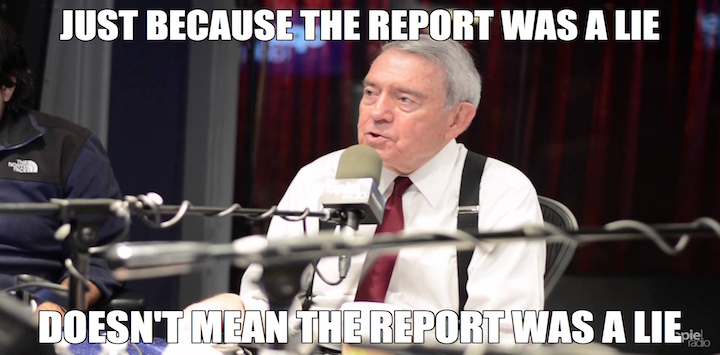 take our poll - story continues below
Should Congress Remove Biden from Office?
Completing this poll grants you access to Great American Republic updates free of charge. You may opt out at anytime. You also agree to this site's Privacy Policy and Terms of Use.
As Written and Reported By Allahpundit for Hot Air:
Surely, if there's one piece of advice Cenk Uygur's Young Turks audience doesn't need, it's to "find a commentator whose politics differ from yours. Intellectually honest, even though their values differ from yours." Staunch grassroots progressives are famous for their thoughtful consumption of opposing viewpoints.
Come to think of it, what's a down-the-middle fair-and-balanced newsman like Dan Rather doing hosting segments on the Young Turks show, anyway?
Ah well. The Document Dan story: From publishing fake memos to lecturing people about fake news in less than 15 years. What can you say? Becket Adams:
This is good and all, but it's hard to ignore that these "fake news" tips come from a man who was fired from his lofty position in the press precisely because he peddled disinformation during the 2004 U.S. presidential election. True, the Killian Controversy took place 14 years ago, but the press has not quite recovered from his slipshod brand of journalism.

Honestly, I wouldn't be so hard on the guy were it not for the fact that he is wholly unrepentant for the fraud he tried to perpetrate. Rather maintains to this day the his disastrous Bush AWOL story was mostly correct, and that the fact that his chief piece of evidence was a forgery is just a small detail…….
KEEP READING THERE IS EVEN MORE HERE:
And now some advice on filtering out fake news from Dan Rather