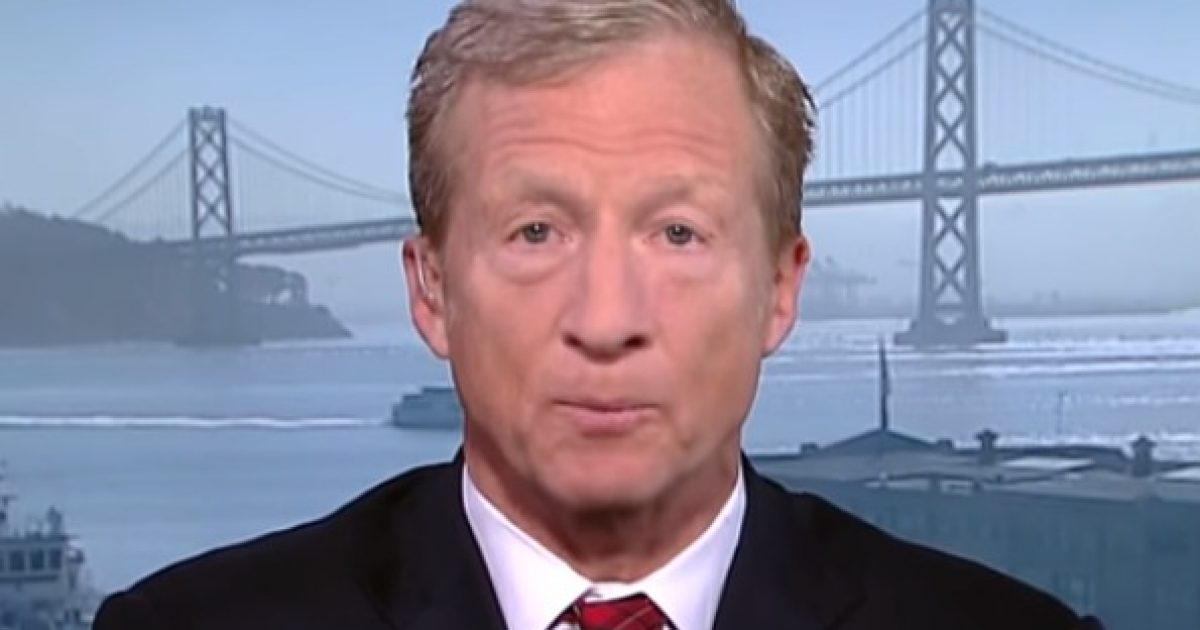 What is it when a Democrat mega door qualifies his political donations on the promise of impeachment. That seems to be how the leftist and elites want to play their game. Tom Steyer is his name and Get the President seems to be his game. He sent a letter to the Democrats with these actual demands. He also took a shot at Senator Dianne Feinstein for her kind words toward President Trump last week. 
In a similar vein today, Rep. Al Green of Texas filed articles of impeachment against the President in the House today. It was all for show as they went nowhere. Maybe Mr. Green was applying for a loan from Tom Steyer. In any case, this kind of behavior is not what our Congress was designed for. 
As Written By John Bowden for The Hill:
Trending: Nunes Tells Dems to Get Off The TV Circuit And Go Do The Memo Redaction
Billionaire Democratic donor Tom Steyer wrote a letter to Democrats on Wednesday demanding the party pledge to impeach President Trump if they take control of Congress next year.
take our poll - story continues below
Should Congress Remove Biden from Office?
Completing this poll grants you access to Great American Republic updates free of charge. You may opt out at anytime. You also agree to this site's Privacy Policy and Terms of Use.
In a letter first reported by The New York Times, the California mega-donor calls Trump a "clear and present danger to the republic," and urges Democratic lawmakers to "make your position clear" regarding removing the president from office.
"This is not just an issue of Twitter screeds but what it means for a person who has control over our nuclear arsenal," Steyer said Wednesday.
"I hope you will make your position clear so that Democratic voters who are under constant attack by this administration, know their elected representatives have the patriotism and political courage to stand up and take action."
Steyer also appeared to take a shot at California Sen. Dianne Feinstein (D), who announced Monday that she will seek…..
THERE IS MORE HERE KEEP READING:
Dem megadonor Steyer demands lawmakers and candidates back impeaching Trump | TheHill