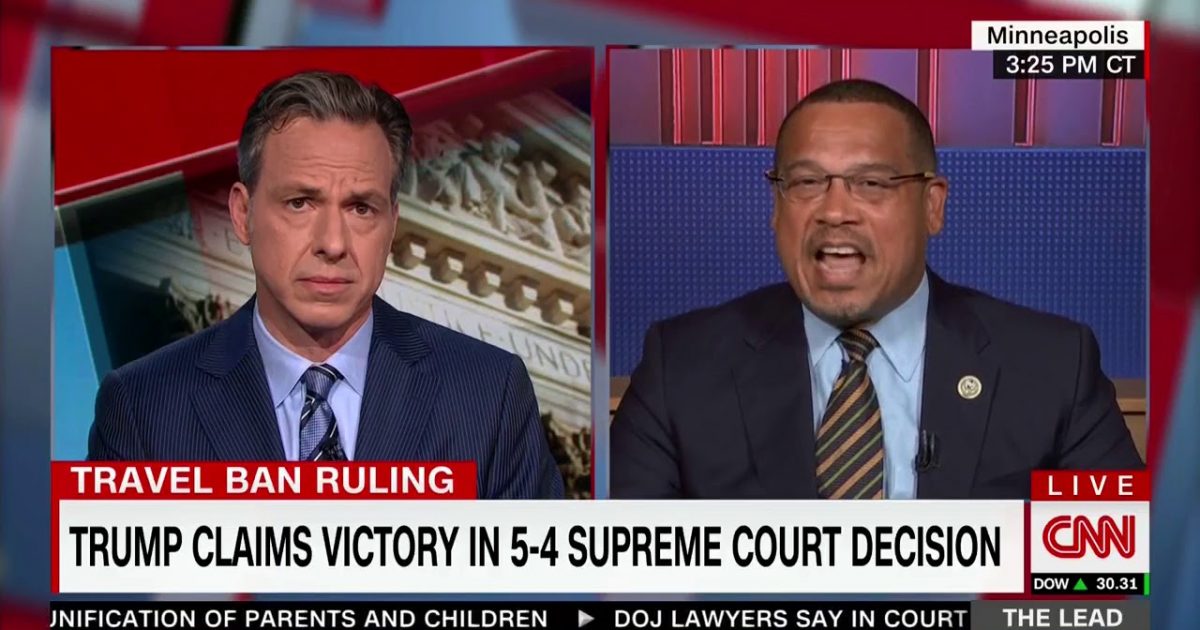 [VIDEO] Minnesota Democratic Representative Keith Ellison is an anti-Semite and hangs with anti-Semites. He is very pro -Muslim and is very unhappy that the President Of the United States has won his case before the Supreme Court and can now institute a travel ban against certain nations. Ellison sees this as just bigotry by the President. Watch as he has trouble defending himself on CNN. You will get the message.

As Written and Reported By Joshua Caplan for Breitbart:
Rep. Keith Ellison (D-MN) struggled Tuesday afternoon to reconcile his criticism of the Trump administration's travel ban as "bigoted" and his ties to anti-Semitic Nation of Islam leader Louis Farrakhan.
Ellison sparred with CNN anchor Jake Tapper after fuming about the Supreme Court's ruling in Trump v. Hawaii, wherein Chief Justice John Roberts declared that foreign nationals do not have a constitutional right to enter the United States. Tapper asked Ellison about being a former "follower of Farrakhan," which set off the Muslim congressman.
A transcript follows:
JAKE TAPPER: You've been decrying President Trump's bigotry, obviously you used to follow somebody who continually expressed sexist anti-LGTBQ and anti-Semitic bigotry, Louis Farrakhan. You have condemned Farrakhan's bigotry –

Trending: World Wide Web Founder Worried About the Growing Power Wielded by Google and Facebook

REP. KEITH ELLISON: I would disagree with that. I would disagree with that, sir.

take our poll - story continues below

Should Congress Remove Biden from Office?

Completing this poll grants you access to Great American Republic updates free of charge. You may opt out at anytime. You also agree to this site's Privacy Policy and Terms of Use.

TAPPER: What do you disagree with?

REP. ELLISON: I'm sorry that comes up in this context.

TAPPER: Well you are decrying bigotry, Louis Farrakhan is a pretty clear bigot.

REP. ELLISON: Right. And I agree that that's true. And I think that I made myself very clear. But look that's going back to the false equivalency. You know, I don't have any support for what the individual you just mentioned stands for, nor do I agree with Trump's bigotry either. But then again, you know, any time somebody tries to say that something is unfair and bigoted if you are going to say, one time you sort of said something or somebody said you said something and then –

TAPPER: You were a follower of Farrakhan. You were a follower of Farrakhan, sir.

REP. ELLISON: Jake, Jake, no I wasn't. Jake, I'm sorry. That is not true, Jake. But I just want to say to you if anyone who raises concerns about bigotry then is put in a position to have to defend themselves, then we never get to talk about bigotry and I hope that's not what your purpose is, Jake, because …….
THERE IS MORE! KEEP READING BY CLICKING THE LINK BELOW!
Keith Ellison Melts Down When Questioned on Links to Louis Farrakhan