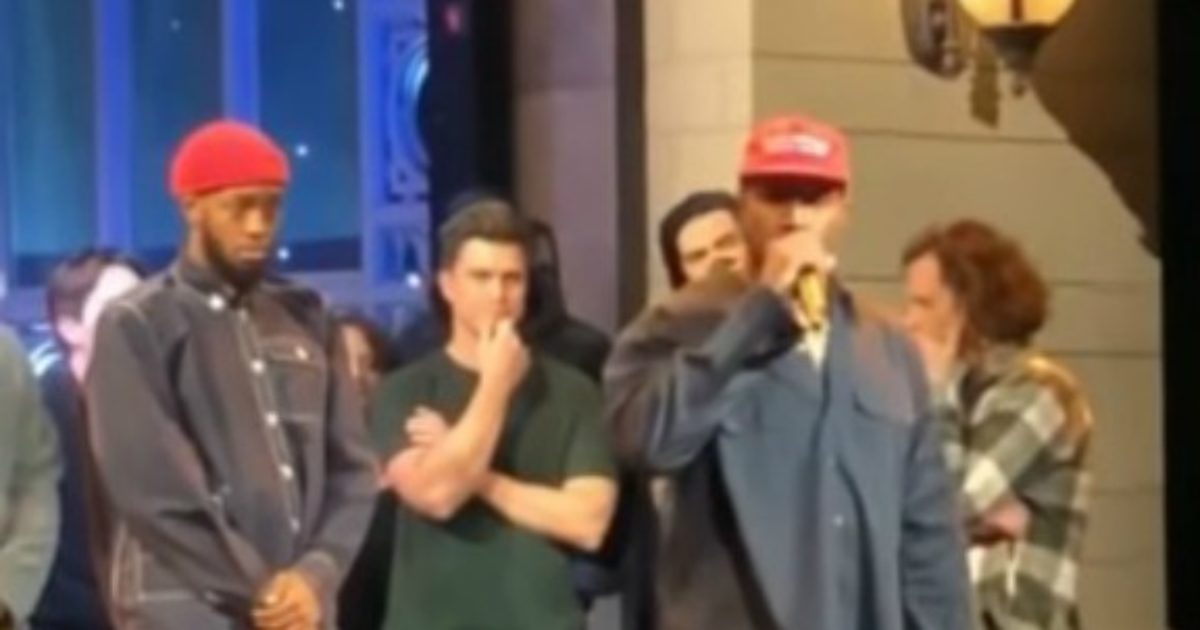 There is not a lot of support for President Donald Trump in the Hollywood crowd, but Kanye West is of a different cut. His bravery and independence were on display at the end of his Saturday Night Live performance when he addressed the crowd afterward. Mr. West says that his MAGA hat had caused him to receive a lot of negative comments backstage. Here is what he had to offer to the crowd. You read and you decide.
KANYE SNL TALK THAT GOT CUT OFF FREEDOM OF SPEECH SHOULD HAVE EXTENDED pic.twitter.com/IpULoEJxsN

— MIKE DEAN! #MWA (@therealmikedean) September 30, 2018
Trending: Top Democrat goes all in to get Kavanaugh and Trump
"They bullied me backstage. They said, 'don't go out there with that hat on. They bullied me backstage. They bullied me. And then they say I'm in a sunken place," –@kanyewest

take our poll - story continues below

Should Congress Remove Biden from Office?

Completing this poll grants you access to Great American Republic updates free of charge. You may opt out at anytime. You also agree to this site's Privacy Policy and Terms of Use.

To one of the most courageous spirits: THANK YOU FOR STANDING UP TO THE MOB.https://t.co/5foZESFI9R

— Candace Owens (@RealCandaceO) September 30, 2018
As Written and Reported By Daniel Chaitin for the Washington Examiner:
Kanye West delivered a speech about President Trump and other political topics to the "Saturday Night Live" audience in the room following one of his performances early Sunday evening.

After he performed "Ghost Town" at the end of the 44th season premiere for "SNL," West, who wore a red "Make America Great Again" hat, said he was bullied backstage due to his choice of headwear.

"They bullied me backstage. They said, 'don't go out there with that hat on. They bullied me backstage. They bullied me! And then they say I'm in a sunken place," he said. "You want to see the sunken place? Okay, I'ma listen to ya'll now — or I'ma put my Superman cape on, cuz this means you can't tell me what to do. Follow your heart and stop following your mind. That's how we're controlled. That's how we're programmed. If you want the world to move forward, try love."

Turning to the people gathered behind him on stage, West said, "Thank ya'll for giving me this platform. I know some of ya'll don't agree, but ya'll be going at that man … and I don't think it's actually that helpful. I think the universe has balance. Ninety percent of news are …..
KEEP READING THERE IS EVEN MORE AT THE LINK BELOW:
Kanye West says he was 'bullied' backstage at 'SNL' for MAGA hat, riffs about Trump, Democrats after feed cut