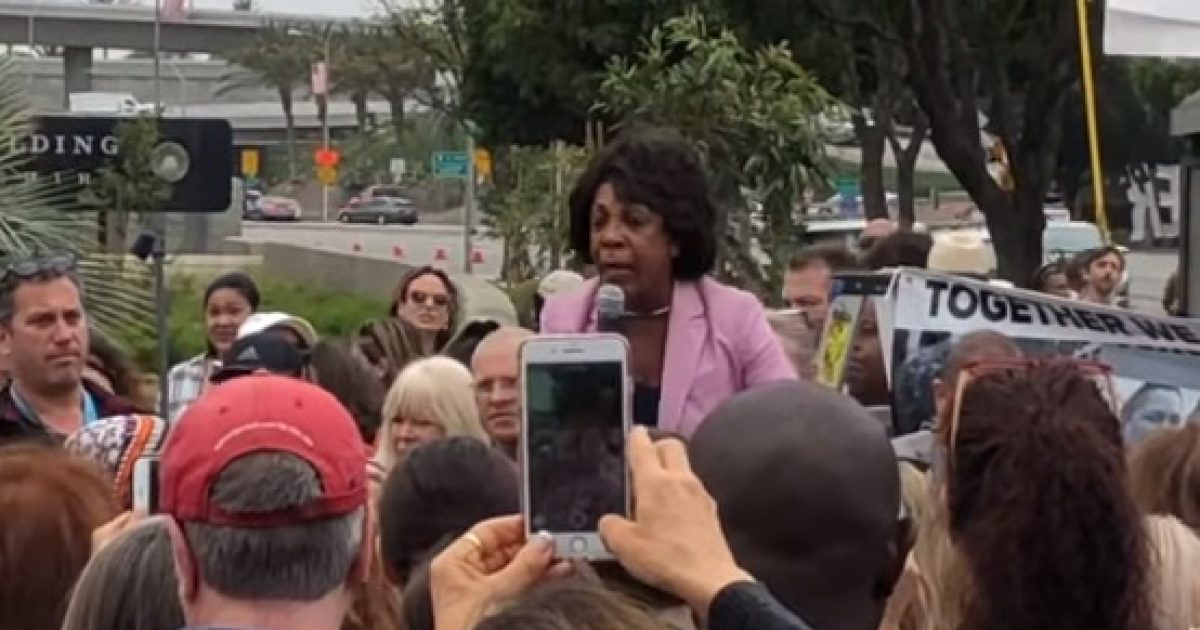 California Democratic Representative Maxine Waters has had an ethics complaint filed against her by Judicial Watch. Letters were hand-delivered to the House today. This stems from Representative Waters suffering from another Trump Derangement Syndrom meltdown in a speech that she was giving. Her remarks have all the earmarks of a call to violence. This is deserving of House censure.
As Written and Reported By Judicial Watch:
(Washington, DC)  – Judicial Watch today sent a hand-delivered letter to the chairman and co-chairman of the House Office of Congressional Ethics calling for an investigation into whether Rep. Maxine Walters (D-CA) violated House ethics rules by encouraging violence against Trump administration Cabinet members.
Rep. Maxine Waters addressed a rally in Los Angeles on Saturday, June 23, telling a crowd:
"If you see anybody from that Cabinet in a restaurant, in a department store, at a gasoline station, you get out and you create a crowd and you push back on them! And you tell them that they are not welcome, anymore, anywhere."
In today's letter to the Office of Congressional Ethics co-chairman, Judicial Watch President Tom Fitton writes:
In encouraging individuals to create "crowds" who will "push back" on President Trump's Cabinet members at private business establishments and in seemingly trying to prevent these Cabinet officials from obtaining basic necessities without fear of assault and violence, Rep. Waters seems to be violation of House rules, specifically:
A Member, Delegate, Resident Commissioner, officer, or employee of the House shall conduct himself at all times in a manner that shall reflect creditably on the House. [House Rule 23, clause 1.]
We hereby request that the Office of Congressional Ethics conduct a preliminary investigation into whether Rep. Maxine Waters violated House Rules in encouraging attacks on Cabinet officials.
"Rep. Maxine Waters incited violence and assault against members of President Trump's Cabinet," stated Judicial Watch President Tom Fitton. "It is urgent that the House ethics quickly act to hold her accountable for this dangerous incitement."
Trending: Kanye West: 'I Am Running for President of the United States'
THIS STORY ORIGINALLY APPEARED ON JUDICIAL WATCH WEBSITE:
take our poll - story continues below
Should Congress Remove Biden from Office?
Completing this poll grants you access to Great American Republic updates free of charge. You may opt out at anytime. You also agree to this site's Privacy Policy and Terms of Use.
Judicial Watch Files House Ethics Complaint Against Maxine Waters For Inciting Violence and Assaults on Trump Cabinet – Judicial Watch