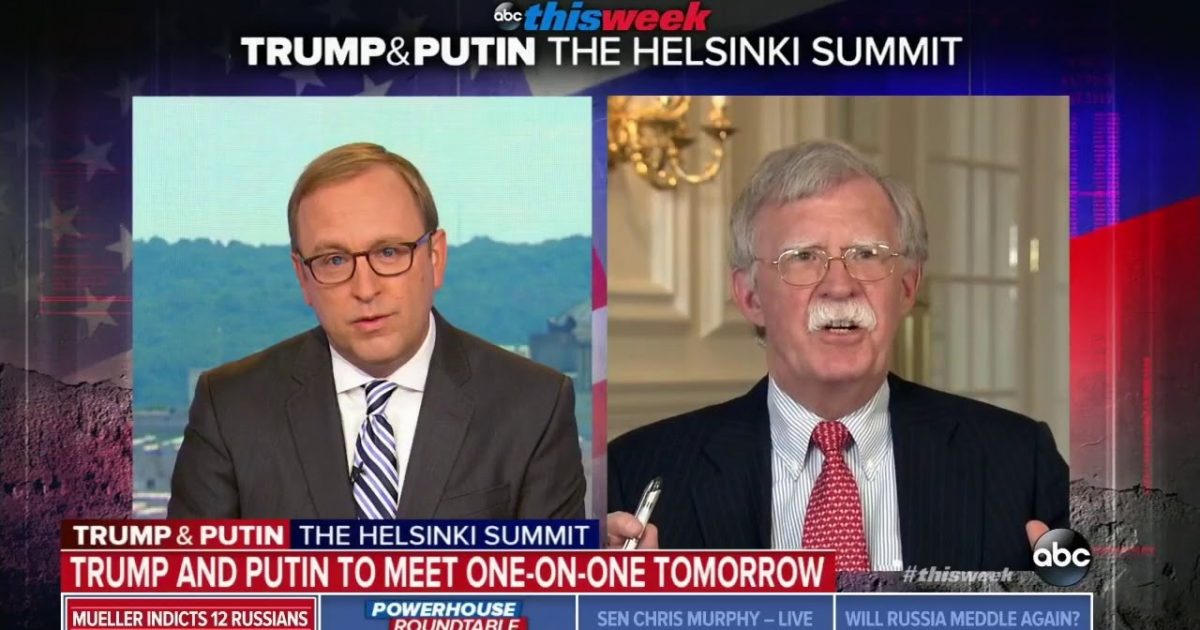 [VIDEO] National Security Adviser John Bolton appeared on ABC's This Week and was asked to respond to a ridiculous comparison. Mr. Bolton was asked about a comparison between Donald Trump and Vladimir Putin. The questioned was prefaced with charges that Putin censored his press and even went as far as to kill some journalists.  He then had the audacity to ask if President Donald Trump's treatment of the press was of a similar vein. Mr. Bolton was also questioned as to why the interview with CNN was cancelled after Jim Acosta's disrespectful behavior at an interview in Britain. Watch Mr. Bolton's responses in this video.

As Written and Reported By Chris Enloe for The Blaze:
During an appearance on ABC's "This Week," John Bolton, national security adviser to President Donald Trump, rejected comparisons between Trump and Russian President Vladimir Putin and the suggestion that Trump's attitude toward the media "contributes to the authoritarian effort to undermine the free press."
What happened?
Trending: Devin Nunes Gives it Right Back to the Democrats After "Endangering National Security" Remarks
Noting that Putin's government jails journalists critical of the Russian state, Karl asked Bolton if Trump's temperament toward the press is similar to Putin's.
take our poll - story continues below
Do you think Cubans are fighting for healthcare or freedom from Communism?
Completing this poll grants you access to Great American Republic updates free of charge. You may opt out at anytime. You also agree to this site's Privacy Policy and Terms of Use.
"And we hear President Trump — doesn't he kind of contribute to that authoritarian effort to undermine a free press when we hear him brand legitimate news organization as fake, legitimate news stories as fake? Doesn't that contribute to exactly the kind of undermining of the free press that we see out of Russia?" Karl asked.
Bolton's response left nothing on the table.
"Of course not. Really, honestly, Jonathan, I think the question's silly," he said. "And don't say I'm attacking freedom of the press. I just characterized your question."
Bolton was scheduled to appear on…….
KEEP READING THERE IS EVEN MORE AT THE LINK DIRECTLY BELOW:
WATCH: ABC News host tries to compare Trump to Putin — John Bolton immediately shuts him down | TheBlaze