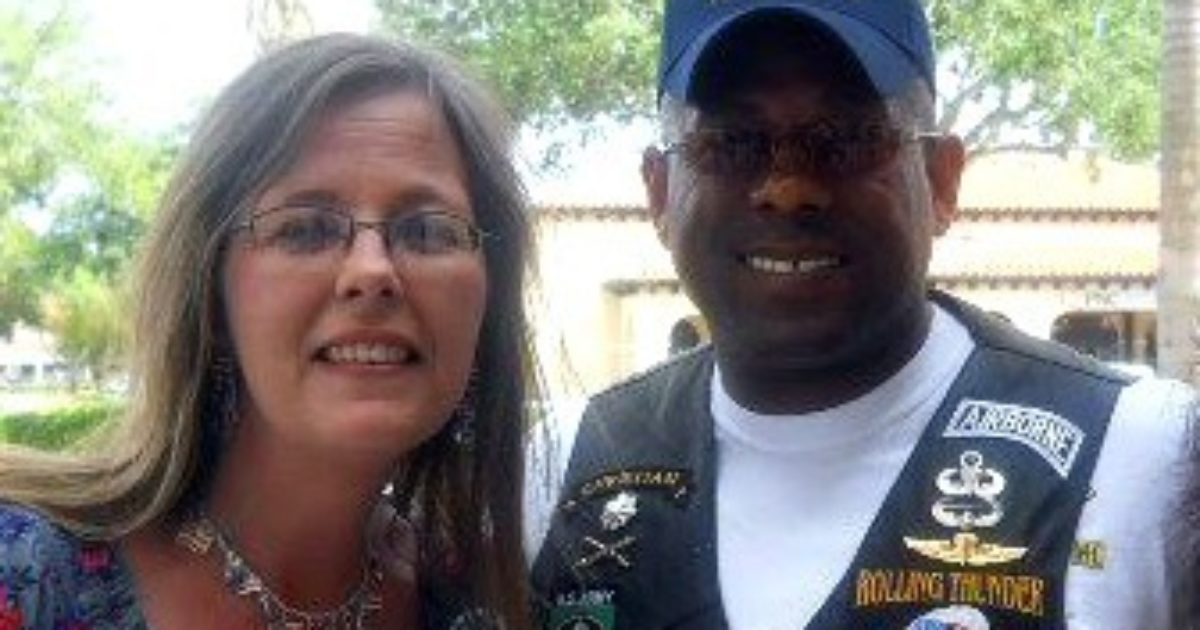 Recently my Facebook page that I built organically from the ground up was caught up in a blanketed Facebook purge. Most of you know my page Allen West Republic (now Great American Republic) and it boasted 953,000 followers.
I am Tanya Grimsley. My page was taken from me unjustly, unfairly and with lies masked as new rules. Newly created Facebook rules that don't even apply to my page or my personal profile to which was also removed from Facebook.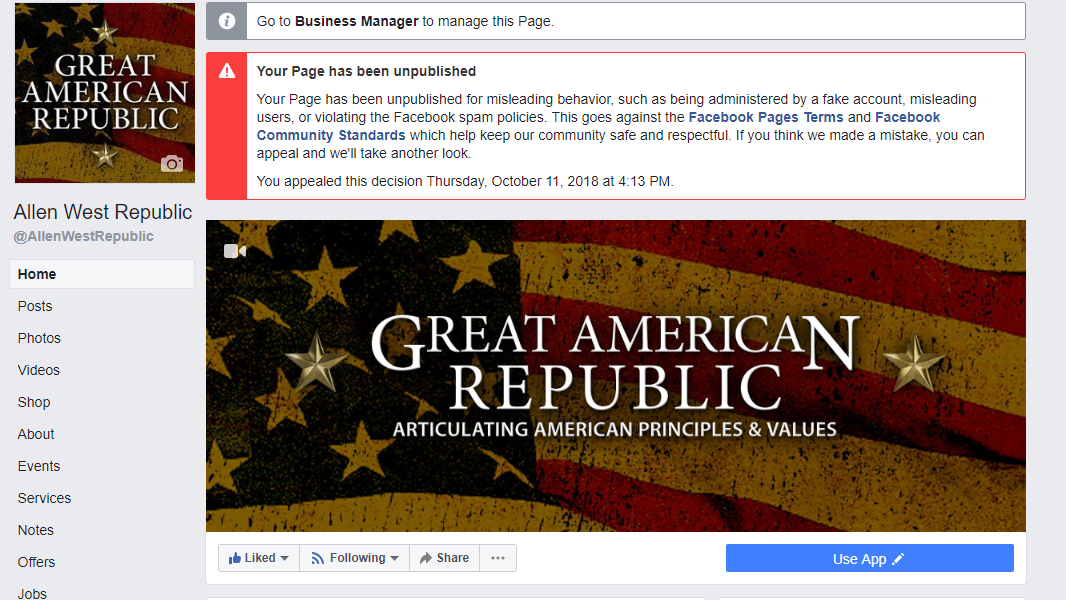 Trending: Trump won? How did this analyst come to that conclusion?
This affected my income as I am a SOCIAL MEDIA MANAGER. When they took away my profile they took away every bit of income I could earn. You see, this isn't about losing my nearly 1 million followers as much as it is about losing my SOLE income in my profession.
take our poll - story continues below
Who would you vote for if the elections were held today?
Completing this poll grants you access to Great American Republic updates free of charge. You may opt out at anytime. You also agree to this site's Privacy Policy and Terms of Use.
I am not a veteran. I am not Diamond and Silk. I am Tanya Grimsley of Kennesaw, GA and my voice has been taken from me.
My Facebook page was created as a support page for the then up and coming congressman Allen B. West of Florida's 22nd district. LTCOL West is very aware of who I am, what I do and I have been fortunate enough over the years to have met, conversed, helped and lend my website as a platform for his missives when he lost his personal blue check-marked Facebook page temporarily for several weeks.

The above is one of many emails of correspondence between myself and Lt. Colonel Allen West. Below, click on the "see more" to see the special shout-out of thanks the Colonel gave me during that time.
Adding the screenshot in case Facebook wipes his account out too.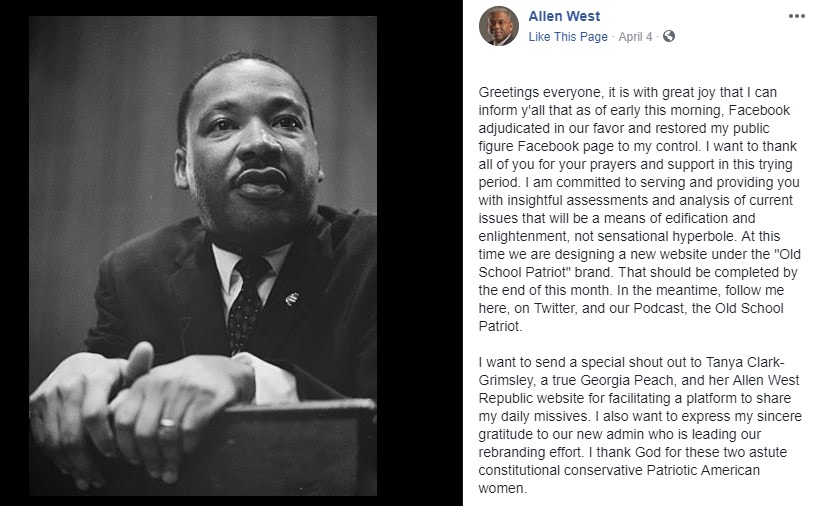 Here are various pictures over the last nine years.
Here was my very first website I created and maintained long before he even had a website and became a congressman in Florida: allenwestrepublic.wordpress.com
As you can see here on my website I provide valid sources, give full credit to each writer, and I only post from Facebook trusted (blue check-marked) reliable news sources. CNN, NBC, ABC, Fox News, Politico, Breitbart, Daily Caller, Daily Wire, Hot Air, the Blaze and more ….. All of these news sources are blue check marked on Facebook and Twitter. All proper link-backs, citations and proper block quoting used on each and every article. My father Paul and I summarize and give a brief introduction to every article and then direct all traffic to the site we borrowed a small portion of their content from. None of what Facebook has given as reasons for purging my profile and page fall inline with anything that was given as a reason.
I reached out to my Facebook Representative and was given a blanket reply. No personalization, knowing she has helped me numerous times before. Including my hacked account this year in May and being tossed in Facebook jail for a silly meme for 30 days.
Twitter took me down 11 days before Facebook. I have never once violated any rules on Twitter. Not once. Within seconds of sending the appeal I get an automated email saying my repeated violation of their rules warranted a permanent ban from their platform.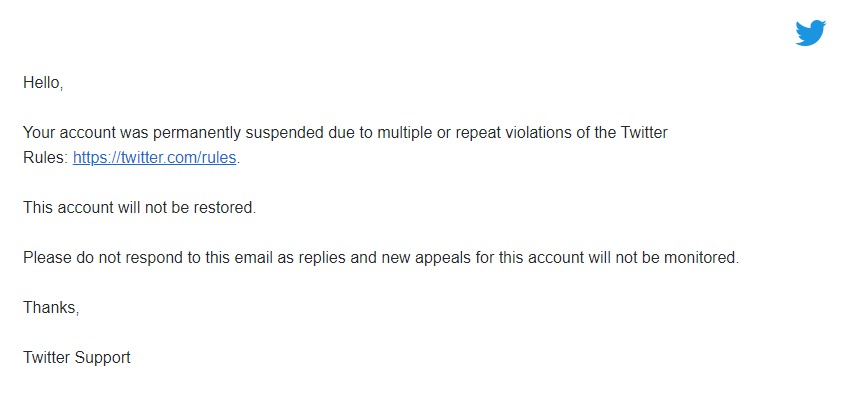 Today November 2, 2018 Facebook took my last Facebook page down for the very same reason they claim the other was taken down. This one barely had 6,000 followers. But this time I made sure to not use their money guzzling Facebook Instant Articles so they can't even attach their "Artificially increase distribution for financial gain" as a reason. They just did it to do it.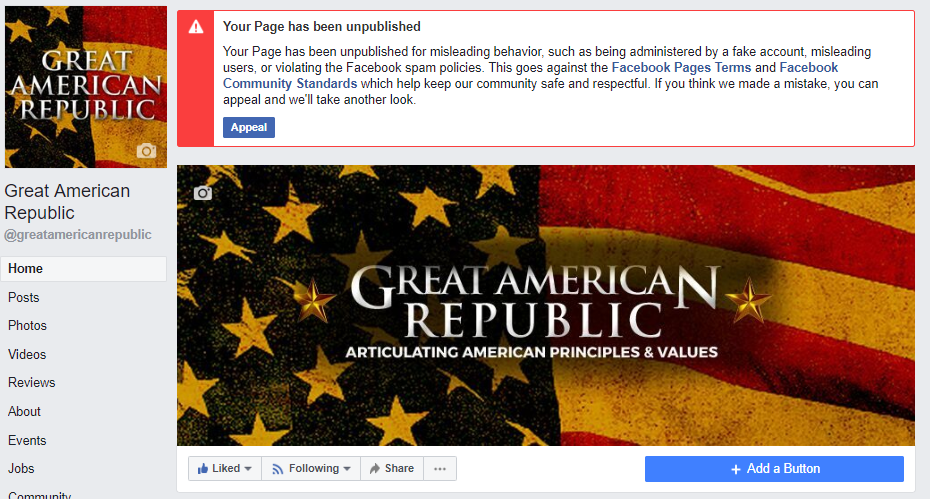 So here I sit with my 9 years of work taken away from me and my livelihood. My freedom, my liberty and my voice have been taken from me. My ability to support myself, my homebound mother in law and 13 year old son has been stripped away with no one to help me.