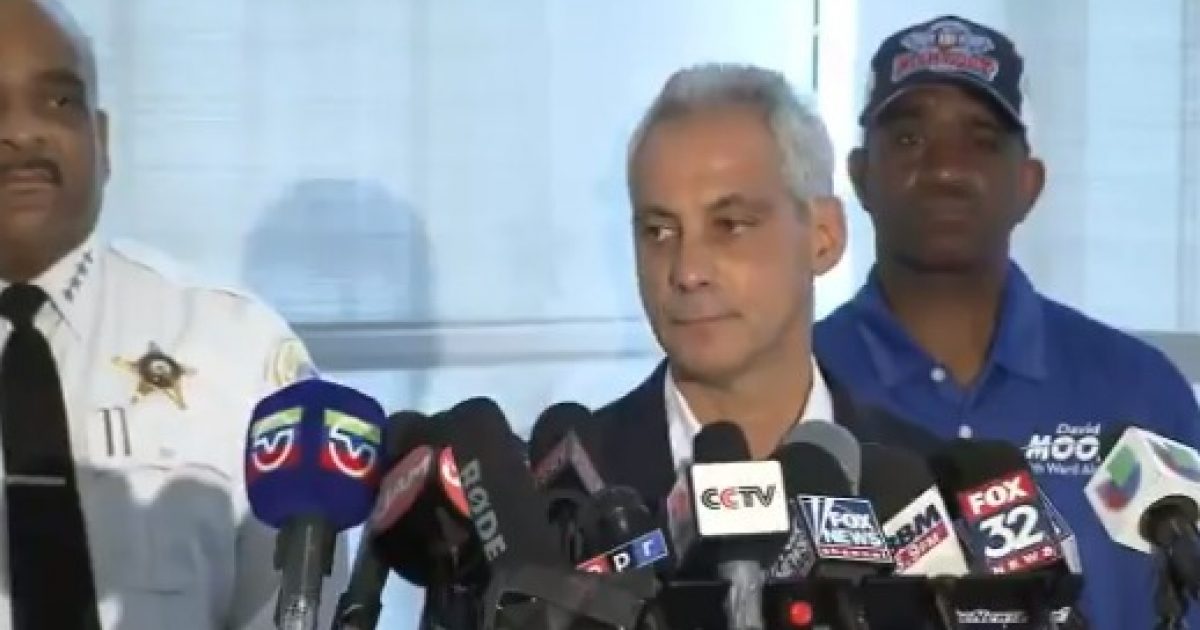 In his press conference regarding the shooting rampage in Chicago, you could see how Mayor Rahm rambles when trying to find the blame for the shootings. This response missed the mark totally. It is disassociated with reality. In a line as good as Obama's "You didn't build that," the mayor of Chicago, Rahm Emanuel says that a human did not pull the trigger in all those shootings. What? How's that work?
As Written and Reported By Matt Vespa for Townhall:
Chicago has been drowning in its own blood for years. The homicide rates are through the roof; the number of shootings is astounding. The frequency has earned it an unwanted nickname: "Chiraq." The past two consecutive years the city has seen 600+ murders and 3,000+ shootings. This past weekend was no different, 65+ people were shot, and at least 12 people were killed. In light of the recent carnage, Mayor Rahm Emanuel held a presser, which didn't make all that much sense. Our friends at Twitchy noted the reaction, especially the line "people did not pull the trigger."
Chicago Mayor Rahm Emanuel: "You can talk about the weather, but the weather didn't pull the trigger. You can talk about jobs, and they count, but in parts of the city where there aren't jobs, people did not pull the trigger." https://t.co/O7smQpUa48 pic.twitter.com/IZvHFdu2dC

Trending: Former Federal Prosecutor Says 'Rosenstein Deeply Involved in Effort to Try to Remove Trump From Office' (Video)

— ABC News (@ABC) August 6, 2018
take our poll - story continues below
Who would you vote for if the elections were held today?
Completing this poll grants you access to Great American Republic updates free of charge. You may opt out at anytime. You also agree to this site's Privacy Policy and Terms of Use.
NARRATOR: Actually, people did, in fact, pull the trigger(s) or the gun(s) wouldn't have shot the bullets that killed all those other people. https://t.co/wAOdUNP1fm

— RBe (@RBPundit) August 6, 2018
It must be the guns that pulled the trigger. https://t.co/7NArxCfrRT

— Ben Shapiro (@benshapiro) August 7, 2018
It takes us back to commentaries about how gun control doesn't work and how Democratic-run cities are a mess. They're such a mess that Mr. Emanuel could clinch…….
KEEP READING THERE IS MORE AT THE LINK BELOW:
What The Hell Are You Saying, Man: Chicago Mayor's Rambling Mess Of A Presser On Recent Shootings