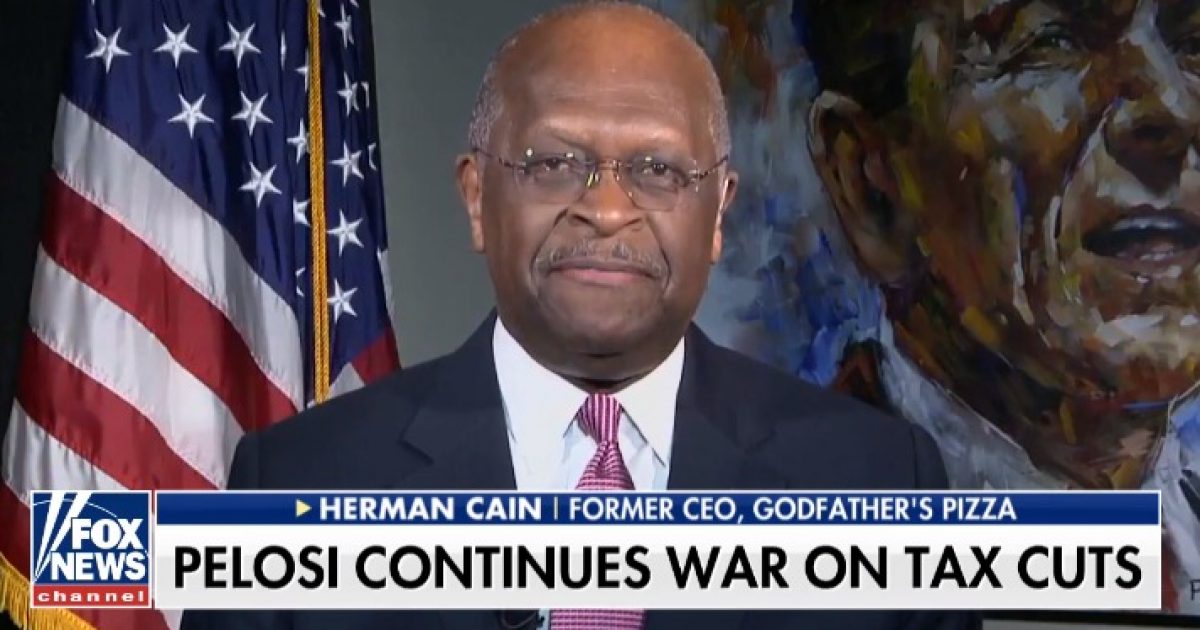 [VIDEO] Former Godfather Pizza CEO and Presidential candidate Herman Cain appeared on FOX News and makes a few comments about the PresidentTrump tax cuts and the Nancy Pelosi. You have also heard these kinds of remarks from Herman on his radio talk show on WSB radio in Atlanta, Georgia. Mr. Cain is always correct in his facts and observations and he puts in a nice home spin to his remarks. You probably do not want him giving too good ofadvicee to the Democrat Party, but he warns them about what Pelosi will mean to them in the 2018 mid-term elections.
As Written and Reported By and For Fox News:
Trending: Kanye West: 'I Am Running for President of the United States'
Former business executive and 2012 presidential candidate Herman Cain (R-Ga.) ripped Democratic Leader Nancy Pelosi for calling four-figure bonuses for working Americans "crumbs."
take our poll - story continues below
Should Congress Remove Biden from Office?
Completing this poll grants you access to Great American Republic updates free of charge. You may opt out at anytime. You also agree to this site's Privacy Policy and Terms of Use.
"She is out of touch with the American people. And secondly, she may have forgotten where some of us started," Cain said.
Cain said he started working at age 12 as an assistant janitor with his father.
Heckler: "How much are you worth, Nancy? Are you in abject poverty? How much are you worth?"@NancyPelosi: "We're not talking about that." https://t.co/EPlXPJ5Sha pic.twitter.com/bNoG65WUX4

— Fox News (@FoxNews) February 24, 2018
"I appreciate those 'crumbs' just like most of the people in this country who work hard every day trying to make a living and trying to take care of their families," he said.
Cain said Pelosi is hurting her party as it heads into the midterm elections.
"There is an old saying: If you are in a hole, stop digging. She doesn't know she is in a hole and she can't stop digging and she is trying to drag many of the Democrats down with her," Cain said……….
KEEP READING THERE IS WAY MORE HERE:
Herman Cain on Pelosi 'Hurting Democrats': 'If You're In a Hole, Stop Digging' | Fox News Insider