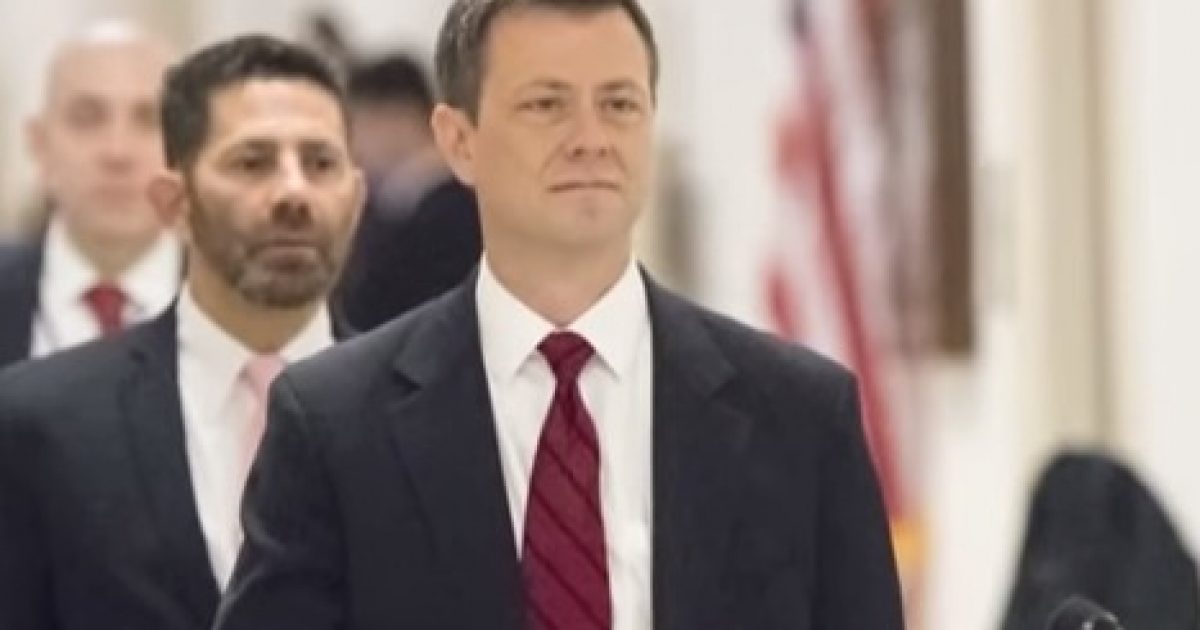 The firing of FBI Agent Peter Strzok is not the end but rather, it is the beginning of many more unanswered questions. There are 4 that are laid out in this article. They range from what Lisa Page said in testimony and what Robert Ohr will testify to, all the way to what will the President do next in this story. See what you think of these four thoughts.
As Written and Reported By Fred Lucas for The Daily Signal:
The controversies surrounding the Justice Department and FBI won't end with the firing of veteran agent Peter Strzok, known for his bombastic text messages targeting Donald Trump during the presidential campaign and the Hillary Clinton email scandal.
Trending: Former Federal Prosecutor Says 'Rosenstein Deeply Involved in Effort to Try to Remove Trump From Office' (Video)
Trump weighed in Monday on Twitter, noting Strzok was one of those on "a list of bad players" in the FBI and larger Justice Department.
Agent Peter Strzok was just fired from the FBI – finally. The list of bad players in the FBI & DOJ gets longer & longer. Based on the fact that Strzok was in charge of the Witch Hunt, will it be dropped? It is a total Hoax. No Collusion, No Obstruction – I just fight back!

take our poll - story continues below

Who would you vote for if the elections were held today?

Completing this poll grants you access to Great American Republic updates free of charge. You may opt out at anytime. You also agree to this site's Privacy Policy and Terms of Use.

— Donald J. Trump (@realDonaldTrump) August 13, 2018
FBI Director Chris Wray should take additional actions, said Hans von Spakovsky, a former Justice Department lawyer who is a senior legal fellow at The Heritage Foundation.
"It's great that Strzok was finally fired, but what we need to see is Chris Wray take action to ensure this doesn't happen again," von Spakovsky told The Daily Signal.
Here's a look at four major unanswered questions.
1. Will Trump Get Involved?
More transparency surrounding documents on how the investigation of Russian election meddling began, a former British spy's salacious "dossier" on Trump, and the role of certain Justice Department officials would be welcome, said Pete Flaherty, president of the National Legal and Policy Center, a conservative government watchdog group.
"The entire matter keeps getting more curious," Flaherty told The Daily Signal. "I don't know if there is one vehicle to get all of the information out. One good first step would be if the president would declassify all of the documents."
The president went on a tweet storm over the weekend regarding the FBI…..
THERE IS WAY MORE ON THIS STORY. KEEP READING AT THE LINK BELOW:
4 Unanswered Questions About FBI, DOJ After Strzok's Firing