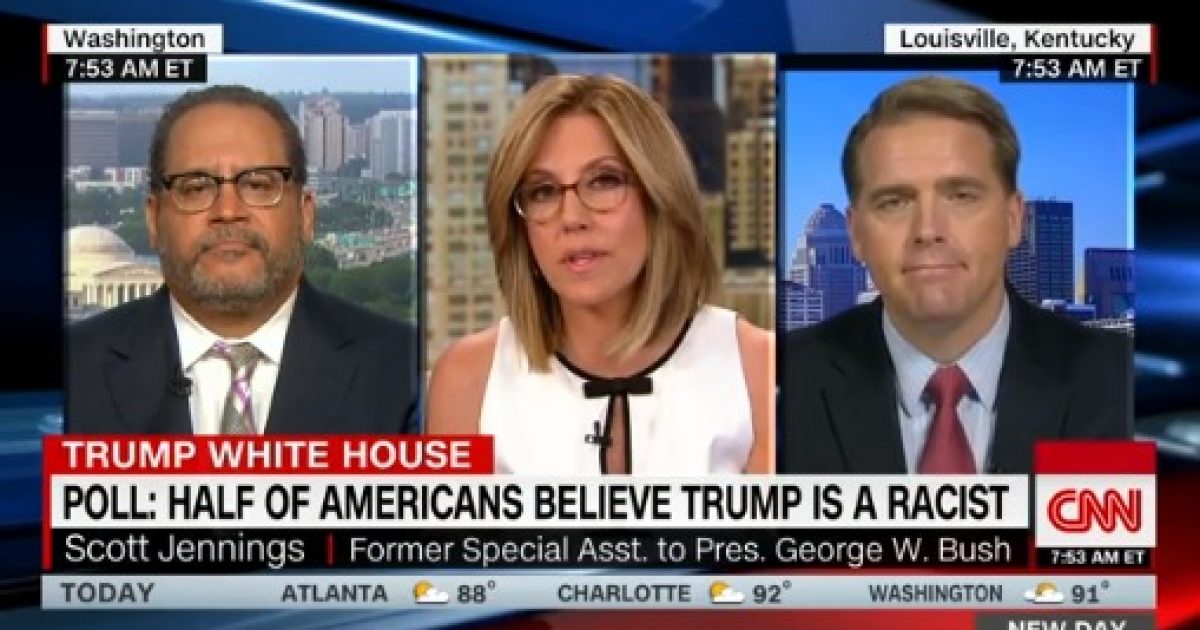 [VIDEO] CNN fires a broadside against President Donald Trump as they hang as many supposed racist actions as they can around the neck of the President. They have a Trump supporter on the triple split screen and take him to task for even standing up for Donald Trump. There is nothing in Ms. Camerota deportment that says that this was a journalistic endeavor on her part. Her compiled list of grievances against Donald Trump show exactly where this interview is headed.
Spoiler alert: At this network, President Donald Trump is a proven racist. This was a foregone conclusion and just like other narratives from the left, the outcome is always based on feelings, not facts. This is identity politics in action. Do not watch this if you have anger management issues.

As Written and Reported By Amber Athey for the Daily Caller:
Trending: Did Hillary Clinton just joke that all Blacks look alike? (Video)
A CNN debate about racism and President Donald Trump on Thursday got heated when one guest told the other to "find a spine."
take our poll - story continues below
Should Congress Remove Biden from Office?
Completing this poll grants you access to Great American Republic updates free of charge. You may opt out at anytime. You also agree to this site's Privacy Policy and Terms of Use.
Georgetown professor Michael Eric Dyson and former George W. Bush aide Scott Jennings battled over whether or not Trump is racist, with Dyson and CNN anchor Alisyn Camerota ganging up on the Trump-supporting Jennings.
Jennings said he personally disagrees with things the president has said but that he ultimately views the presidency through the policies that Trump has enacted.
"So you overlook his words?" Camerota asked.
"No, I don't overlook his words. I've been on with you personally saying that I disagree with the words the words the president has chosen, in many cases," Jennings responded. "No, I do not believe the president is a racist."
Dyson alleged that Trump has "emboldened white supremacists" to come forward, asserting, "the resurgent bigotry of America has been catalyzed by this president……
KEEP READING THE REST OF THE STORY AT THE LINK BELOW:
CNN Guest Tells Trump Supporter To 'Find A Spine' | The Daily Caller