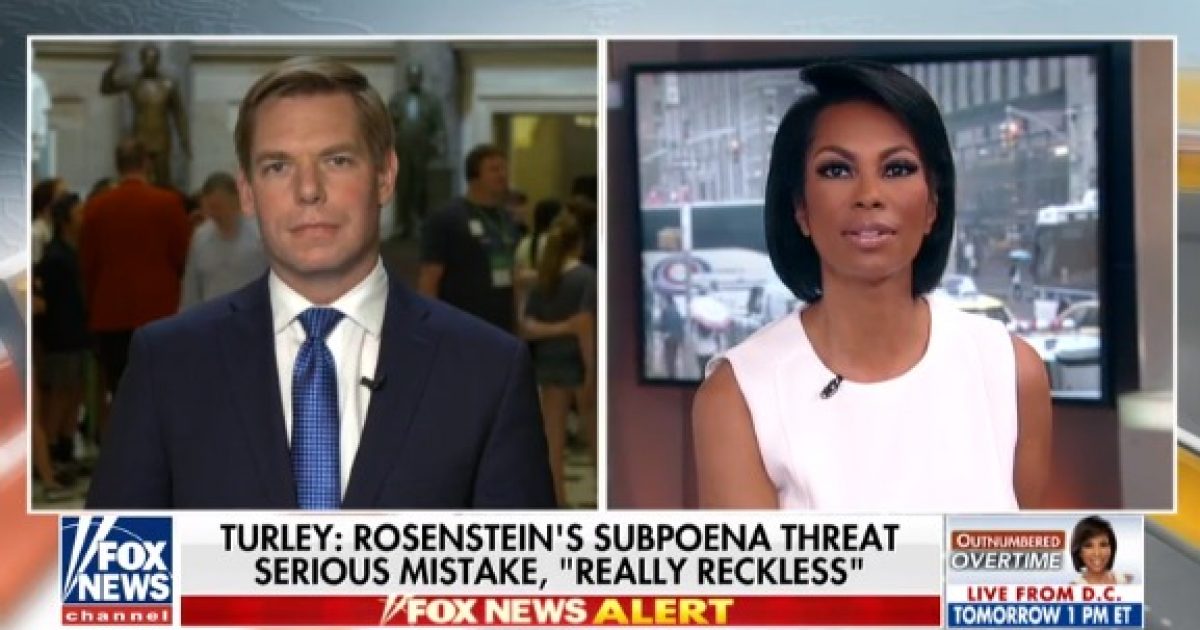 [VIDEO] FOX News' Harris Faulkner is not happy with reports that Deputy Attorney general Rod Rosenstein threatened to subpoena staff members of the House Select Intelligence Committee if they kept on pressing him. Committee Chair Devin Nunes is extremely upset with the behaviors of Rosenstein and the Department of Justice. Ms. Faulkner had California Democratic Representative Eric Swalwell on and was interviewing him about Rosenstein. You must watch the video to see her classy statement about how facts matter more than feelings.
As Written and Reported By Amber Athey for the Daily Caller:
Faulkner slammed deputy attorney general Rod Rosenstein over a new report that he threatened to subpoena members of the House Intelligence Committee, but Swalwell insisted that he trusts Rosenstein's credibility.
"Credibility matters, you know," Swalwell said.
"Facts matter, too," Faulkner shot back. "And they don't care about your feelings. So it will be interesting to see what comes forth."
Faulkner continued the interview by asking Swalwell if he agrees with former deputy AG Andrew McCabe that he was wrongfully terminated from his post.
"What is tricky about Andrew McCabe's firing is that the President of the United States was involved from what he said when they met in private about Andrew McCabe's wife to what he would tweet out to the public," Swalwell argued. "So whether that influenced how Mr. McCabe was viewed by the inspector general, I don't know. But I don't like that the president did that either."
"Wow. That's an interesting place you just went. Because I would have guessed that the facts prove that what's tricky about Andrew McCabe is that he lied to investigators and that's a crime," Faulkner asserted.
"You can't lie," Swalwell conceded………
Trending: Kanye West: 'I Am Running for President of the United States'
KEEP READING THERE IS WAY MORE HERE:
take our poll - story continues below
Should Congress Remove Biden from Office?
Completing this poll grants you access to Great American Republic updates free of charge. You may opt out at anytime. You also agree to this site's Privacy Policy and Terms of Use.
Fox News' Harris Faulkner Challenges Eric Swalwell: 'Facts Matter' | The Daily Caller