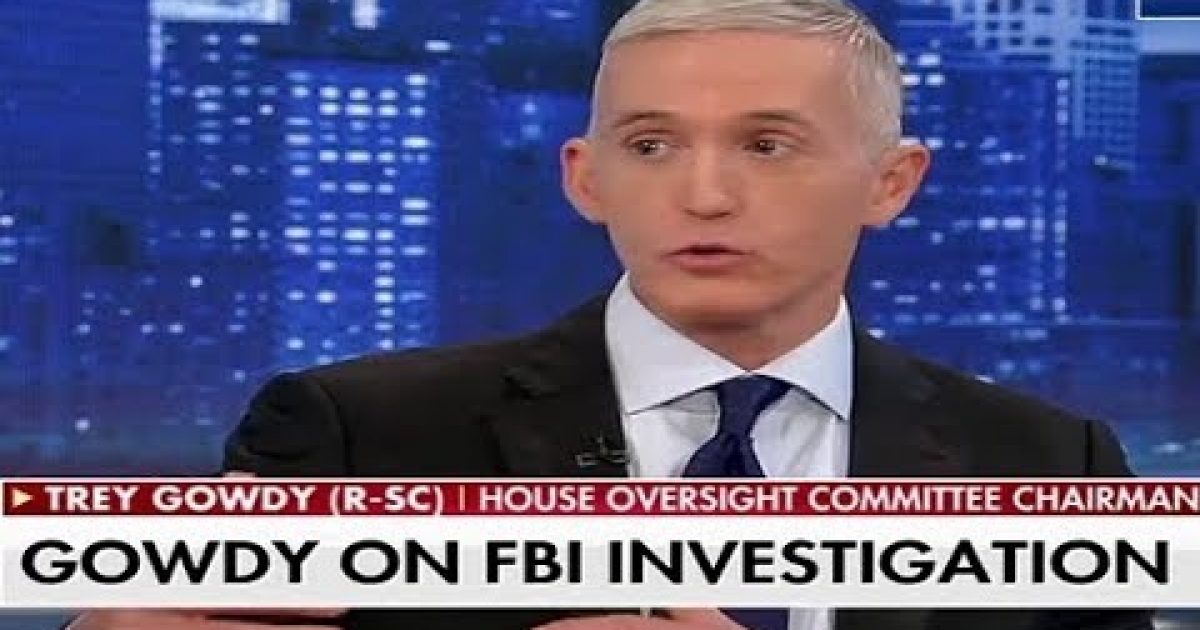 Trey Gowdy sides up with the FBI? When Representative Gowdy says that the FBI is doing the correct thing, it is time to take a closer look at what he is really saying. As you dig into this, it becomes obvious that Mr. Gowdy has access to information that has not been made available to the public and the rest of Congress. Mr. Gowdy outlines all the reasons that President Trump and his supporters have been so skittish about the activities of the FBI, the DOJ, and the Special Counsel. Mr. Gowdy makes his case that the President is not, repeat not, the object of the investigations. Where does he get that?
Multiple public reports indicate Gowdy never saw the subpoenaed FBI spy records before claiming the FBI did nothing wrong. And his spokeswoman says he doesn't even know what was subpoenaed. https://t.co/ocIlS2UXdo

— Sean Davis (@seanmdav) May 31, 2018
Trending: World Wide Web Founder Worried About the Growing Power Wielded by Google and Facebook

As Written and Reported By Frank Camp for the Daily Wire:
take our poll - story continues below
Should Congress Remove Biden from Office?
Completing this poll grants you access to Great American Republic updates free of charge. You may opt out at anytime. You also agree to this site's Privacy Policy and Terms of Use.
On Tuesday, Rep. Trey Gowdy (R-SC) appeared on Fox News' "The Story" with Martha MacCallum. During his segment, MacCallum asked Gowdy why the FBI didn't brief then-candidate Trump regarding any alleged informants around the campaign:
MACCALLUM: You were one of those who saw some of the background documents related to this issue of whether or not there was a "spy" or an informant in the campaign late last week. Anything that you can share on a broad scale about what went down there?

GOWDY: I think there are two things important to understand. Number one – the source of President Trump's frustrations. Brennan said he should be "in the dustbin of history"; Comey said impeachment's too good of a remedy; Clapper doesn't like him; Loretta Lynch said, call it a matter, not an investigation; Schiff said he had evidence of collusion before we even began the investigation; and 60 Democrats have voted to impeach him before Bob Mueller has come up with a single solitary finding. That's …..
THERE IS WAY MORE HERE KEEP READING:
WATCH: Rep. Gowdy Says FBI Did It Right; Trump 'Not The Target' Of Investigation | Daily Wire