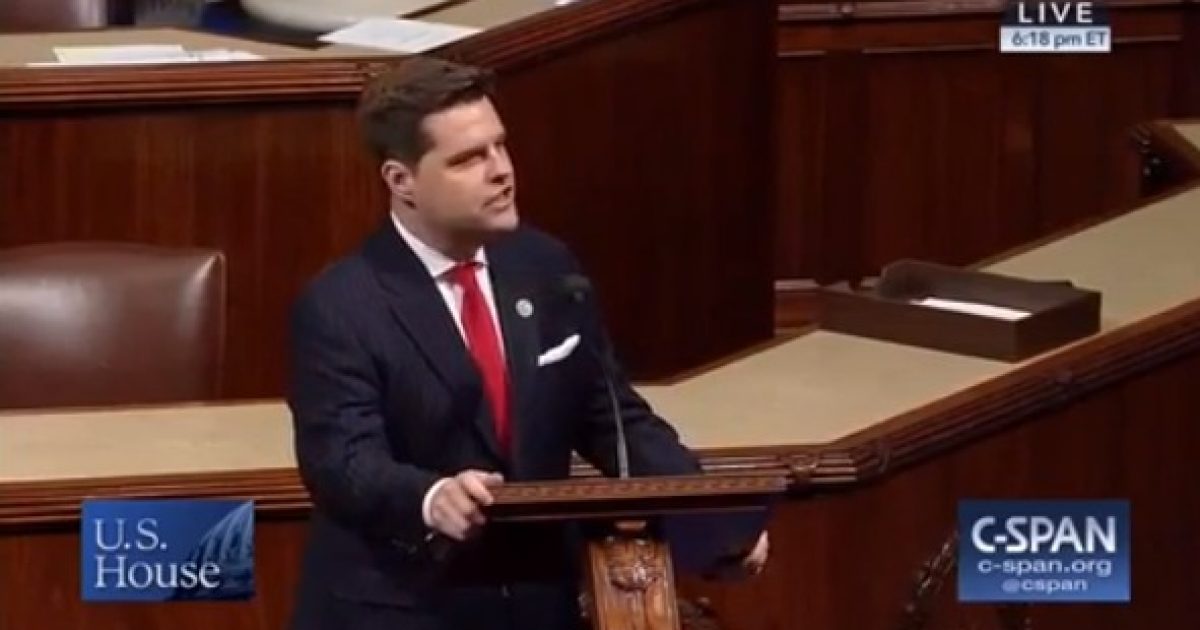 [VIDEO] Congressman 'Little Adam' Schiff wound up in the crosshairs of the floor of the House over some FISA Court issues. Republican Rep. Matt Gaetz spent some time of the House floor on Tuesday and demonstrated just how two-faced Mr. Schiff is about all things political. Mr. Gaetz re-introduces a bill first sponsored by Mr. Schiff during the Obama administration. It has to do with FISA Court judge appointments will be directed by the President. Will Mr. Schiff now back his own bill? Think not.

As Written and Reported By Christian Datoc for the Daily Caller:
Republican Rep. Matt Gaetz spent Tuesday poking fun at House Intelligence Committee ranking member Adam Schiff by filing the Presidential Appointment of FISA Court Judges Act, legislation Schiff originally introduced in 2013.
Trending: Kanye West: 'I Am Running for President of the United States'
Schiff's bill would have amended the Foreign Intelligence Surveillance Act of 1978 and granted the president authority to handpick all 11 Foreign Intelligence Surveillance Court judges.
take our poll - story continues below
Should Congress Remove Biden from Office?
Completing this poll grants you access to Great American Republic updates free of charge. You may opt out at anytime. You also agree to this site's Privacy Policy and Terms of Use.
"Cash and a political party should never be convertible to a warrant to spy on American citizens," Gaetz stated in a Tuesday speech on the House floor. "Because I expect Republicans and Democrats to both be in power at some point in the future, we should be looking for bipartisan solutions to revise the FISA process so that what happened to President Trump never happens to another American president."
"So I went looking for solutions," the Florida Republican continued. "Schiff wanted to give the president of the United States the power to appoint FISA judges. He argued that judges would then be more ideologically….
THERE IS WAY MORE HERE KEEP READING:
Gaetz Reintroduces Schiff FISA Judge Bill | The Daily Caller