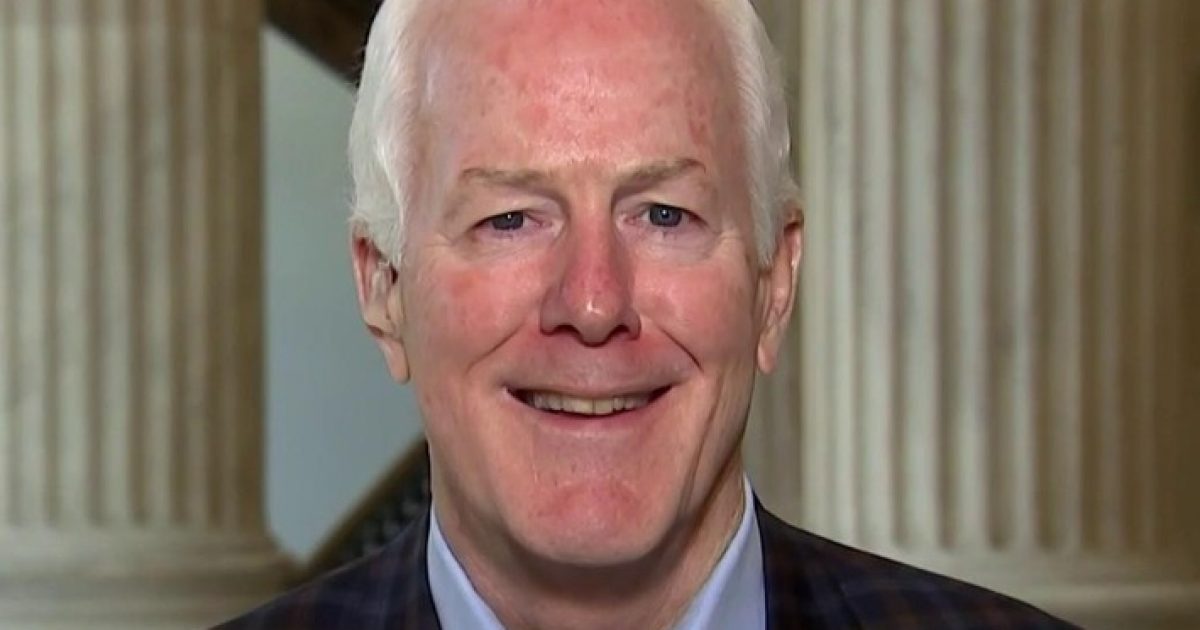 [VIDEO]  Senator John Cornyn on Comey paints a negative picture of Comey's FBI leadership. The Senator does not use the term "gone rogue" but he indicates that the FBI succumbed to the idea that it was no longer accountable to anyone for its behavior. That makes the FBI a law unto itself. That behavior is reflected in some of the things that are coming out over the investigations and spying against Donald Trump. Is this a throwback to the days of J. Edgar Hoover? Here is what he said.
Hugh Hewitt: "past 17 months among the most productive of [Congress's] recent history with the passage of the massive tax cut and tax reform bill, the repeal of the sequestration of the Defense Department, the partial repeal of Dodd-Frank this week, (1)

— Senator John Cornyn (@JohnCornyn) May 27, 2018
Trending: World Wide Web Founder Worried About the Growing Power Wielded by Google and Facebook
More @hughhewitt: a baker's dozen of Congressional Review Act repeals of Obama's era regulations, and reform of the VA, and near and dear to any originalist's heart, the confirmation not just of Neil Gorsuch, but also of 21 Appeals Court judges to the federal Courts of Appea (2)

take our poll - story continues below

Should Congress Remove Biden from Office?

Completing this poll grants you access to Great American Republic updates free of charge. You may opt out at anytime. You also agree to this site's Privacy Policy and Terms of Use.

— Senator John Cornyn (@JohnCornyn) May 27, 2018
More @hughhewitt: with another perhaps 20 [Circuit Court judges] lined up behind them in a landing pattern, which has already set a record for a new president, and which is already one-eighth of the sitting federal Appeals judges on its way soon to be one-quarter. (3)

— Senator John Cornyn (@JohnCornyn) May 27, 2018
As Written and Reported By Jeff Poor for Breitbart:
Saturday on MSNBC's "Hugh Hewitt," Sen. John Cornyn (R-TX) weighed in on the FBI's handling of its counterintelligence investigation into the 2016 presidential election under former FBI Director James Comey's leadership.
When asked by host Hugh Hewitt if the agency had lapsed back into a culture that existed under one of Comey's predecessors, J. Edgar Hoover, Cornyn replied that Comey had allowed for the creation of a "culture" within the FBI accountable to no one.
Partial transcript as follows:
HEWITT: Now Senator, you've been a trial judge, you've been a Texas Supreme Court justice. You've been the Texas Attorney General. Can you explain for us the difference between a "confidential informant" and a spy?

CORNYN: Well, it's, you really can't. I mean, a spy is typically, I think of in terms of foreign powers. But here, the FBI was involved in a counterintelligence investigation, I presume, and used somebody who had contacted various subjects of their investigation to communicate back to the FBI what they found out. I guess for all practical purposes, for most people, it wouldn't be any different.
KEEP READING THERE IS WAY MORE HERE:
Cornyn on Comey-J Edgar Hoover Comparisons: Comey Aided in Creation of a Culture the FBI Was Accountable to No One | Breitbart