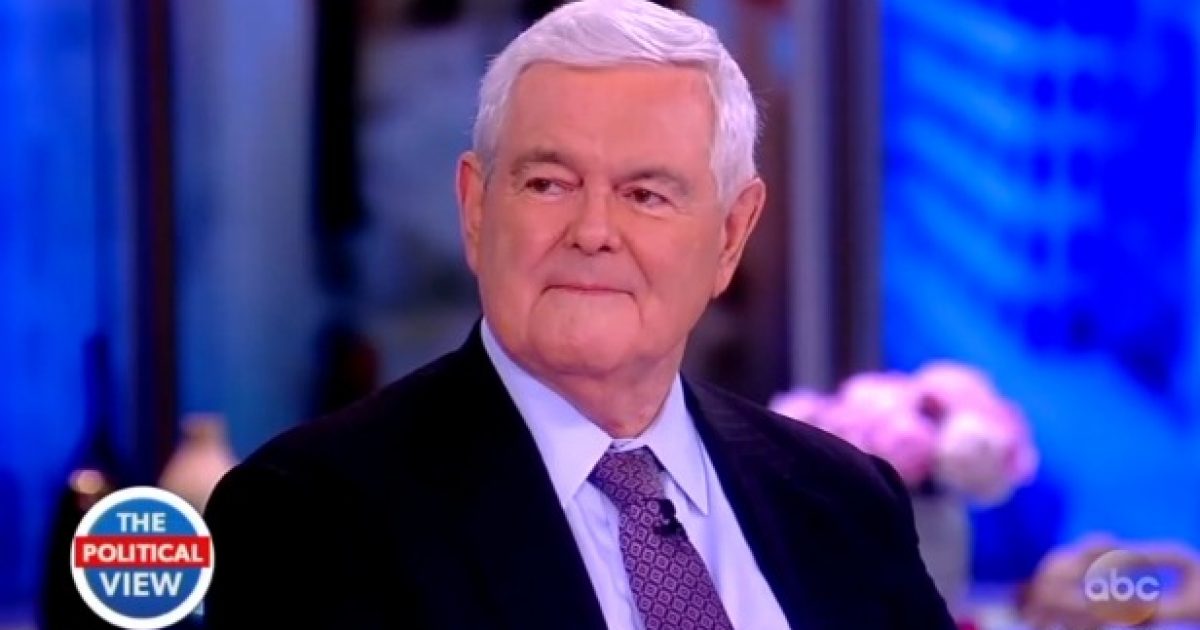 The hosts on The View were trying to have it both ways in their interview with former Speaker of the House, Newt Gingrich. They really wanted to nail Mr. Gingrich and his support for Donald Trump. To do so they try to give former President Barack Obama the credit for every good thing that has happened to the economy under President Trump. As you would expect, that did not get by Mr. Speaker all that easy. He gave them a couple of lessons.

As Written and Reported By Katherine Marsh for Newsbusters: 
Tuesday on ABC's The View, former Speaker of the House Newt Gingrich was the special guest at the hot topics table, and he didn't hold back from showing the liberal ladies just how hypocritical some of their views on President Trump were.
After asking Gingrich about Trump disinviting this years' Super Bowl Champions team to the White House, host Sara Haines asked him what he thought was the best thing and the worst thing Trump has done in office.
Gingrich praised Trump for boosting the economy and the record low black unemployment. "I think the best thing is the economy, I think the fact that we have the lowest black unemployment in history," he started to say before host Sunny Hostin took issue with this point.
"Can he take credit for that? Isn't that Obama's doing?" Hostin asked, doubtfully, as the audience cheered. "I mean really?" she said again, skeptically.
But Gingrich backed up his statement with facts. "I think this quarter we will have more than twice the economic growth rate of any quarter in 8 years of Obama," he responded after the applause died down. But Hostin wasn't letting it go……
THERE IS WAY MORE HERE KEEP READING!!!
Trending: Did Hillary Clinton just joke that all Blacks look alike? (Video)
Gingrich Calls Out 'View' Hosts on Economy Hypocrisy: Want To 'Have It Both Ways'
take our poll - story continues below
Should Congress Remove Biden from Office?
Completing this poll grants you access to Great American Republic updates free of charge. You may opt out at anytime. You also agree to this site's Privacy Policy and Terms of Use.