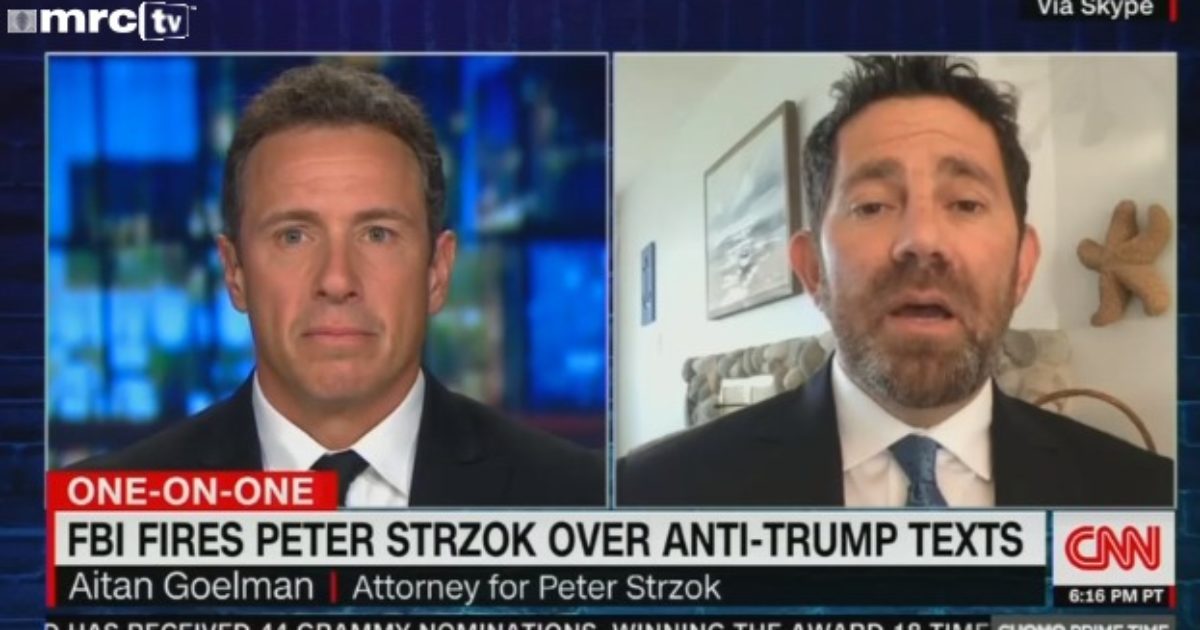 [VIDEO] The personal lawyer for former FBI Agent Peter Strzok claims that he was surprised that his client was actually fired. The attorney, Aitan Goelman, said as much on an interview on CNN. It appears that Peter Strzok though that he has negotiated a deal with the Office of Professional Responsibility for a demotion and a 60-day suspension. That did not happen and the word came down from higher authority that he would be terminated. Did he blame President Trump? Read on and see.

As Written and Reported By Susan Jones for CNS News:
Are you really surprised that they fired your client? CNN's Chris Cuomo asked Aitan Goelman, the attorney representing fired FBI Agent Peter Strzok.
Trending: Lil' Marco Rushes to Defend Top Democrat Over Texts To Russian Oligarch's Lobbyist
"At the end of the day, I was really surprised that they fired Pete, mostly because we had an agreement with the FBI OPR, Office of Professional Responsibility, which is their main caretaker for internal discipline that Pete would get a 60-day suspension and a demotion. And at the last minute, that was countermanded by the higher-ups, and he was fired. So, yeah, we were surprised," Goelman said on Monday night.
take our poll - story continues below
Completing this poll grants you access to Great American Republic updates free of charge. You may opt out at anytime. You also agree to this site's Privacy Policy and Terms of Use.
Goelman said the FBI had the "power" but not the "right" to fire Strzok.
"Certainly the deputy director and the director can countermand a decision by OPR, but it doesn't happen very often, and in this case it is hard to reach any conclusion other than the decision to reverse OPR's decision was itself motivated at least largely by politics."
Goelman said it was "completely inappropriate" for the president to call for the firing of Strzok. Whereas James Comey was a political appointee who could be fired at will, Peter Strzok was a career civil servant. "There is a normal process……
THERE IS WAY MORE. KEEP READING AT THE LINK BELOW:
Strzok's Lawyer: 'I Was Really Surprised That They Fired Pete'