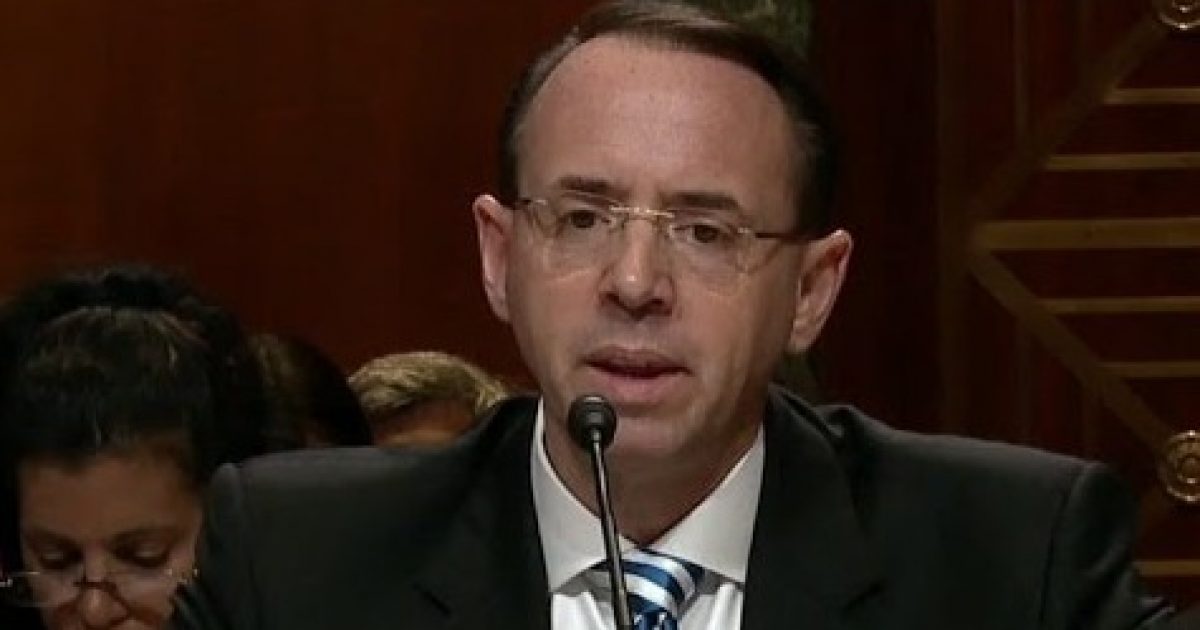 It has been reported that Deputy Attorney General Rod Rosenstein threatened the staff and committee members of the House Intelligence Committee. It promised to bring the full weight of the Department of Justice to bear and subpoena all records and communications of the committee. Why did he reportedly do this? The possible reasons are covered in this article.
Former Secret Service Agent, Dan Bongino: "Rod Rosenstein should resign immediately. His continued efforts to hide information are deeply troubling. This isn't a police-state Rod."
On Feb. 3, I tweeted that Rod Rosenstein threatened to subpoena calls & texts of Intel Committee. Ryan Reilly of Huff Post called my reporting "dubious". He was wrong. See https://t.co/L7HkH3ESPU

— Gregg Jarrett (@GreggJarrett) June 12, 2018
Trending: Devin Nunes Gives it Right Back to the Democrats After "Endangering National Security" Remarks
take our poll - story continues below
Do you think Cubans are fighting for healthcare or freedom from Communism?
Completing this poll grants you access to Great American Republic updates free of charge. You may opt out at anytime. You also agree to this site's Privacy Policy and Terms of Use.
AS WRITTEN AND REPORTED BY CATHERINE HERRIDGE FOR FOX NEWS:
Deputy Attorney General Rod Rosenstein threatened to "subpoena" emails, phone records and other documents from lawmakers and staff on a Republican-led House committee during a tense meeting earlier this year, according to emails reviewed by Fox News documenting the encounter and reflecting what aides described as a "personal attack."

The emails memorialized a January 2018 closed-door meeting involving senior FBI and Justice Department officials as well as members of the House Intelligence Committee. The account claimed Rosenstein threatened to turn the tables on the committee's inquiries regarding the Russia probe.

"The DAG [Deputy Attorney General Rosenstein] criticized the Committee for sending our requests in writing and was further critical of the Committee's request to have DOJ/FBI do the same when responding," the committee's then-senior counsel for counterterrorism Kash Patel wrote to the House Office of General Counsel. "Going so far as to say that if the Committee likes being litigators, then 'we [DOJ] too [are] litigators, and we will subpoena your records and your emails,' referring to HPSCI [House Permanent Select Committee on Intelligence] and Congress overall."
KEEP READING THERE IS WAY MORE HERE:
Rosenstein threatened to 'subpoena' GOP-led committee in 'chilling' clash over records, emails show | Fox News