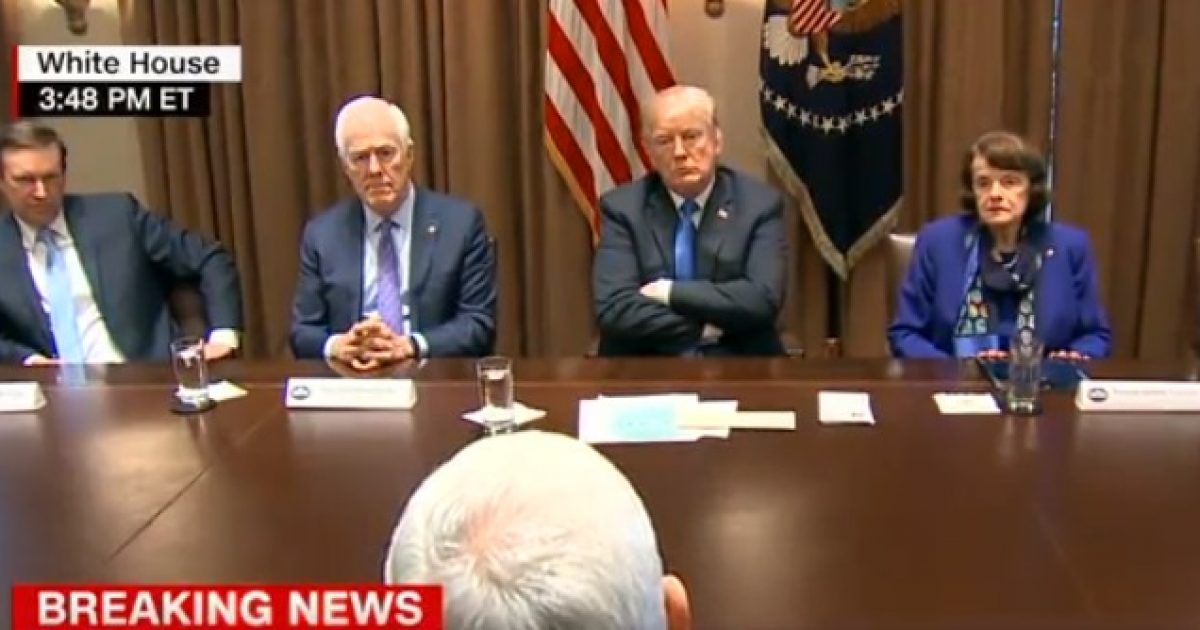 Yes, President Donald Trump really did say that maybe we should just take the guns first and then get on with the legal part of things. That is seen as a damning form of betrayal by Second Amendment supporters everywhere. It was said in front of a bunch of Democrats. Was the President pandering?
Trump tends to say things that annoy us patriots and put the libs in a bad tactical position, which they immediately make worse. I know President Trump is no conservative ideologue, but he's smart enough to know if he sells us out we dump him and his enemies laugh.
Look what else he said and who else he attacked.
Trending: Kanye West: 'I Am Running for President of the United States'
As Written and Reported By Ben Shapiro for the Daily Wire:
On Wednesday, President Trump met with Congressional Democrats and Republicans to discuss measures to bolster student security in the aftermath of the Parkland, Florida massacre. There, Trump proceeded to make an anti-Second Amendment statement so radical that it put President Obama's gun control sermons in the shade.
"I don't want mentally ill people to be having guns," Trump said. He continued:
You have to do something very decisive. Number one, you can take the guns away immediately from people that you can adjudge easily are mentally ill, like this guy. You know, the police saw that he was a problem, they didn't take any guns away. Now, that could have been policing. I think they should have taken them away anyway, whether they had the right or not. But I'll tell you this, you have to have very strong provisions for the mentally ill.
President Trump tells Senators he thinks police should have taken guns away from Nikolas Cruz, whether they had the right or not, "I don't want mentally ill people to be having guns." pic.twitter.com/wU6L8ERlas

take our poll - story continues below

Should Congress Remove Biden from Office?

Completing this poll grants you access to Great American Republic updates free of charge. You may opt out at anytime. You also agree to this site's Privacy Policy and Terms of Use.

— Pat Ward (@WardDPatrick) February 28, 2018
Just in case you missed the part where Trump explicitly denounced due process of law, he repeated it again.
After Vice President Mike Pence explained that Republicans in Congress wanted legislation that could allow friends and family members to apply to a court to suspend…..
THERE IS WAY MORE HERE KEEP READING:
BETRAYAL: Trump Says Government Should 'Take The Guns First, Go Through Due Process Second' | Daily Wire