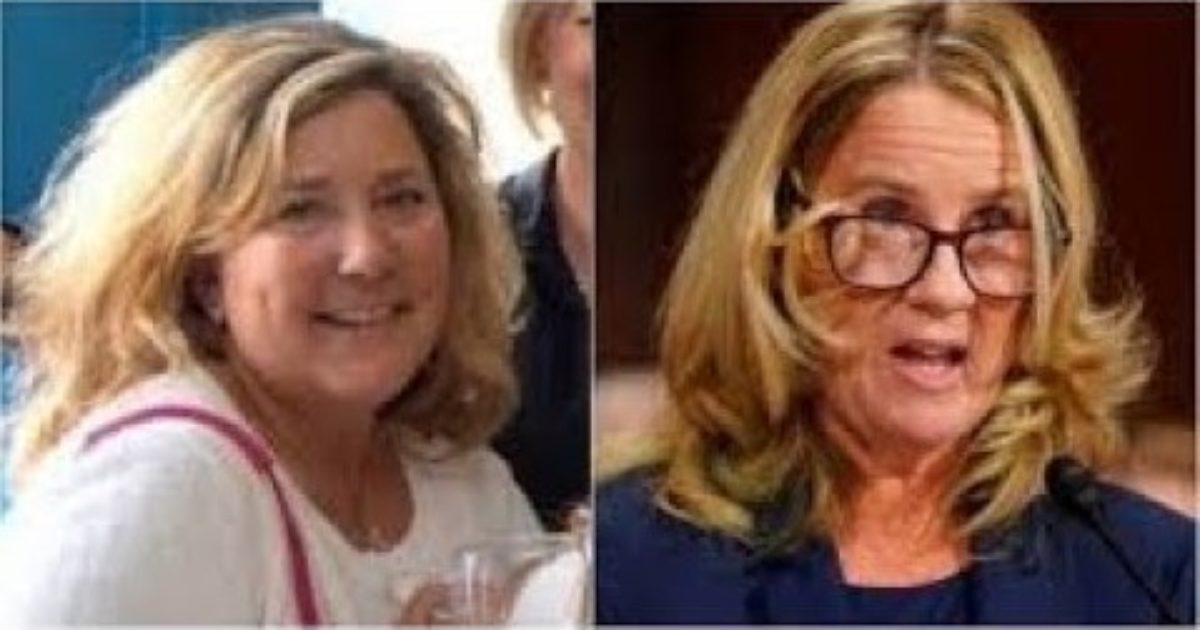 The Senate Judiciary Committee is now compelled to seek more information on Dr. Ford communications within her team. It has come to the attention of the Committee that there may well have been witness tampering attempted. Leland Keyser, a friend of Dr. Ford and named as a party attendee, denied every being at any party with her and Judge Kavanaugh. Ms. Keyser said that she was 'pressured' by Monica McLean, a retired FBI agent and a friend of Ford's to revise her testimony. That sounds bad. It fails the smell test as well.
As Written and Reported By John Salvatore for Great American Politics:
Leland Keyser has been a friend of Christine Blasey Ford since high school.
Trending: Failed Presidential Candidate Hillary Clinton May Have Just Found a "New Job"
Keyser's family has accused Ford of throwing her "under the bus" during her testimony before the Senate Judiciary Committee.
take our poll - story continues below
Is Biden's Vaccine Mandate Unconstitutional?
Completing this poll grants you access to Great American Republic updates free of charge. You may opt out at anytime. You also agree to this site's Privacy Policy and Terms of Use.
Keyser, like all other Ford "witnesses" to the night Brett Kavanaugh allegedly committed sexual assault, has denied being at the party in question.
Keyser has now revealed that she was pressured by Ford "allies" to change her story.
The ally is apparently Monica McLean, a retired FBI agent and a friend of Ford's.
Now, the Senate Judiciary Committee is apparently tracking Ford's communications with McLean.
Now we know that Ford's longtime best friend, McLean, who was at the beach with her when she composed the famous letter that got leaked is also a very deep state operative.
And Laufman is her lawyer. McLean was in the second row at the hearing, one of the reserved seats, as she was photographed coming in after Ford and her lawyers.
McLean is a retired (within the last year or so) FBI lawyer herself. She is the one who Ford's former boyfriend swore he had seen being coached by Ford years ago to take her polygraph for her FBI job application.
Continued:
Ford, of course, said in the hearing under oath that she had never advised anyone on polygraphs and implied that she didn't know anything about them. Note, she coauthored a 2008 article on psychological factors that affect polygraph results.
When Ford's high school best friend, Leland Kaiser, came out and said the party and whole assault situation Ford alleged didn't happen, both McLean and Laufman pressured her to "clarify" that she just couldn't remember it.
Connecting dots makes it easy to infer that this whole plot to take down Kavanaugh is part of the larger effort to take down Trump.
Continued:
Laufman was involved in the Clinton probe and Mueller Russian interference probe as well as taking out Flynn. Now he's involved in the Kavanaugh plot……..
KEEP READING. THERE IS WAY MORE AT THE LINK BELOW:
JUST IN: Senate Judiciary Tracking Ford Communications with Retired FBI Agent – Great American Politics