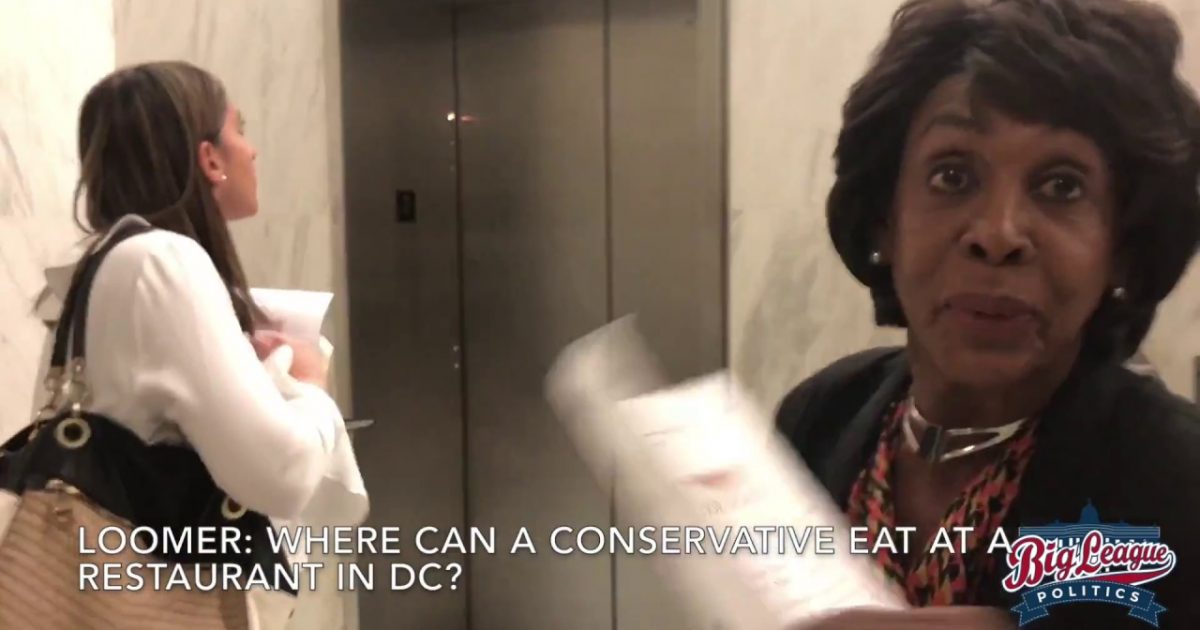 [VIDEO] Maxine Waters met Laura Loomer in the Halls of Congress today and it did not come off well for the Democratic Representative from California's 43rd congressional district. In this very brief outtake, you can see that Ms. Waters is very discomforted by the questions from Laura Loomer, a conservative, Trump-supporting journalist. Enjoy.

As Written and Reported By Andrew West for The Constitution:
Thanks to an emerging mental condition commonly referred to as "Trump Derangement Syndrome", the threat of political violence in American society is reaching unprecedented levels of fervor in 2018.
Of course, this isn't only due to the "resistance" of the radical left, either, as the progressive politicians, pundits, and professional pontificators have been working overtime to disparage the nation's conservatives as well.  One such instigator, (and obstructionist), is Rep. Maxine Waters of ultra liberal California who, yesterday, was reported to have incited a number of followers to publicly shame and assault any conservatives that they come across, not allowing them the peace to eat, shop, travel, or go about their daily businesses without constant harassment.
Now, rightfully so, Waters has been confronted regarding her call to arms, and her reaction is quite telling.
The cojones that Loomer carries with her must be awfully heavy, especially when invoking the "back of the bus" analogy.  This obviously "triggers" Mad Maxine, who then begins swatting the journalist with the papers that she was carrying with her.
Of course, Waters' sly smile and possible "tongue" gesture makes the entire experience even more surreal, as this democratic diva attempts to galvanize her status as "above" Loomer's inquiry.  This "ruling class", elitist stunt would make headlines on its own, but, given that Waters herself is attempting to sow some sort of rebellion among the American people for whom she works, the reaction is downright offensive.
When we talk about the swamp, or the establishment, this is precisely the sort of behavior that we anticipate witnessing.  Maxine Waters has no regard for her constituents or for the will of We The People.  Her only concern is about starting trouble in the media and staying in power.  We can tell by just how vociferously she sidesteps these simple, easy to answer questions…….
KEEP READING BY CLICKING THE LINK BELOW:
Trending: Kanye West: 'I Am Running for President of the United States'
VIDEO: Maxine Waters Confronted Over Call to Assault Conservatives
take our poll - story continues below
Should Congress Remove Biden from Office?
Completing this poll grants you access to Great American Republic updates free of charge. You may opt out at anytime. You also agree to this site's Privacy Policy and Terms of Use.