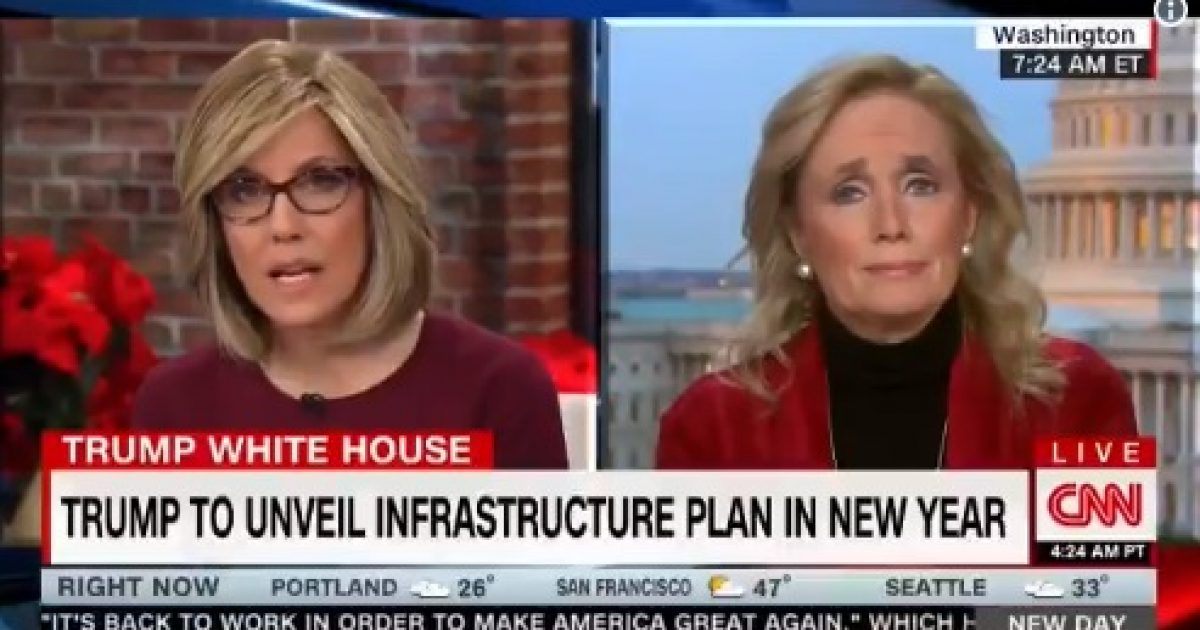 [VIDEO] Alisyn Camerota for CNN worries that there is another conspiracy out there. This one involves President Donald Trump and big business. This is all about the GOP led Tax Reform Bill and the impact that it had on big business.
CNN talking head Alisyn Camerota thinks that the big businesses were out there sitting on their profits looking for a chance to make President Trump's tax reform look very successful. It may be that her tinfoil hat is screwed on a little tighter now that she has left FOX News for the Fake News champion, CNN. 
As Written and Reported By Ryna Saavedra for the Daily Wire:
Trending: Even MORE Despicable Behavior Unearthed in Broward Sheriff's Office
Rep. Debbie Dingell (D-MI) appeared on CNN's "New Day" on Tuesday to talk about whether Democrats would work with President Donald Trump and his agenda in 2018 and was greeted by a conspiracy-minded CNN host.
take our poll - story continues below
Is Biden's Vaccine Mandate Unconstitutional?
Completing this poll grants you access to Great American Republic updates free of charge. You may opt out at anytime. You also agree to this site's Privacy Policy and Terms of Use.
Toward the end of the segment, CNN host Alisyn Camerota brought up the recent GOP tax bill that Trump signed into law and how numerous businesses were giving their employees bonuses and raising the minimum wages at their companies because of it. Camerota then suggested that companies were scamming their employees because, according to her, they could've afforded the bonuses and pay increases before the tax bill but chose not to.
"Obviously, they could have done this before the tax overhaul was announced — they were sitting on profits — but they didn't," Camerota said. "They did it when …..
CNN "journalist" Alisyn Camerota frets over how many businesses are giving back to their employees as a result of the tax bill & worries this will help the GOP.

She suggests, without citing any evidence, that businesses could've done this before but that they chose not to. pic.twitter.com/nd3DIRAjp3

— Ryan Saavedra ???????? (@RealSaavedra) December 26, 2017
KEEP READING THERE IS WAY MORE HERE:
WATCH: CNN Worries Tax Bill Will Help GOP, Hints At Conspiracy Theory | Daily Wire